How to Cool a Red-Hot Property Market Singapore-Style
(Bloomberg) -- Faced with surging home prices in the early 2010s, Singapore introduced a slew of cooling measures that succeeded in taming the housing market. Now, with residential property prices rising again, the authorities are trying to repeat the feat, this time with their most stringent rules yet.
1. Why is the government acting now?
Shortly before the new policies were announced on July 5, Singapore's central bank chief warned about "euphoria" in the housing market. The aim of the latest measures, according to one minister, is to avoid a "severe correction later" as the supply of residential homes increases and interest rates rise. Home prices jumped by 3.9 percent and 3.4 percent in the first two quarters this year, the biggest leaps since 2010. Home sales reached the highest level in nine months in May.
2. What else has been happening?
After a record 15 consecutive quarters of declines, home prices began to rise in the second half of 2017. There was a marked change in sentiment in a previously moribund market, spurring aggressive land bids from developers who'd been waiting on the sidelines for years. That resulted in an explosion of collective apartment sales, known as en-bloc, where a group of owners band together to sell entire apartment buildings. The central bank described the flurry of those as exuberant. Added to that, Singapore investors had begun shunning overseas properties and choosing instead to buy locally.
3. What are the new measures?
Higher stamp duty rates and tougher loan-to-value limits for buyers. To address the surge in en-bloc sales -- which will unleash a wave of new supply on the market as new developments are completed -- the government raised its additional buyer's stamp duty, or ABSD, to 30 percent for developers, or 25 percent for other entities, from 15 percent.
| | As of July 5 | From July 6 |
| --- | --- | --- |
| Singaporeans buying first residential property | 0% | 0% |
| Singaporeans buying second residential property | 7% | 12% |
| Singaporeans buying third and subsequent residential property | 10% | 15% |
| Permanent residents buying first residential property | 5% | 5% |
| Permanent residents buying second and subsequent residential property | 10% | 15% |
| Foreigners buying any residential property | 15% | 20% |
| Entities buying any residential property | 15% | 25% (plus additional 5% for developers) |
4. How harsh are the new measures?

For a residential market that's barely in its first year of recovery, the policies are "heavy handed," according to Nicholas Mak, executive director of ZACD Group. He said they're like a move to "strangle the baby in the cradle." It's a signal that the government is "serious about managing the property market," said Joel Ng, an analyst at KGI Securities. According to DBS, the measures mark the end of the "current en-bloc cycle."
5. Why is property such a popular investment in Singapore?
The tiny city-state has one of the world's highest rates of home ownership at 90 percent. It's also a popular investment destination for the wealthy from neighboring Indonesia and Malaysia, not to mention nations further afield including China. 
6. What's the backdrop to these moves?
From mid-2009 to the 2013 peak, home prices jumped more than 60 percent. The government began imposing restrictions as speculative buying surged, from home and abroad, backed by the availability of cheap money as a result of global central bank monetary easing. The toughest policies -- "macro-prudential" in economist speak -- included an extra 10 percent stamp duty for foreign buyers in 2011, raised to 15 percent in 2013 -- and lifted to 20 percent in the latest round of tightening. There were a few minor tweaks to soften aspects of the cooling measures in 2017 that helped stoke the bullish shift in market sentiment. Even then, the government was keen to emphasize there was no need to reverse course with its policies to keep the market in check.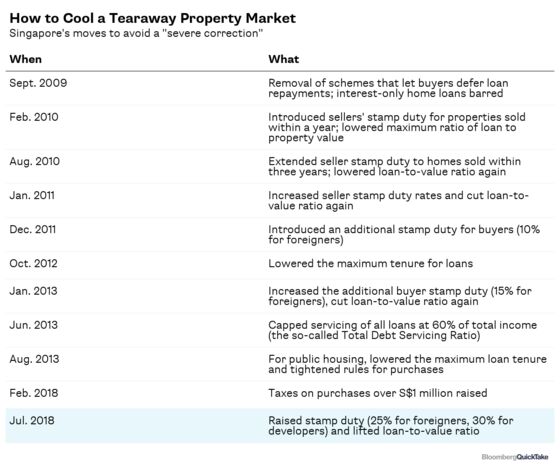 7. What's happened to Singapore's property stocks?
They had their best run in five years in 2017, with one index of real estate stocks gaining 34 percent. That same index has fallen 10 percent this year.
7. Doesn't this tune sound familiar?