Why U.K.'s Costliest Banking Scandal May Get Uglier
(Bloomberg) -- Britain's most expensive banking scandal is getting messier. Lenders have already set aside almost 40 billion pounds ($53 billion) to compensate customers who were mis-sold payment protection insurance. Lloyds Banking Group Plc has paid out the most, but there might be more to come for the U.K.'s largest mortgage lender and its peers. A recent ruling by a local English court and a new proposal from regulators to broaden the scope of claims both raise the prospect of further pain for the banks.
1. What is payment protection insurance?
Known as PPI, it's a financial product that enables clients to keep repaying loans in the event of an accident, sickness, involuntary unemployment or loss of life. It was sold with a range of products, such as car finance, catalog credit, credit cards and mortgages.
2. What did the banks do wrong?
PPI was often sold using aggressive tactics. In worst cases, banks misled customers by telling them that PPI was mandatory for loans. In other scenarios, it was sold without giving clients a full explanation of what it would cover. Some customers were pressured into buying it and others were promised a cheaper loan. Banks sold those products, in some cases without making clear that clients would pay additional fees.
3. How did they get caught?
The U.K. financial services regulator uncovered poor PPI selling practices in 2005 by visiting hundreds of firms. Four years later, it sent letters to chief executives to stop the products being sold with unsecured personal loans. Compensation payouts soon followed.
4. How much has been paid out?
More than 30 billion pounds since 2011, according to the Financial Conduct Authority. Lloyds has set aside 18.7 billion pounds for claims, while Royal Bank of Scotland Group Plc and Barclays Plc have made provisions of about 5.2 billion pounds and 9.2 billion pounds respectively. Meantime, the FCA has renewed an advertising campaign about PPI that features an animatronic head of Arnold Schwarzenegger mounted on a remote-control vehicle. It highlights the Aug. 29, 2019 deadline for customers to seek refunds.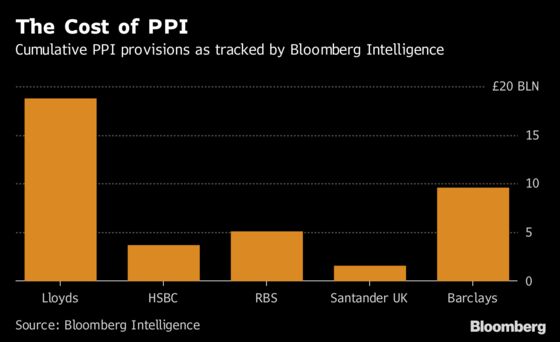 5. What's the big deal about the court ruling?
It centers on commission and may affect PPI customers even if they were not mis-sold policies. A Manchester county court on June 26 ruled that Christopher and Joanne Doran should get back all of the 76 percent commission they paid on their PPI 10,500-pound premium in compensation. That went beyond regulators' guidance that only commission above 50 percent is unfair and should be repaid.
6. What's likely to happen?
The court ruling is not binding and does not mean everyone will get the same deal, but Elis Gomer, a lawyer specializing in PPI claims, says it opens the way to similar challenges. He calculates that banks may face potential new claims amounting to 18 billion pounds. That's good news for people who lost out on PPI, and a boon for the claims processors who take a cut of repayments and have emerged as something of a cottage industry since the scandal erupted. Back in 2014, Citizens Advice estimated third-party firms pocketed about 20 percent of compensation payments.
7. What's the FCA's new proposal?
Currently, customers have a case for compensation if they were not told how much commission they would pay at the time they bought a policy. Under the FCA proposal announced July 4, they could be entitled to claim if they were told about the commission, but were not reminded about it throughout the policy. If implemented this year, the proposal would open the door to a fresh wave of PPI complaints, says John Cronin, an analyst at Goodbody Stockbrokers. Exactly how much is hard to predict, but the banks that are most at risk of facing further liabilities are CYBG Plc and Lloyds, according to Keefe, Bruyette & Woods analysts.