Stress Tests
(Bloomberg) -- Doctors make patients jog on a treadmill to see if their hearts can withstand stress. Regulators do the same to banks, minus the treadmill. Financial stress tests run lenders through a simulated workout to separate banks that can stay on their feet in a crash from those that can't: What if interest rates shoot up? What if China's economy tanks? What if unemployment surges and homes lose a fifth of their value? What if all those things happen at the same time? Vigorous health checks for lenders became a pillar of banking supervision in the wake of the 2008 financial crisis. Some were more successful than others at restoring credibility to the system.
After a decade of tougher supervision, stress tests are becoming a more routine affair. They give regulators a way to push banks to build higher loss buffers, limit cash payouts and improve monitoring of risk. In the U.S. Federal Reserve's 2018 exercise, only one bank failed – Deutsche Bank's U.S. unit – though six banks were forced to scale back proposals for returning cash to shareholders. In the 2017 test, every lender passed for the first time. In Europe, results of the next stress test are due by the end of 2018, though regulators stopped delivering pass/fail grades with their last exam in 2016. In that one, Italian lenders were again in the spotlight, as they were in 2014 when 25 out of 130 banks failed in the largest-ever exercise, which aimed to restore confidence and end a two-year slump in lending that had choked off Europe's economic recovery. The last European test was criticized for its limited scope.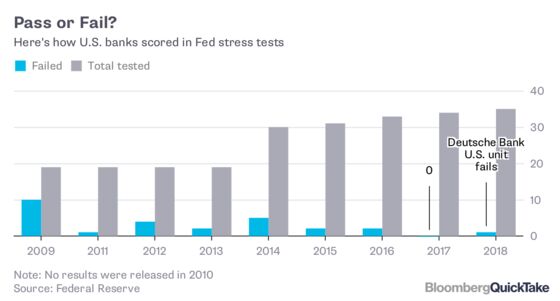 The first public stress test, conducted by the Fed in 2009, was probably the most effective. In the midst of the worst financial collapse since the Great Depression, the Fed flunked 10 out of 19 banks, identifying a capital shortfall of $75 billion. Once this gap was filled, investors were satisfied that there would be no more bad surprises and that the Fed had grasped the scale of the problem. Subsequent U.S. stress tests have failed just a few banks, which then halted dividends and altered their capital planning to suit the regulator. Europe's turn came in 2010 and 2011 when the sovereign debt crisis piled losses onto lenders that held Greek, Spanish, Italian and Portuguese government bonds. A key question that investors want answered — what would happen if a euro-area country defaulted? — has never been on the test. Two Irish banks passed in 2010 and needed a government bailout later that year. Belgian lender Dexia got a clean bill of health in 2011 and collapsed after a bank run three months later. The European Central Bank, which took over as the supervisor for more than 100 of the largest lenders in the euro area in 2014, helped make the test tougher, forcing firms to increase provisions for soured loans.
When investors suspect that a stress test is too easy, it can create confusion, rattle markets, undermine confidence or even add to worries about which banks might be sick. Regulators fine-tune stress tests to ensure that they are rigorous enough to bolster faith in banks without strangling credit. Banks are opaque companies, and finance is abstract at best, so the worst possible outcome is a test that is neither clear nor credible. Unable to borrow, unable to lend, the banks can become non-functioning zombies. The tests have given bank managers and regulators better tools to monitor the complex lending and trading relationships that bind together the financial system. That's data they lacked during the 2008 crisis, when dozens of banks were failing around the world. A decade later, political pressure to ease up on supervision and regulation is having an impact in some areas. But no matter how that plays out, the stress tests are here to stay.