Why Three Rescues Didn't Solve Greece's Debt Problem
(Bloomberg) -- In August, Greece is due to graduate from its third and last international rescue program. Yet the country is still saddled with a towering public debt — nearly 190 percent of national income. After months of acrimonious talks, Greece reached a landmark deal with Europe's other governments on June 22 to ease the burden. It gives Greece a decade or more to start repaying most of its loans in return for assurances that it won't go back to the spending that brought its economy to the brink of collapse in 2009. While the agreement was hailed as a lifeline for the Greek people, it leaves questions about the country's ability to repay over the longer term.
1. Is the economy strong enough to exit the bailout?
It's come a long way. Between 2008 and 2016, the Greek economy contracted by 28 percent — one of the deepest recessions in modern history. Now output is on course to grow by 1.9 percent this year, according to the European Commission. Investors are becoming more confident, allowing Athens to return to the government-bond market in July 2017. S&P Global Ratings upgraded Greece's sovereign debt to B+ after the agreement. The interest rate on the benchmark 10-year bond has fallen from 4.6 percent a year ago to roughly 4.1 percent, though that compares with 2.84 percent for similar Italian notes and 0.35 percent for German bunds. Still, Greece's recovery is fragile.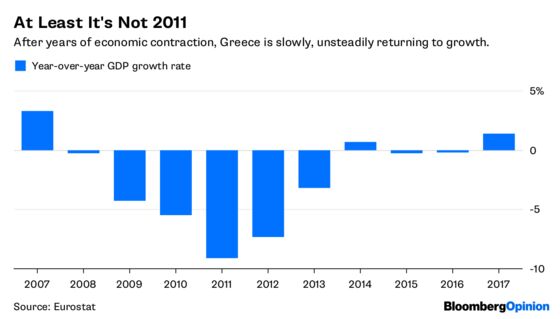 2. How much help did Greece get?
The euro zone governments and the International Monetary Fund put together three rounds of financial assistance (in 2010, 2012 and 2015), totaling more than 300 billion euros ($348 billion) in commitments, though the IMF stopped disbursing cash after the second round and only offered technical assistance. These programs all proved insufficient.
The first two programs underestimated the effect that tax increases and spending cuts would have on Greek economic growth. Successive Greek governments also delayed passing recommended structural reforms that would attract investment, such as cutting red tape. The creditors granted debt relief in the second bailout to make the numbers add up, but in the end, it wasn't enough.
4. What has Greece done to address its problems?
Multiple rounds of belt-tightening have dramatically improved the country's budget balance, though they also prolonged its recession. In 2009, Athens's budget deficit stood at 15.8 percent of gross domestic product. Last year, Greece ran a primary surplus (net of interest payments and other one-off payments) of 4.2 percent and an overall surplus of 0.8 percent of national income. Under pressure from creditors, Greece has also made some progress on structural reform. It reorganized its notoriously inefficient tax-collection system, for instance, and suspended collective wage agreements which had raised labor costs and undermined the economy's competitiveness.
5. What more does Greece need to do?
A recent OECD report called for Greek leaders to continue improving bankruptcy procedures so failing companies can close less disruptively; to clarify regulations and enforce them more transparently; and to lower barriers to market entry. Greece could also do more to speed up the extraordinarily long legal processes which delay investment. The OECD report called for more measures to address higher poverty levels and bad loans at banks.
6. Is Greece's debt sustainable?
That remains to be seen. After the debt agreement, the European Commission said that the measures "are sufficient to restore sustainability," but there is also "uncertainty surrounding the capacity of the Greek government to sustain high primary surpluses over several decades." The accord gives Greece breathing room and time to convince investors that the country is once again a credible place to put their money. Europe's governments have eased the short-term burden by lengthening debt maturities, lowering interest rates and providing generous grace periods. Before the debt agreement, an expert group of economists argued that the combination of these measures, even if stretched to the limit, would not get Greece's debts on a credible and sustainable downward path. Mario Draghi, the European Central Bank president, said in a statement that the deal "will improve debt sustainability in the medium term."
7. Where does the IMF come in?
The IMF had refused to take part in the last round of financial support for Greece, arguing that the debt relief didn't go far enough. (The fund is forbidden to lend to countries it deems insolvent.) At the same time, several European countries, notably Germany, had wanted the IMF's seal of approval — believing it would help calm investors' fears over the sustainability of Greek debt. While the IMF blessed the latest deal, Managing Director Christine Lagarde cautioned that "as far as the longer term is concerned we have reservations." The fund is expected to publish an in-depth Article IV report in July, which will provide more details.
8. Are Greek banks still a concern?
Yes. Bad loans constitute about 50 percent of their assets — more than in any other country in the European Union. Greece's largest lenders have been recapitalized three times since the start of the debt crisis, and a stress test conducted this year by the European Central Bank suggested their capital is now sufficient to withstand a medium-sized setback. But other analysts disagree, questioning the quality of the banks' capital.