Europe's Refugees
(Bloomberg) -- Europe tore down borders after the fall of the Berlin Wall in 1989. Then a flood of refugees in 2015 fleeing wars on its doorstep triggered Europe's biggest wave of displaced people since World War II and a crisis that put some of those fences back up. Three years later, the political fallout continues with a new populist Italian government taking a hard-line stance on refugee arrivals. The 28-member European Union is deeply divided over how to handle asylum-seekers escaping conflict and poverty in the Middle East and Africa. The rift has raised questions about the EU's commitment to its passport-free zone — one of the bloc's crowning achievements — as leaders squabbled over balancing moral and legal obligations with anti-immigrant sentiment.
An EU deal with Turkey in March 2016 largely halted what had been an uncontrolled flow of asylum-seekers smuggled onto Greek islands from the Turkish coast in 2015, when more than 1 million migrants arrived in Europe. The figure fell to about a third of that number in 2016 and to around 172,000 last year. Around a third applied for asylum in Germany, where Chancellor Angela Merkel's open-door policy hurt her popularity at home and featured in talks on a coalition government for her fourth term. The political tensions erupted again in June 2018 when Italy refused to let boats with more than 600 mainly African refugees dock, forcing them to head to Spain instead, and Merkel accepted a two-week deadline from her interior minister to reach a deal with other EU governments on returning migrants to the countries where they were first registered. To cope with the surge in 2015, Germany, Sweden and other countries temporarily reintroduced some border controls, while Hungary, Slovenia and Macedonia erected fences along sections of their borders. Terror attacks in Europe have hardened resistance to a plan to redistribute asylum-seekers across the bloc.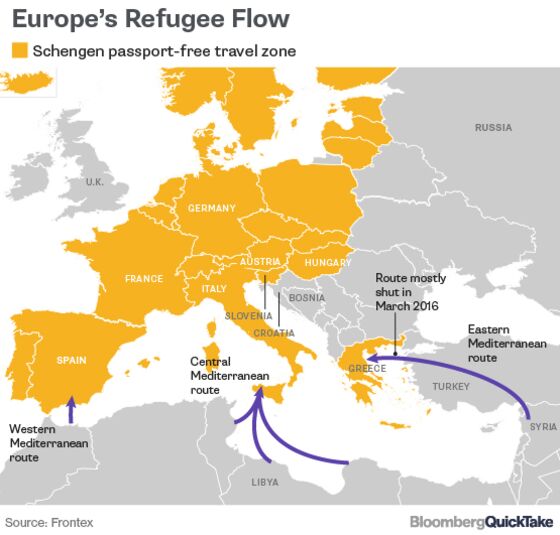 Historically, more people emigrated from Europe than were received, as they headed to the Americas. World War II left as many as 20 million Europeans displaced. During the Cold War, western European countries took in refugees from the Communist East, though those people would often move on. That began to change in the 1990s with the dissolution of the Soviet bloc and the reunification of Germany. The disorderly break-up of the former Yugoslavia forced more than 400,000 people to seek refuge outside its borders. The scale of the current refugee crisis in the Middle East and North Africa, however, is unprecedented in recent times. The United Nations estimates that about 18.8 million people in those regions have been displaced by violence. Once refugees reach the EU, they can generally travel freely. The bloc abolished checks at most internal borders in 1995 and now 26 nations are part of the passport-free Schengen area. Under the EU's Dublin Convention, refugees are supposed to apply for asylum in the first nation they enter. But many don't want to remain in an overwhelmed Greece or other Balkan nations, and press ahead to richer countries. Syrians fleeing a six-year civil war made up the largest group of refugees arriving in Greece, joined by Iraqis and Afghans who were also escaping violence. Turkey still shelters more refugees than any other nation.
Politicians from France, Germany and other European countries warn that the challenges posed by Europe's refugees could weaken or even split their union. European Commission President Jean-Claude Juncker points out that Europeans of all nationalities were forced to emigrate at some point in history, including those in eastern Europe now opposed to a resettlement system. Some leaders, like Hungarian Prime Minister Viktor Orban, are using the issue to marshal nationalist support at home. They are feeding on concerns that the refugees, who are mainly Muslim, could bring crime and terrorism as well as higher unemployment rates to an EU still reeling from a debt crisis. Nationalist parties have surged in polls and elections as their candidates question whether Europe can withstand a persistent influx of refugees. Germany is leading the effort for greater EU oversight and burden-sharing, while also pushing for swifter deportation of people who don't qualify for asylum.