The World Cup Final Is Here. What You Need to Know: QuickTake
(Bloomberg) -- With 63 games down and one to go, the 21st World Cup has reached its climax. France and Croatia will face off in today's final, after Belgium beat England in the third-place playoff. It's the culmination of a month-long soccerfest that has enthralled fans globally with last-minute dramas, upsets aplenty, the novelty of video refereeing and just one 0-0 draw. Host Russia has enjoyed a public relations coup, not to mention a thrilling, unexpected run by the home team, as hundreds of thousands of overseas fans thronged the streets in colorful celebrations.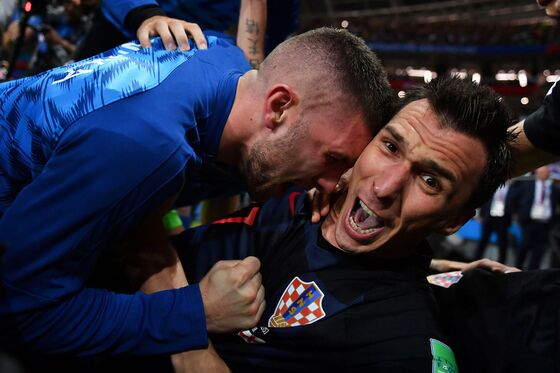 Bookmakers rate France a clear favorite for the final in Moscow's Luzhniki stadium, which begins at 6pm local time. The French are seeking a second world title, Croatia a first. France has never lost to Croatia, winning three times (including their 1998 World Cup semifinal) and drawing their two most recent meetings in 2004 and 2011. But it's been a World Cup of surprises, from Germany's first-round exit to bottom-ranked Russia making the quarterfinals.
2. Can the underdogs do it?
They'd need to overcome formidable opposition. As well as having pace and strength in attack, epitomized by teen striker Kylian Mbappe, the French are adept at denying opponents space and goal chances. Coach Didier Deschamps' squad has stopped four teams scoring, a tournament high, including a 1-0 semifinal win that ended Belgium's 24-game unbeaten run. Croatia has shown great resilience, surviving penalty shootouts against Denmark and Russia then overcoming a 1-0 deficit to defeat England 2-1 in extra time. Coach Zlatko Dalic's team boasts some of the tournament standouts, including striker Ivan Perisic, midfielder Luka Modric and goalkeeper Danijel Subasic. Croatia didn't wilt against England, quite the opposite, but will it feel the strain having played the equivalent of one extra game than France?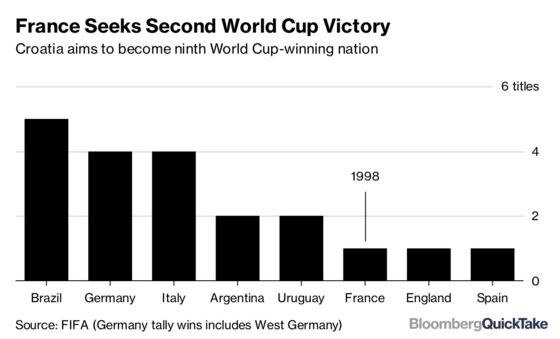 For France, it's a chance to make up ground on Europe's traditional soccer powers. Since the French won their only World Cup in 1998, Germany and Italy have both added their fourth titles. While this will be France's third World Cup final in 20 years, Croatia has never got this far. The east European country of 4.1 million people is vying to become the smallest nation to win the World Cup other than Uruguay, underlining an ability to punch above its weight -- it came third on its World Cup debut in 1998 -- and not just in soccer. France last reached the final in 2006, when Zinedine Zidane was red-carded for a headbutt before Italy won a shootout. In 1998, Zidane used his head to better effect to score twice in a 3-0 final victory over Brazil. A win for Croatia would rank it the ninth nation to be crowned world champion. The most recent first-time winners were Spain in 2010 -- and France in 1998. Then, Deschamps hoisted the trophy as captain at the Stade de France in Paris. Now, he's seeking to join Germany's Franz Beckenbauer and Brazil's Mario Zagallo as the only winners of soccer's top prize both as a player and coach.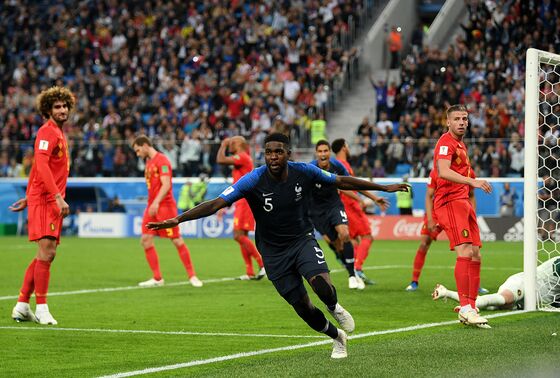 4. What about third place?
Belgium recorded its best World Cup finish, going one better than its fourth place at the 1986 World Cup. Its 2-0 victory on Saturday was its second win against England at the tournament. For the English, they matched their best showing in overseas World Cups. The 1966 champion also finished fourth in 1990 after losing the third-place playoff to host Italy.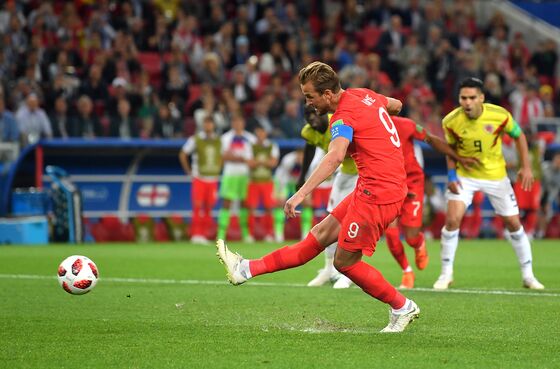 5. Who'll win the Golden Boot?
England striker Harry Kane is out front as the tournament's top scorer with six goals, all of which came in England's first four games. Belgium's Romelu Lukaku failed to add to his four goals in the playoff. For France, Antoine Griezmann and Mbappe lead with three goals. Portugal's Ronaldo and Russia's Denis Cheryshev also scored four goals to share second place with Lukaku.
6. What's been different at this World Cup?
Referees making large rectangular shapes with their fingers then reviewing controversial moments of play on a pitch-side TV screen. FIFA, soccer's governing body, introduced "video assistant referees," or VAR, to help adjudicate goals, penalty decisions and more. Four reviewers monitor the action from a room in Moscow, and they've been busy. The reception for VAR has been largely (if not totally) positive, with most criticism arising not from the actual system but from the referees' flawed interpretations or failure to deploy VAR. Concern it would slow games down has proven largely unfounded.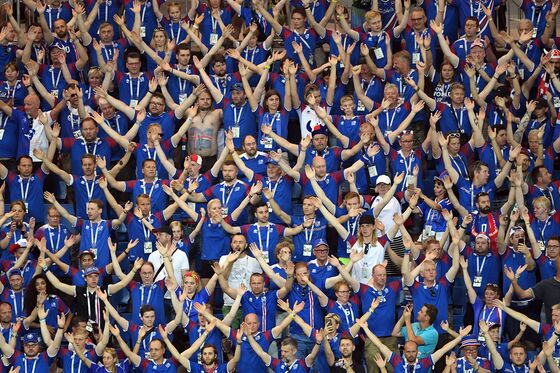 7. Anything else different?
The lack of 0-0s -- just one so far (Denmark vs France). Thanks in good measure to VAR, Russia 2018 has been high on penalties awarded (a record 28) and low on red cards (four) and offsides. The 11 own-goals smashed the record of six at France 1998. Senegal became the first team ever to be eliminated by virtue of having a worse "fair play" record, losing out to Japan because it had collected more yellow cards. There was also the first World Cup airing of the Viking clap of Iceland supporters during their tournament debut, while Panamanian fans wildly celebrated their team's first ever World Cup goal in a 6-1 thrashing by England as if they'd won the game. Another novelty: England finally won a World Cup penalty shootout at the fourth attempt.
8. How have the bank boffins and psychic animals fared?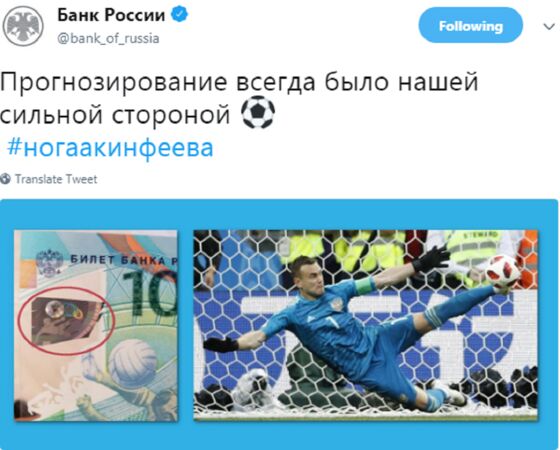 Some forecasters are learning the hard way that the beautiful game can't simply be reduced to statistics and data modeling. Commerzbank AG and UBS Group AG both picked Germany, while Goldman Sachs Group Inc. went for Brazil. However, Nomura Holdings Inc. opted for France, as did EA Sports, the official video-game company that correctly predicted the last two winners by simulating the tournaments. After Paul the octopus's prescience at the 2010 World Cup, Russia promoted a deaf cat called Achilles as its tournament oracle. However, the feline's psychic powers were overshadowed by Rabio, an octopus that correctly called Japan's first three results. Alas, Rabio was killed and sold as seafood before the next game: a 3-2 loss to Belgium after Japan led 2-0. Russia's central bank noted the similarity between an image on its special World Cup banknote and the Russian keeper's decisive shootout save against Spain. "Forecasting has always been our strong point," the Bank of Russia said.
While French President Emmanuel Macron will be in the stadium for the final, as he was for the semifinal, there were no U.K. officials on the sidelines for England's games after Prime Minister Theresa May ruled out the attendance of British politicians and royals. Her decision followed the poisoning on British soil of a Russian former spy and his daughter and, according to Bloomberg's Thomas Penny, is looking like a political own goal. On the other hand, the death of a British citizen from the same poison this week would have made May's attendance controversial. One welcome group of absentees from the tournament: Russia's soccer hooligans, known as "ultras."
10. What's controversial about Russia hosting?
The 2010 vote by FIFA's executive committee awarding Russia this year's tournament is still under criminal investigation by French, Swiss and U.S. prosecutors, with lingering accusations that the vote was rigged. There are still-fresh memories of the doping scandal that unfolded after the 2014 Sochi Winter Olympics and resulted in the Russian team being banned from this year's winter games. (Vitaly Mutko, the former sports minister who was banned for life from the Olympics, was on the FIFA committee that selected Russia and ran the organizing committee until resigning in December.) Because of Russia's 2013 law banning public expressions of support for homosexuality, LGBT soccer fans have been warned not to hold hands or otherwise display their affections.
11. What's in it for Russia?
Vladimir Putin's government spent 683 billion rubles ($11 billion) on preparations, much of it on new stadiums and transport infrastructure. Beyond that, the economic impact will be "very limited" because most of the 12 stadiums are in areas -- like Yekaterinburg in the Ural mountains -- that are unlikely to draw tourists over time, Moody's Investors Service said before the tournament. Putin used the Sochi Olympics to bolster his public image, but his approval ratings are so high that the World Cup is unlikely to affect his standing at home. While staging a successful tournament probably won't influence his critics overseas, many visiting fans have remarked that Russia's been much nicer and more welcoming than they expected.