Even a Strong Economy May Not Save Spain's Government: QuickTake
(Bloomberg) -- It was all looking so good for Spain's prime minister, Mariano Rajoy -- or as good as it could for the head of a minority government. He had successfully steered his budget through parliament, burnishing his credentials as steward of Spain's economic expansion and smoothing his path to staying in office until 2020 when new elections are due. Now the Socialists, Rajoy's main opponents in parliament, are pushing ahead with a no-confidence motion, suddenly imperiling his position as head of Spain's government since 2011.
1. What's fueling the discontent?
Corruption, a problem that's faced Rajoy's People's Party for a long time. It flared up again after a National Court judge in Madrid ruled on May 24 that the party financed some of its electoral activities with proceeds from a decade-long illegal funding scheme that included tax evasion and embezzlement. The judge sentenced a former party treasurer, Luis Barcenas, to 33 years in jail and ordered the party to pay back more than 245,000 euros ($285,000).
2. Is this another of Europe's populist uprisings?
Not really. The corruption allegations swirling around the People's Party were certainly one of the reasons that explained the rise of Podemos, the anti-establishment, anti-austerity party that grew out of street demonstrations against politicians and banks and exploded onto Spain's political scene in 2014. It's now the third-biggest party in parliament. But the calls to unseat Rajoy come from across the political spectrum, including from the Socialists and Ciudadanos, a liberal party that has supported government legislation including budget measures. Unlike in, say, Italy or Hungary, a pro-European consensus remains strong in Spain.
3. Does this have anything to do with Catalonia?
Only indirectly. The 2017 bid by then-Catalan President Carles Puigdemont to declare independence from Spain undermined Rajoy by drawing PP supporters to Ciudadanos, which they saw as the most effective opponent of the separatist campaign. The Catalonia crisis wasn't the cause of the mess Rajoy is in now, but the votes of Catalan separatist deputies could be key to his downfall.
4. Does Rajoy have a way out?
The economy remains a point of strength. Spain is on course to grow 2.7 percent this year, extending a spurt that began at the end of 2013 as the country emerged from financial crisis. The government sees the expansion continuing with growth of 2.4 percent next year and 2.3 percent in 2020 and 2021, driving down unemployment to 11 percent from 16.7 percent now. While the financial crisis drove up income inequality, and many Spaniards that lost their jobs and found new ones are now working for less, Rajoy's record of economic management may be his strongest suit as he confronts the bid to topple him.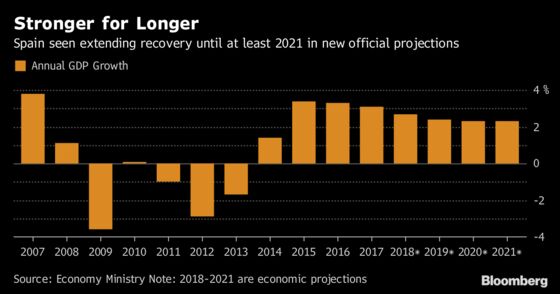 5. What does this mean for Europe?
Already, Spain is being wrapped in with Italy as twin causes of new political and economic instability in Europe. But investor concerns in Spain center on the shape of a new government, not (as in Italy) on whether an anti-Europe and anti-euro consensus is taking shape. New elections in Spain would probably lead to a variety of market-friendly, pro-European policy but Socialist leader Pedro Sanchez's best chance of winning would be persuading Catalan separatists and Basque nationalists to back a narrow winning majority -- an outcome Rajoy derides as a "Frankenstein coalition." An administration in that form could cause some instability before a vote is called.
6. What does Rajoy say about his future?
In a nutshell, he's staying. Spaniards gave him a four-year mandate and he plans to see it through. That said, more court judgments on the corruption case are likely to keep surfacing in coming months, piling more pressure on Rajoy. Even if he survives the confidence vote, his position at the head of a minority government that's powerless to pass legislation may become increasingly untenable.
Spanish opposition plan to topple Rajoy is seen gaining momentum.
It feels like 2012 again as Italy makes markets shudder.
A QuickTake explainer on Catalonia's history and the battle that divides Spain.