Central Bank Independence
(Bloomberg) -- After inflation ran amok in the 1960s and 1970s, many central bankers fought for, and won, more freedom to set interest rates and make other monetary policy decisions without political interference. Their shields began to crack after the 2008 financial crisis. In the years since the bankers deployed trillions of dollars to save the global financial system, the public's faith in their work has been falling. Critics say independent central banks are too secretive and put commercial banks' interests before taxpayers', so it's time for more public control. Central bank officials counter that they need to be free from political pressures to do their job of curbing inflation, promoting full employment and maintaining financial stability. But the "trust us" mantra is increasingly a tough sell. 
Central banks everywhere are struggling to stay above politics. In July, U.S. President Donald Trump criticized the Federal Reserve's interest-rate increases, breaking with more than two decades of White House tradition of avoiding comments on monetary policy out of respect for the independence of the central bank. In Turkey, President Recep Tayyip Erdogan has a long history of pressuring his nation's central bank not to raise interest rates, since he holds the unorthodox belief that high interest rates cause rather than curb inflation. After winning re-election in June, Erdogan took action to limit the central bank's independence by claiming the power to name the bank's members and putting his son-in-law in charge of economic policy. In July, as inflation was accelerating, the central bank stunned investors by holding interest rates unchanged. It's left rates unchanged even as the Turkish lira has sunk to record lows. In South Africa, the majority African National Congress party has called for government ownership of the central bank, one of only a few in the world that is privately owned. President Cyril Ramaphosa has said he is committed to its independence even as his government was considering ways to implement the ANC's resolution. 
The modern notion of central-bank independence evolved over time. Following the Great Depression, the U.S. Congress gave the Fed more power to set monetary policy. Still, it wasn't free from political arm-twisting: Both Presidents Lyndon Johnson and Richard Nixon pressured Fed chairs to keep interest rates low. In the 1970s, Congress clarified the Fed's mandate — to strive for maximum employment, stable prices and moderate long-term interest rates. Fed Chair Paul Volcker's drastic efforts to curb high inflation helped cause the recession of 1981-82 and attracted fierce criticism — but soon brought prices under control and set the scene for steady economic growth. As a result, the case for central-bank independence gained ground elsewhere. The Bank of England was granted operational independence in 1997. And the European Central Bank, created in 1998, was independent from the outset because it oversees interest rates for all countries sharing the common euro currency. But in recent years there's been movement in the opposite direction. The Bank of Japan agreed in 2013 to coordinate policy with the government, a move some called an alarming attack on its independence. In her 2014 re-election campaign in Brazil, former President Dilma Rousseff galvanized supporters by saying an independent central bank would benefit rich bankers and exacerbate poverty. Most of the attacks on the U.S. Federal Reserve stemmed from the financial crisis. It was blamed for failing to foresee and prevent the meltdown, and for its later role in bailing out some of the very financial institutions that contributed to the disaster. Republicans in Congress have regularly proposed legislation that would subject monetary policy to much tighter review and reduce the Fed's regulatory and emergency-lending authority, though it's never passed the Senate.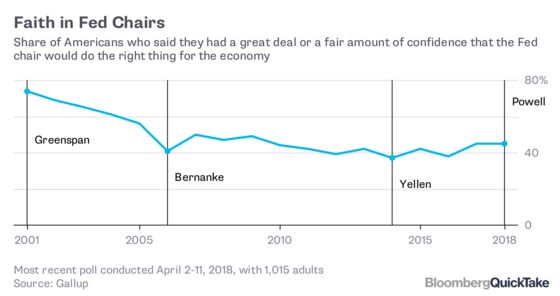 A widely cited 1993 paper by Alberto Alesina and former U.S. Treasury Secretary Lawrence Summers concluded that independent central banks are better at controlling inflation than central banks under political control. Shielded from pressures of day-to-day politics, the paper noted, they can make unpopular decisions and take a longer view. Former Fed Chair Janet Yellen had restated this case in testimony to Congress. Supporters of the current Fed arrangements add that reports to Congress and financial audits by the U.S. Government Accountability Office provide plenty of oversight. Nobel laureate Joseph Stiglitz has argued that economies with independent central banks don't always do better in financial crises. As central bankers have turned to new tools like bond-buying to juice their economies, they've taken on more of the roles that normally fall to lawmakers and government spending. But they can't fix everything. Bank of England Governor Mark Carney said in 2017 that most of the adjustments required to smooth the U.K.'s exit from the European Union were not in "the gift of central bankers." People, he said, should not confuse "independence with omnipotence."