Why `Risk On' and `Risk Off' Are How the Markets Roll: QuickTake
(Bloomberg) -- Sometimes markets are described as "risk on" or "risk off." The analysts using those terms generally say them with great confidence. Many people hearing them feel like they kind of know what they mean, but aren't absolutely entirely sure. Or that they'd like to ask for a little more detail -- you know, for a friend.
1. What's 'risk on' and what's 'risk off'?
They're both shorthand for global market sentiment. When investors are optimistic about the outlook for the economy, or feel that markets are mispricing the outlook, they will bid up the price of riskier assets. That's "risk on." Sometimes fresh data or alarming news drives up uncertainty about the future, as on a day when doubts piled up about everything from the Turkish lira to nuclear talks with North Korea. When that happens, investors tend to sell risky assets in a hurry and buy assets seen as safe havens, ones that are usually less vulnerable to a weakening outlook or deteriorating investor confidence. That's "risk off."
2. What are typical 'risk on' investments?
Stocks are the most obvious, especially those with higher prices relative to profits, or in industries that are more dependent on economic growth. For bond investors, lower-rated but higher-yielding corporate and sovereign issues are considered "risk on" assets. So are emerging-market currencies and industrial metals like copper.
3. What about 'risk off' investments?
Those typically would be U.S. Treasuries and German bunds, both seen as all but risk-free. Shares of companies with slower-growing but stable profits and dividends -- think utilities -- will often do better than the rest of the equity market during periods of "risk off," though they may not necessarily gain. Among currencies, the yen tends to rally as investors unwind carry trades in which they borrowed the Japanese currency at a low interest rate to buy higher yielding (riskier) assets in other markets. Big gains in products tied to equity volatility indexes like the CBOE Volatility Index (VIX) are a sure sign of a risk-off market as investors bid up the price of options that protect against further losses in stocks.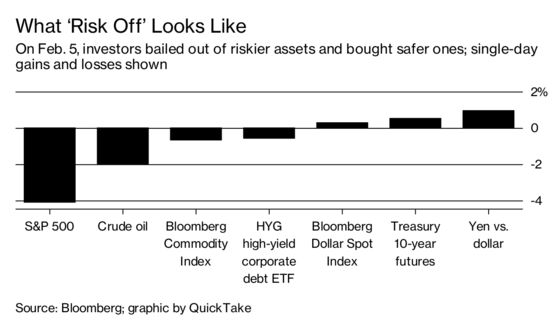 4. How firm are these rules?
Things change. While bonds of developed nations were generally lumped into the "risk off" category, the European debt crisis spoiled that notion as some nations struggled with deteriorating finances. More recently, the expansion of U.S. fiscal deficits in the wake of last year's tax cuts and this year's spending bill has increased the amount of Treasuries being sold, so their role as a haven asset has become somewhat less pronounced. In fact, a main reason cited for the "risk off" mode in stocks this year is that Treasury prices have been falling, and interest rates rising, due in part to the additional supply of bonds in the pipeline to pay for the deficits, coupled with concern inflation will accelerate.
5. How does this fit with the 'buy and hold' mantra?
It doesn't. That's why "risk on" and "risk off" are thrown around more by market professionals seeking to trade actively than by mom-and-pop investors. These market pros are more likely to jump when they see extreme correlation across asset classes in the very short term -- that is, lots of things going up or down together, for a little while. Over longer time frames, each asset class will be more influenced by its own unique fundamentals.
6. Have 'risk on' and 'risk off' always been around?
Their impact on the market became most pronounced during the financial crisis last decade. Since then, academics, policy makers and analysts from places like Oxford University, the U.S. Federal Reserve and HSBC Holdings Plc (which created a RORO index to track it) have been studying it in depth. It seemed like the "risk on/risk off" trading tendencies had gone away last year, as the Federal Reserve Bank of Atlanta wrote in November. However, a few months later it became clear investors were back to their old ways and hitting the on/off switch frequently.