Power for All in India! How Close Is Modi's Goal?: QuickTake
(Bloomberg) -- In a country where about 70 percent of the 1.3 billion population live in rural areas, getting electricity to everyone in India has proved something of a challenge. Among the reasons are the dire state of the power distribution companies' finances and rampant theft from the grid. Prime Minister Narendra Modi was elected in 2014 partly on a commitment to light up every home. With a general election expected next year, and access to power a key issue for voters, Modi's plans are coming under scrutiny.
1. How bad is the power situation?
About 270 million Indians had no access to electricity in 2014 -- making up one third of the world's powerless. (Nigeria was second-highest with 75 million.) Access in India's rural communities has jumped since 1990, when less than half had electricity, but more than a fifth of non-city dwellers still were without power in 2016, according to World Bank data. That compares with 100 percent rural coverage in China and 99 percent in neighboring Pakistan.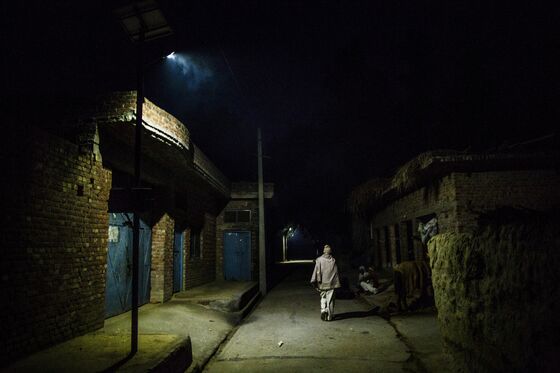 2. Why has India failed to deliver?
Local politics mostly. State governments often require the companies that distribute and market electricity at the state level, known in India as discoms, to sell power to consumers below cost, largely because that makes politicians popular with voters. Discoms are consequently forced to borrow heavily to pay power-generation companies, restricting their ability to expand services. Also, discoms don't get paid for about one-fifth of the power flowing through their networks because of sloppy billing and revenue collection, poor wiring or straight-up theft. Over the years, politicians have shown a lack of will to address the issues. Modi is trying to change that.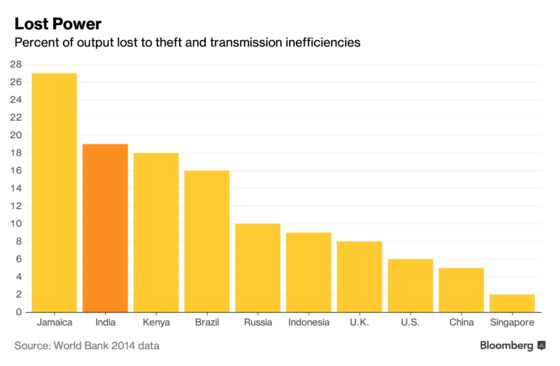 3. What did Modi promise and how's he faring?
After taking charge in May 2014, Modi announced his bold plan to provide electricity for all. The following year he added details, pledging to connect 18,452 villages identified as powerless within 1,000 days -- in other words, by May 1, 2018. (India has more than 597,000 villages.) He followed up with a proposal to provide electricity access to every home by the end of March 2019. The first goal appears to be within reach. The second, though, may take longer. Homes in remote villages may be difficult to connect to the grid, while off-grid supplies (mostly from solar panels) need regular monitoring and maintenance.
4. Is getting electricity to a village the end of the story?
Not at all. The government standard for an electrified village is having connections at public places (schools and health centers) but only at 10 percent of homes. The ultimate success of Modi's plans hinge on connecting every home -- and ensuring affordable and reliable supplies. To meet the 2019 deadline, the government needs to connect about 2.9 million homes a month. Complicating that job is the fact that power distribution is the responsibility of the states, so the task is out of the federal government's hands once the infrastructure is in place. On the plus side, Modi's ruling Bharatiya Janata Party and its allies hold power in 20 of the 29 states.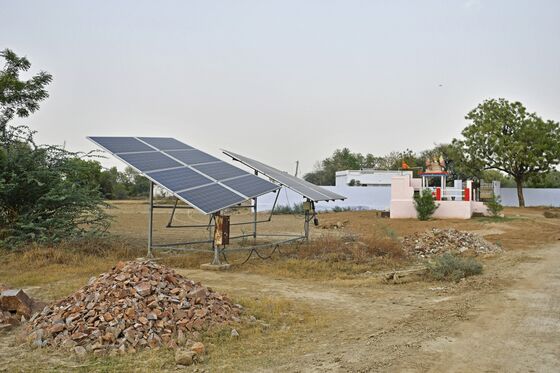 5. What else is Modi doing?
Pushing state governments to revive the financial health of their electricity distribution companies. For instance, most of the discoms' liabilities have been transferred onto the books of the states that own them. That's made for lower interest payments. Theft -- through illegal tapping into the supply, tampering with meters or simply failing to pay the bills -- is also being targeted. So-called smart meters are being installed to detect unusual spikes in power use and core wiring is being insulated to make it harder to infiltrate. The federal government has demanded utilities cut their electricity loss rate to 15 percent by 2019 and discouraged lenders from giving short-term loans to discoms, closing the tap of easy money that's helped them roll over losses.
6. Will electricity be an issue at the next election?

The timeline for Modi's plan -- by the end of March 2019 -- comes just a few weeks before his term expires, meaning it's likely to figure in voters' minds around election time. Electricity, roads and water supply are traditionally among the big voter issues, and not just in the villages. Urbanites regularly have to deal with power outages, which has created a thriving market for back-up power equipment. With Modi's government on track to fulfill most, if not all, of its commitment to supply access to electricity, voters still waiting for power may direct their frustration more at state governments that have contributed to a failure to complete the job.