Panmunjom, the Korea Truce Village and Tourism Oddity: QuickTake
(Bloomberg) -- Sometime during the morning of April 27, Kim Jong Un will arrive by car and walk across the demarcation line that for 68 years has divided North Korea and South Korea. The crossing will be the first ever by a North Korean leader and is scheduled to happen within the 4-kilometer-wide (2 1/2-mile) Demilitarized Zone that runs along the countries' shared border. Kim will then proceed to a meeting with South Korea President Moon Jae-in at an area called the Joint Security Area -- more commonly known as Panmunjom.
Panmunjom has served as ground zero for much of the peninsula's six decades of turmoil since the end of the 1950-53 Korean War, including bloody clashes, high-profile defections -- and the regular dashing of hopes for peace. It's an area that's home to a small enclave of buildings and makeshift huts. Once a farming enclave, Panmunjom became known as a "truce village" for hosting hundreds of talks between the two Koreas. They are technically still at war because an armistice, not a peace treaty, was reached in 1953. Panmunjom sits on the 38th parallel, a line drawn by the former Soviet Union and the U.S. after World War II to separate the countries.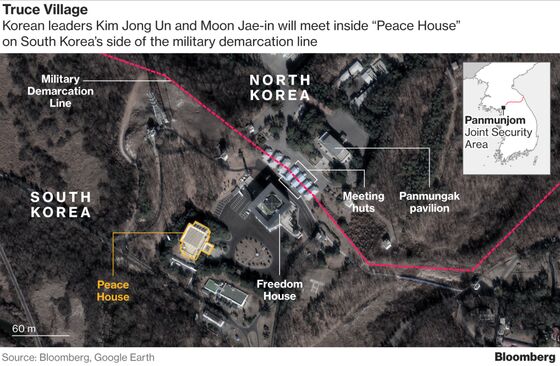 2. What does Panmunjom mean?
It was originally called "nul ban ri," or plank-door village, so-called because the house doors and bridges were made from planks of wood. When the village became the site of talks during the Korean War, Chinese officials labeled it with traditional Chinese characters, which when pronounced in Korean sounded like Panmunjom -- and that stuck.
3. Where exactly will Moon and Kim meet?

The first talks between leaders of the two Koreas in more than 11 years will take place within the Panmunjom grounds at a building called Peace House. A symbol of previous South Korean governments' hopes for improved relations, Peace House is a three-story building built in 1989 for the specific purpose of hosting talks between the countries. It is controlled by the United Nations. Moon and Kim will probably meet on the second floor, which has a meeting hall and waiting rooms. Cameras and microphones in the meeting area have allowed leaders of the countries to monitor talks in the past. In the evening, Moon and Kim will dine in the reception area on the third floor.
4. Can tourists visit Panmunjom?
It's easier for foreign passport holders than it is for South Koreans. Overseas visitors can sign up with tour companies sanctioned by the United Nations. For South Koreans, applications are vetted by the country's spy agency, the National Intelligence Service, and the process can take up to four months. Until the early 2000s, the agency operated a hotline for "anti-communism consulting" as a mandatory procedure for applicants.
TripAdvisor users give it 4 1/5 stars out of five. "Surreal" is a word many tourists use to describe the experience. A dress code bans ripped jeans, sleeveless shirts, crop tops, tank tops, and shirts with "defamatory or provocative" wording. "Gangster and hip hop-like baggy pants or sweaters, leather vests and pants" are also not allowed. During the bus ride up a six-lane highway -- constructed in case the countries reunify -- tour guides explain that dozens of overhead bridges aren't bridges at all but anti-tank concrete barricades designed to counter a North Korean attack. Once at the village, U.S. soldiers escort tour groups to view armed South and North Korean guards standing face-to-face.
6. Has there been any trouble at Panmunjom?
There have been a number of deadly clashes. The most infamous came in 1976 when ax-wielding North Korean soldiers attacked a group of U.S. soldiers who were cutting down a tree in the village. Two Americans were killed. Several North Koreans have fled their country via Panmunjom, including last year when a guard sprinted across the border as fellow guards chased, inflicting half a dozen gun shot wounds on the defector.