Why India Is Now Scrambling to Print More Currency: QuickTake
(Bloomberg) -- Seventeen months after India's leaders removed most paper currency from circulation, the government and monetary authority are seeking to quell fears of a cash shortage by printing more currency. The key problem: Cash-dispensing machines are reported to be running dry in some parts of the country. The shortage is stoking fears of a repeat of the chaos of November 2016, following Prime Minister Narendra Modi's unexpected edict to withdraw all 500-rupee ($7.5) and 1,000-rupee notes.
1. Why the need now for more cash?
There was an unexpected surge in demand in a number of Indian states including Andhra Pradesh, Telangana, Karnataka, Madhya Pradesh and Bihar, according to Finance Minister Arun Jaitley. Some Indians are thought to be hoarding cash -- especially the highest-value 2,000 rupee notes introduced in 2016 -- out of concern about a proposed bill that would let regulators use public deposits to bail out a bank that goes bust. Another possible reason for the cash shortage is that payments to farmers have gone up during the ongoing crop-purchase season. And looming elections in some states might also be increasing demand for currency, since money-for-votes is a common practice in India, as is spending cash for legitimate expenses such as paying people for door-to-door campaigns.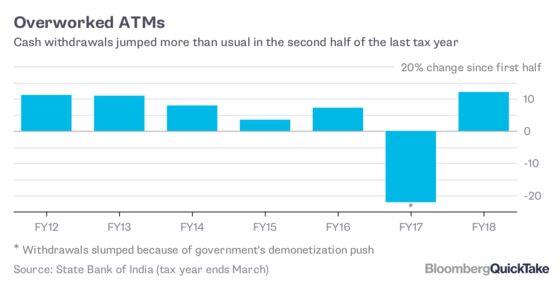 2. What is India doing about this?
The Reserve Bank of India said it was "taking steps to move currency to areas which are witnessing unusually large cash withdrawals." It assured the public that it has enough money in its vaults, though it will print more notes to meet increased demand. Notes equivalent to 25 billion rupees are being printed daily.
3. Could there be broader consequences?
If not settled quickly, the banknote crunch could slow the pace of economic expansion -- as consumption in regions facing the cash squeeze droops and small businesses run out of working capital -- and erode the public's faith in the banking system. Unlike the 2016 cash shortage, which was the result of government policy, this one is driven by public nervousness that could overwhelm authorities who already were grappling with a major banking scandal and a long-running problem with bad loans.
4. Didn't the government want less currency, not more?
That wasn't the real point of Modi's demonetization. Its primary goals were to combat counterfeiting, reduce the amount of unaccounted-for money and nudge a cash-dominated society in a digital direction. To that end, India replaced existing 500- and 1,000-rupee notes, introduced a new 2,000-rupee bill and didn't announce a drastic reduction in the overall supply of currency. As a share of the economy, cash in circulation as of April is about 11 percent, compared with 12 percent before the demonetization drive, data provided by the central bank shows.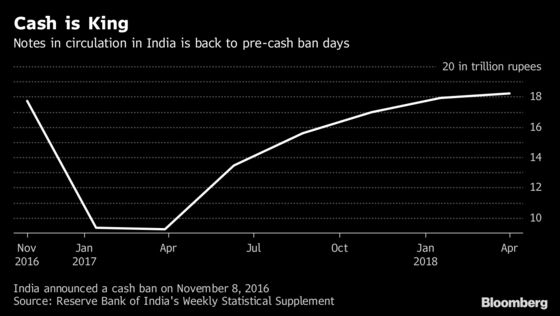 5. What happened to the push for more digital payments?
Such payments are rising, as Modi had hoped. But in a country where villages lack even basic necessities like electricity, a robust digital infrastructure that lessens demand for cash is still a long shot. Internet penetration in India is half of that in China. Nevertheless, Credit Suisse Group AG estimates that India's digital-payments market could be worth $1 trillion within five years. Google, Alibaba-backed Paytm, a unit of local e-commerce leader Flipkart, Whatsapp and dozens of other companies are vying for customers as smartphone adoption surges.
QuickTake explainers on India's 2016 scramble to replace old banknotes and its efforts to aid struggling state-run banks.
Why the banknote shortage came at a bad time for India's financial system.
India is moving quickly to quell fears of a cash shortage before it spirals out of control.
Facebook Inc. to Google seek to capture India digital payments market.