Pakistan's Turmoil
(Bloomberg) -- Since its birth in 1947, Pakistan has lived in constant turmoil. Conceived as a democracy, it has been ruled by the military for almost half its life. Engaged in off-and-on talks with its traditional foe India, its leaders have deep suspicions of the fellow nuclear power next door that continue to drive national priorities. Even as it allows notorious Islamic militants to operate on its soil, the world's sixth-most populous nation has developed an emerging middle class as well as an increasingly independent judiciary and news media. It is both a fragile state and a modernizing society.
The party of Imran Khan, the cricket star turned anti-graft crusader, dominated elections July 25. Assuming the Movement for Justice succeeds in forming a coalition government, Khan will inherit from the ousted conservative party of Nawaz Sharif an economy in crisis. It would be only the second time in the country's 71 years that a civilian administration passed on power. Khan is popular with younger voters but has been accused by analysts and politicians of being a tool for the military's aim to get a pliant leader into power, an assertion he's denied. He has also courted controversy by appealing to the religious right. Nawaz Sharif was ousted as prime minister for the third time in his career in 2017, this time over corruption allegations stemming from the Panama Papers which were investigated by a team that included members from military bodies. Sharif was jailed weeks before the election after being handed a 10-year sentence. He is appealing against his conviction. Sharif was previously deposed by a military coup in 1999 and there is great mistrust between his family and the military establishment. The armed forces have entrenched positions in the economy through land ownership and shareholdings in large corporations, along with an oversized sway on foreign policy. The generals bristled at Sharif's efforts to improve relations with India and Afghanistan. U.S. President Donald Trump has stepped up pressure on Pakistan with warnings to stop harboring terrorists or risk losing funding. The nation faces increasing financial stress: It has devalued its currency four times since December to address widening trade and current account deficits and may need a bailout from the International Monetary Fund.
Carved out of mostly Hindu India as a homeland for Muslims when India gained independence from Britain, Pakistan has experienced three successful military coups. Even when elected governments have ruled, the military, especially the Inter-Services Intelligence agency, has played a forceful role. The government has made major investments in a nuclear arsenal although many citizens still lack access to clean drinking water or a toilet. India routinely accuses Pakistan of backing anti-India militants in the fight over the border state Kashmir. Pakistan supported the Taliban in the early 1990s to subvert Afghanistan's Soviet-backed government. Its continued patronage after the Taliban took over in 1996 ensured an ally to the west to counter India looming in the east. After a 2001 U.S.-led invasion of Afghanistan brought to power a government friendlier to India, Taliban remnants found refuge in Pakistan. So did al-Qaeda leader Osama bin Laden — until U.S. forces killed him in a 2011 raid. The policy of using extremists to pursue strategic goals has blown back on Pakistan. Militant groups have metastasized and struck within the country, largely against security forces and Muslims of the minority Shiite sect. By one estimate, more than 63,000 people have died in terrorist violence in Pakistan since 2003, including an attack in 2014 in which 132 students were killed at an army-run school in Peshawar.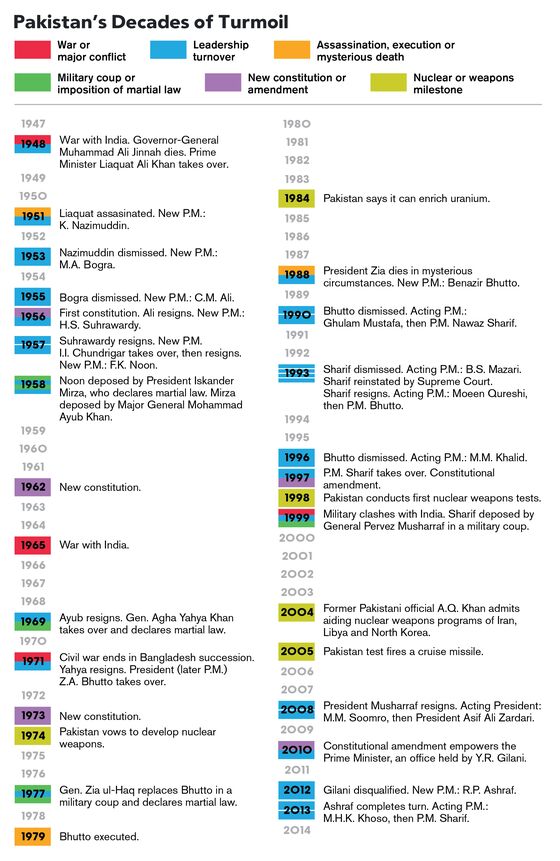 One view of Pakistan holds that the military's dominance is irreversible. In this judgment, the generals don't want to stop cross-border attacks by extremists or allow peace initiatives to succeed because they distrust their neighbors, and they can't afford to because they need tumult to justify their budgets and power. Accordingly, it's not surprising that the anti-terror campaign has focused on groups that target Pakistan rather than India. Another perspective is that Pakistan's turbulence is part of the growing pains of a young, Islamic democracy that is maturing. In 2009, a nationwide movement by the country's lawyers restored an ousted Supreme Court chief justice. Afterwards, courts removed a prime minister for defying a court order. While threats from militants make journalism a dangerous occupation, Pakistan's media have grown to be a robust force. The nation's middle class is expanding and its benchmark stock index had performed so well before the current economic crisis that MSCI Inc. included Pakistan's equities in its benchmark indexes the same day it rejected mainland China's in 2016. A nascent youth culture promotes art, music and women's participation in the economy.