Zenith's All-American Pilot Watch to Benefit Wounded Warrior Project
Limited to 50 pieces and available exclusively in the U.S., the pilot chronograph features a 43mm steel case and rotating bezel inspired by the American flag, a theme picked up on the oscillating weight with its Côtes de Genève motif. The watch has a matte blue dial coordinated with a matching aluminum ring inside the bezel. The triangle marker and second hand are red, and it is fitted with a blue kudu-hide strap with white and red stitching for a subtle nod to patriotism.
"We wanted a different look and appearance, which reminds people of the U.S.A." Zenith chief executive officer Julien Tornare tells Bloomberg. It retails for $8,350—and Zenith has already presented the organization with a check for $25,000 ahead of its release. 
The watch is a reinterpretation of Zenith's Cairelli model from the 1960s, a column-wheel chronograph with flyback function; its automatic movement features 254 components and 31 jewels and has a 50-hour power reserve. With a sapphire crystal front and back, the 12.85mm-thick watch is water-resistant to 10 atmospheres.
The 153-year-old Zenith, now part of LVMH, has produced watches for air force organizations since World War I, and in the 1960s specifically created pilots' chronographs for the Italian military. In a particularly famous 1970 publicity stunt, Zenith strapped an El Primero, the world's first automatic chronograph (depending on whom you ask), to the landing gear of a Boeing 707 during a flight from Paris to New York. Despite fluctuations in pressure and temperature, as well as jolts during landing, the watch maintained its regular 36,000 vibrations per hour and required no adjustment other than the time-zone difference.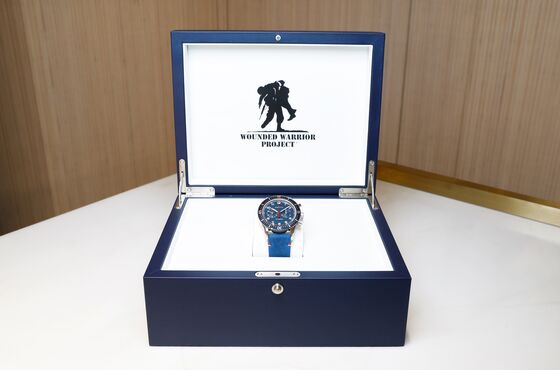 WWP chief development officer Gary Corless says the organization was humbled when approached by Zenith with idea of a partnership. "That Zenith has been equipping armed forces around the world with models that meet their very specific requirements makes it even more of a match for those that serve veterans," he says, "and the launch of a special edition on Veteran's Day seemed like a really natural fit."
Since 2003, WWP has helped improve the lives of military veterans and their families through government advocacy and direct programs and services such as help transitioning back to civilian careers through counseling and job placement, as well as physical and mental health and wellness initiatives. Other companies that have partnered with WWP include Harley-Davidson, Hershey's, and Under Armour.
"In the last few years, we've really ramped up our commitment in the area of mental health," says Corless. "Due to the unique and signature wounds of the conflicts in the last 20 years, we've seen a significant rise in traumatic brain injury and post-traumatic stress." WWP recently announced a $160 million commitment to its Warrior Care Network, which provides clinical mental health treatment for veterans.
On average, 56 new veterans or family members sign up for WWP services every day. "That's one every 26 minutes," says Corless, who adds that many of the injuries inflicted during recent and current conflicts would have been life-ending in the past. "Now, through better health care, veterans survive, but it also means that needs often show up later in life." No family ever pays for the services because WWP believes the "warriors" paid their dues on the battlefield.