Top Restaurants Fully Booked for Months in Covid Zero Hong Kong
(Bloomberg) -- Hong Kong's unyielding Covid-zero policy has kept the coronavirus at bay since early summer. That's allowed room for more pedestrian concerns, namely the struggle to make a restaurant reservation.
Recently, one desperate diner appealed to Hong Kong Moms, a local Facebook group with more than 65,000 members. "I know it's a long shot, but I'm wondering if anyone has a connection to Chaat restaurant as it's my friend's birthday in January," the poster wrote. The group, which is resourceful enough to have tracked down the owner of a washed-up wedding ring, couldn't help.
"If anything new opens up and it's great? Good luck," says Raili Summers, a Hong Kong-based travel concierge, who's now focused on staycations for local clients. "It's just insane."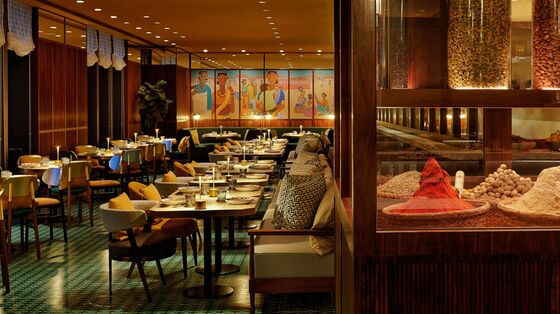 Pent-up demand to dine out is a worldwide phenomenon, but it's especially pronounced in Hong Kong. The number of reservations booked in September was up almost 250% compared to the same month two years ago, before the pandemic hit, according to data from SevenRooms, a restaurant management platform that works with more than 350 of Hong Kong's high-end eateries. In Singapore, reservations were up 76% for the same period. 
"People love to eat, but prior to the pandemic, it was never like, 'Oh, I'm going to make a reservation and pay a deposit for a table that's six months out,' " says Alan Lo, a senior adviser to Jia Group, which operates 12 establishments in Hong Kong. "Now people are more than willing to do that."
The situation is extreme for a number of reasons. For one, Hong Kong hasn't experienced a coronavirus outbreak since early June, so there's no Covid-related concerns that would keep people out of restaurants.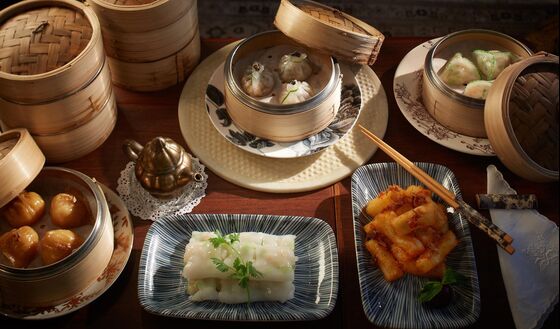 At the same time, travel has been severely curtailed for locals. Pre-pandemic, proximity to China and the rest of Asia made it possible for Hong Kongers to spend a long weekend surfing in Bali, skiing in Japan, or slurping noodles in Singapore.
Now, the same policies that kept Covid out are keeping residents in: Almost all international arrivals are subject to a mandatory 14- to 21-day hotel quarantine upon return. That's quashed almost all leisure travel—traffic on Cathay Pacific Airways Ltd., Hong Kong's biggest carrier, was down 92% in September compared with the same period in 2019—and left Hong Kongers restless. In 2019, Hong Kong residents accounted for more than 74 million departures, according to government statistics; this year through September, it was roughly 326,000.
This is good news for Hong Kong restaurateurs, particularly after the pandemic doldrums. Foodies and epicureans who'd otherwise spend money on trips abroad are turning to restaurants, says Manuel Palacio, founder of the Pirata Group, which owns 14 restaurants in Hong Kong, including Italian spots Pirata and Pici and the Optimist, which serves Spanish cuisine. "We see a strong market for authentic experiences that transport guests outside of Hong Kong," he says.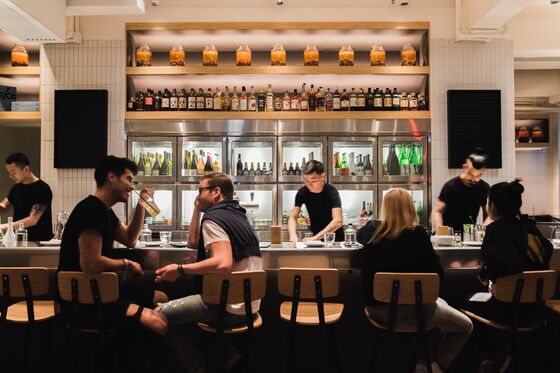 The government's Covid restrictions on restaurant capacity and operating hours, which depend on whether staff are fully vaccinated, have also constrained diners. In the busy Central and Western District, roughly 320 establishments are operating at 75% capacity, requiring workers to have had at least one inoculation. Fewer than 250 are back to 100%.
"The rules change all the time," says Yardbird co-owner Lindsay Jang. "Now we have to close at this time, now we're locked down." During the pandemic, she did something she wouldn't have otherwise considered: take reservations. Along with its grilled chicken, Yardbird was renowned for a first-come, first-serve policy.
"Because people weren't allowed to gather in groups or wait on the sidewalk or hang out at a bar, they had to plan more," she says. The restaurant now opens up reservations at midnight, seven days in advance; typically the prime slots are taken by midmorning the next day.
Even though the rebound has many restaurant owners giddy with good fortune, they hope it doesn't last long. Experienced kitchen and service staff typically come from abroad and expect to be able to travel freely, says Lo, of the Jia Group. Hong Kong's stringent restrictions have made it hard to attract and retain workers, which further limits capacity.
"We lost quite a few staff members, to the point where we have to start taking fewer reservations because we don't have the head count," says Lo. "In the realm of chefs, a big part of their life is visiting their fellow chefs, doing four-hands dinners, and now that's extremely difficult."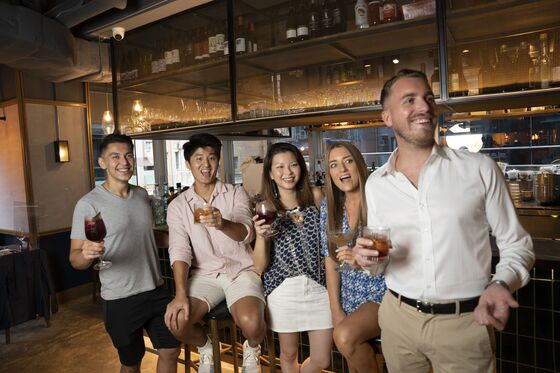 Hong Kong hasn't said when it might relax its quarantine policies broadly, though the government is moving gingerly toward opening a border with mainland China. Some restaurants see this as an ideal time to expand, buoyed by the unrelenting demand and a relatively depressed real estate market.
The owners of Kinship and Smoke & Barrel are adding a two-story Japanese-American-themed restaurant called Brooklyn Yakuza. The Pirata Group recently opened four establishments in a commercial building in the Taikoo neighborhood and has plans for 10 more next year, Palacio says, encouraged by a 75% increase in sales and declining rents.
Until new places open their doors—or the government opens the borders—frustrated diners could try for a table midweek, Yardbird's Jang says. "Everyone wants to eat at seven or eight. If you're willing to eat at six or at 10, you have more options."
Or you just have to plan ahead—way ahead.
A year ago the coronavirus made it almost impossible to schedule anything even a day or two beforehand. But now Janice Leung Hayes, a Hong Kong-based food writer and consultant, is looking far into the future. The reservation crunch "might have improved my social life," she says. "I've been making plans with friends months in advance. Bookings take that long."