Phoebe Waller-Bridge Bolsters Status as Hollywood Darling at Golden Globes
(Bloomberg) -- Phoebe Waller-Bridge is basking again in Hollywood's spotlight.
The writer-actress picked up two Golden Globe awards Sunday for "Fleabag," which was honored for best TV comedy and best actress. The accolades follow a dominant night at the Emmys in September, when "Fleabag" and "Killing Eve" -- a thriller series produced by Waller-Bridge -- were nominated for 20 awards and won seven.
Over the past half-decade, the British star rose from a one-woman play at the Edinburgh Fringe Festival to become a cultural phenomenon with few precedents. She wrote and starred in "Fleabag" -- as its sexually compulsive and cynical lead -- and served as head writer for "Killing Eve" in its first season.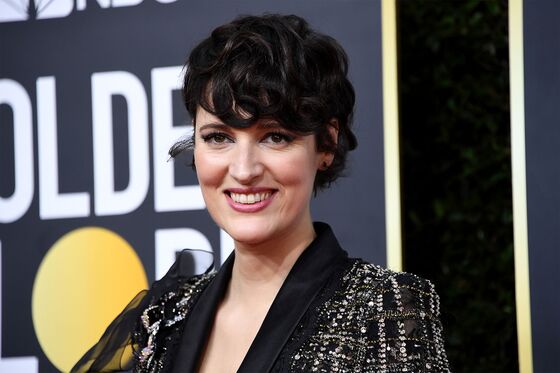 Beyond the projects garnering widespread critical acclaim, the shows have been a commercial triumph for the 34-year-old, who signed a deal reportedly worth $20 million to develop new shows for Amazon.com Inc.'s studio arm, which acquired "Fleabag." The show's second-season finale was watched by 2.5 million people across the BBC channels that screened it. Amazon Prime Video, which streams films and shows globally, doesn't disclose viewership data.
Along the way, Waller-Bridge has become one of the most sought-after scribes in Hollywood. In March of last year, AT&T Inc.'s HBO ordered the comedy thriller series "Run" from her and frequent collaborator Vicky Jones. She also co-wrote the screenplay for "No Time to Die," the 25th James Bond film, which will be released in April.

Waller-Bridge, who was raised in London and attended its Royal Academy of Dramatic Art, is part of a resurgence in critically acclaimed shows and movies with British themes. On Sunday, the World War I epic "1917" directed by Sam Mendes also received two prizes at the Golden Globe Awards and Olivia Colman won the award for her portrayal of Queen Elizabeth II in the Netflix Inc. series "The Crown."
But Waller-Bridge remains a rarity as a successful female writer, said Amanda Nevill, chief executive officer of the British Film Institute.

"We have amazing writers in the U.K., but it's fair to say we're still low in female writing voices," she said. "In this era, we need to make the world more equal, and Phoebe Waller-Bridge is the voice of common reason and of women everywhere on both sides of the Atlantic."

In her acceptance speech, Waller-Bridge thanked the BBC and Amazon for giving "Fleabag" the opportunity "to say all the things that no one would let us say." By broaching topics such as casual sex and guilt -- and the exaggeration of the social discomfort that epitomizes Britishness -- Nevill sees a parallel between Waller-Bridge and the author Charles Dickens.
"She's a spectacularly talented individual who offers a really perspicacious observation of humanity to create a story that exposes our weaknesses, so that we can empathize with it," she said.
After years or reincarnating "Fleabag" in different forms, Waller-Bridge is also the rare Hollywood writer willing to say no to more sequels and reboots. Despite the show's success, the second season of "Fleabag" was the final one.

"I haven't changed my mind about season three," Waller-Bridge said after the Golden Globes Sunday. "It feels even more like the right decision the further we go along this journey. It was just a beautiful goodbye."