Nine Awesome Advent Calendars for Adults
(Bloomberg) -- Christmas arrived in August this year for some dedicated holiday celebrants. The Germany-based supermarket company Aldi announced the debut of its cheese-filled advent calendars in the U.S. after a huge response in the U.K.
It's a heady time for adult advent calendars, with up to 24 days of gourmet treats on offer, particularly ones with a boozy bent.
San Francisco-based Vinebox claims to be the world's first wine advent calendar; it began selling Twelve Nights of Wine boxes in 2015. "We built this to help people celebrate the season with wine, like an adult," says co-founder and Chief Executive Officer Matt Dukes, "but some customers have described it as a 'holiday survival box' to keep the in-laws drinking."
There are now dozens of alcoholic advent calendars, and wine clubs such as Virgin have gotten into the act, with orders on the rise. "We've sold out three years in a row,"  says Dukes. Click through to other companies, and you'll find the same story.
Not every culinary artisan sees an advent calendar in the future. Take Jim Lahey, founder of New York's Sullivan Street Bakery. Bread is hardly an ideal advent calendar candidate, but Lahey won't even entertain the idea of stuffing some of his more shelf-stable products such as cookies into a calendar. "There are certain lines that should not be crossed. We believe holidays should be celebrated but not in an absurd way," says the baker. 
If you disagree though, there's no shortage of grown-up advent calendars to eagerly await to open.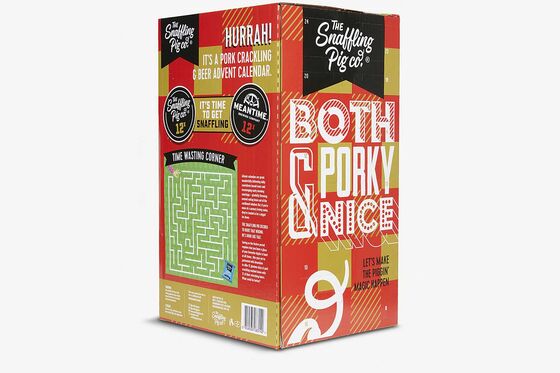 The U.K.-based Snaffling Pig Co. decided to cover a couple of happy hour basics with its 24-day calendar that combines a dozen each of beer and fried pork rinds ("scratchings" in the U.K.), with flavors such as "low slow BBQ," and "perfectly salted." Beers include lager and pale ale from Meantime Brewery. £65 ($86); available in the U.K. only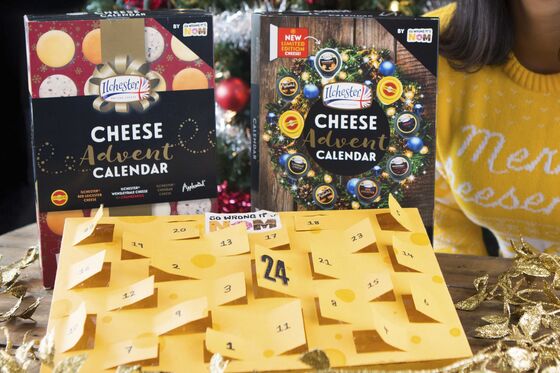 In 2015, by her own admission, British blogger So Wrong It's Nom (Annem Hobson) "invented" the world's first cheese advent calendar, stocking it with mini-rounds of mature Cheddar, red Leicester, and Jarlsberg. In November, Target will bring it to the United States, with additional outlets carrying it on the Continent. Unlike most advent calendars, this one requires refrigeration. $20; available in the U.S., U.K, France, Denmark, and Portugal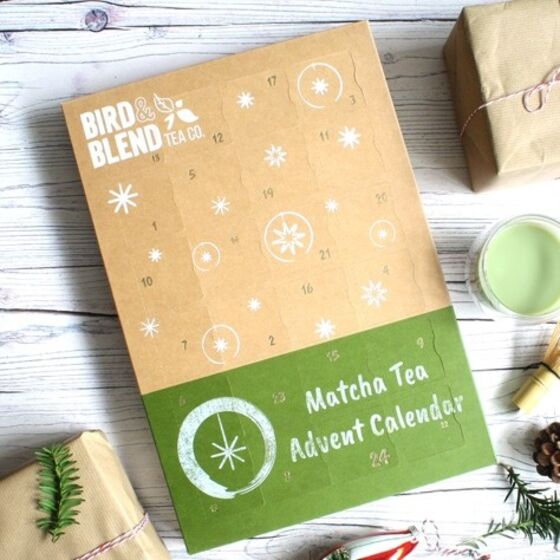 The U.K.'s Bird & Blend Tea Co., which has stores from London to Manchester, discerned an opportunity in the matcha calendar market—not seeing any—and has begun one that contains 23 flavors that range from pure grade to ice cream. There's a surprise gift for the 24th. Pre-orders are already sold out; they'll go back on sale November 1. £65; available worldwide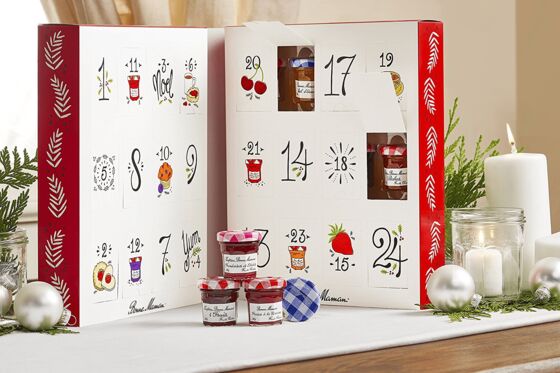 Bonne Maman had such success with its first preserve-filled calendar, it's back for a second jam-packed (ho, ho) holiday season; each one-ounce jar is topped with Bonne Maman's signature red-and-white checkerboard top. Flavors include Mirabelle plum and strawberry verbena, and the company is already planning the 2018 version, with a new design. $30; available in the U.S.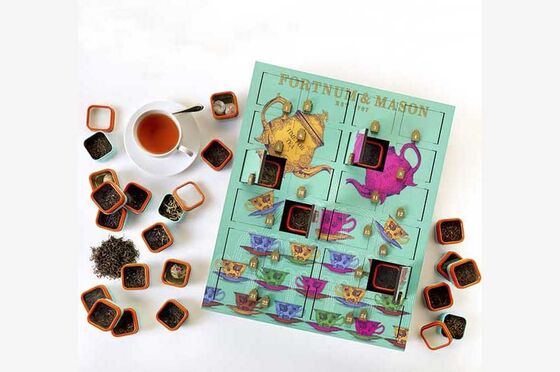 The storied British department store Fortnum & Mason does enough business in advent calendars (it has around 30 on offer) that it even sells a candy and chocolate refill . Its rare-tea calendar is stocked with 12 teas—including double dragon pearl, ripe puer, and first flush goomtee—for a total of 210 grams (7.4oz), in a wooden box decorated in the same turquoise as the store's little tins. £145; available worldwide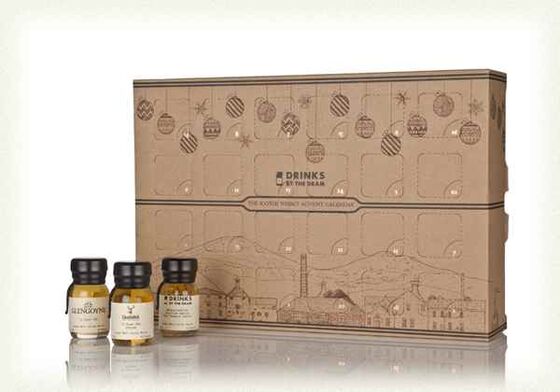 Masters of Malt's Scotch advent calendar (£124.96) is a perennial favorite, stocked with two dozen 30mL drams, from a Johnnie Walker Green Label 15 Year Old to 2003 Balvenie Peat. The company boasts that one of this year's selections is worth £400 a bottle. There are also dedicated calendars for Japanese whisky, Irish whiskey and bourbon—indeed a whole "Drinks by the Dram" line of gifts that includes calendars for rum, gin, tequila, cognac, and even vodka. For true connoisseurs, two Very Old & Rare Whisky advent calendars  are available, one each in a handsome Macassar ebony or walnut box (£8,333.29), sourcing such liquid gold as a Macallan 42 Year Old. Available in select countries worldwide; no U.S. delivery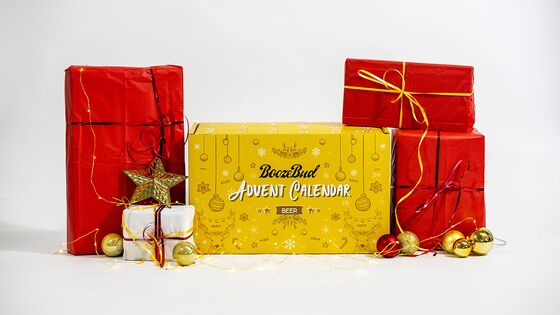 Australian-based Booze Bud markets advent calendars with 25 days of mini-bottles and -cans, not just 12 or 24 days. There are no dark beers in its 2018 selection and the company promises 10 never-been-seen surprises brewed especially for the calendar from Hop Nation, Big Shed, and Rocks. It also has gin, rum, whisky, cider and red-and-white wine filled calendars available. $100 AUD ($70.78); available in Australia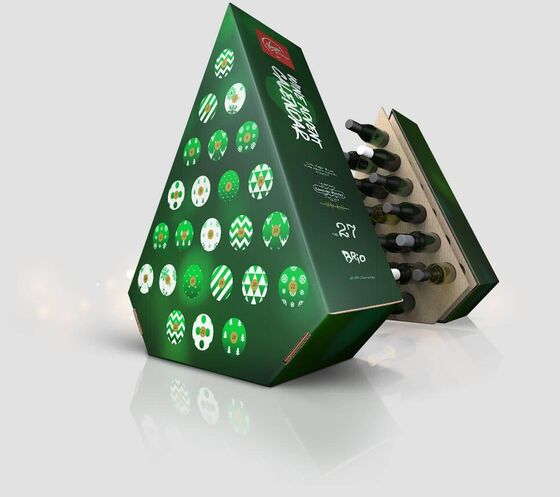 From the company better known for planes and galactic space travel, Virgin Wines has a calendar filled with small bottles (187mL) of red, white, rosé, Champagne, and port. It sold out in 2016 and 2017. This year, the company is taking £10 deposits on orders and offering video wine-tasting tutorials. £80; available in the U.K.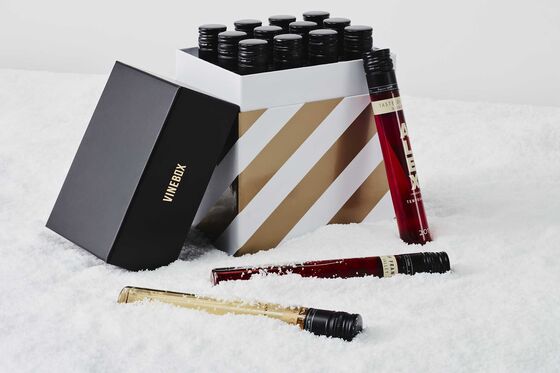 The Twelve Nights of Wine features a dozen giant test tubes (100mL) of red and white wines sourced from France, Spain, and Italy. For 2018, Vinebox is adding a Willy Wonka-style surprise: Ten boxes will have a golden bottle included, with the recipients winning an annual subscription of wines for 2019. $129; available in the U.S.