The 12 Best T-Shirts According to Menswear Experts
(Bloomberg) -- Consider the humble T-shirt.
Despite its quotidian status, a perfectly snug, soft-but-not-too-soft tee is a harder piece of clothing to come by than one might think. Different versions are best for varying body types, and you will want a different fit depending on whether you plan to wear it under another shirt. A casual shopper has far too many options in front of him, and as such, something that should be simple to find can require an odyssey of internet browsing.
No longer. We spoke to a panel of menswear experts who have thought longer and deeper on this question of basics than any normal person ever should. Below, you'll find their recommendations for the best tee for a wide variety of situations and people.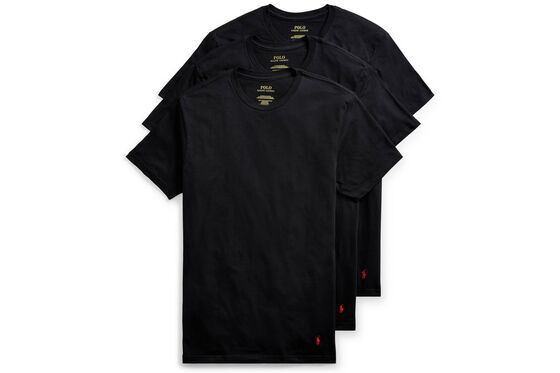 Recommended by: Brian Trunzo, menswear forecaster at WGSN.
"I've been wearing Ralph Lauren T-shirts since I was a teenaged guido, and very little has changed since then—at least regarding my T-shirt of choice," says Trunzo. "The shirts are generous in the shoulders, flattering in the chest, and the perfect length to wear both tucked or not—but the little horse and rider must always remain visible, that's for sure." It's also a comfortable, classic slim undershirt that will last you a couple of years.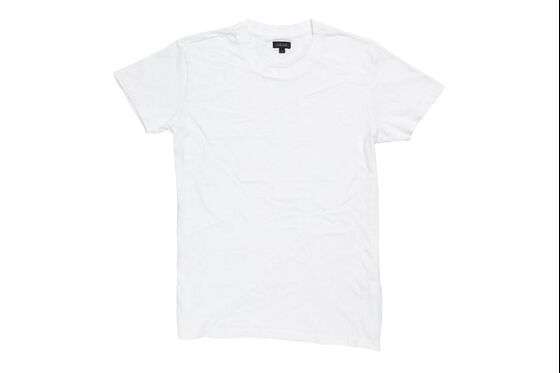 Recommended by: Ilaria Urbinati, a stylist who dresses the likes of Donald Glover, Armie Hammer, and Ryan Reynolds.
"These tees have that perfect Marlon Brando 1950s cut: not too clingy, not too baggy, not too long in the body, and the sleeves hug the shoulder perfectly," says Urbinati. "I love the white ones and the faded black, which looks like a shirt you've owned your whole life. I've styled it on my clients countless times, usually with some rugged chinos, under a bomber or leather jacket. The old cliché Steve McQueen/Paul Newman look just never gets old when it comes to a white tee."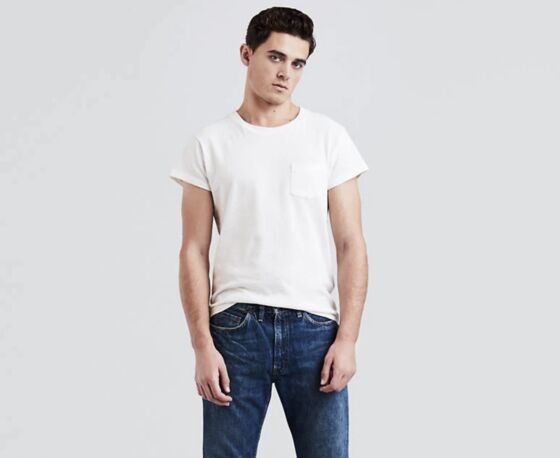 Levi's Vintage Clothing 1950s sportswear T-shirt, $88, levis.com
Recommended by: Photographer Clarke Tolton.
"If If I'm feeling like buying something a bit more spendy, I buy Levi's Vintage Clothing T-shirts," says Tolton. "I have a few, and love them—they already feel broken in and get better with age." The sleeves are a little short, so make sure you have the shoulders for them.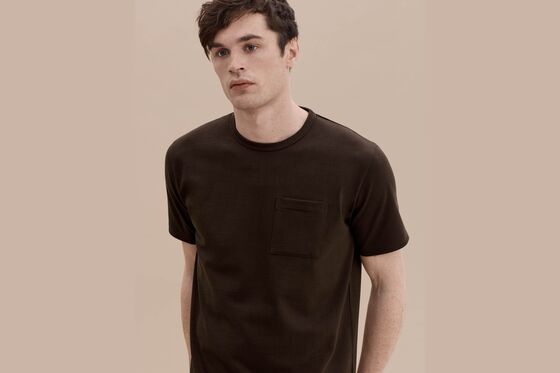 Recommended by: Fashion writer Steve Dool.
"Håndværk now makes a whole range of straightforward basics, but they launched with underwear and simple tees, and that is still what they do best," says Dool. "I'm partial to their plain white pocket T-shirt. It has a bit of extra heft to it, so it keeps its shape even as you wear them over and over." Average-size guys (not too slim, not too big) will fit perfectly in this one.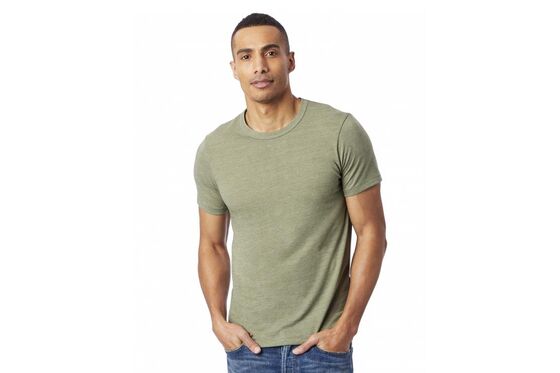 Recommended by: Chris Rovzar, editorial director, Bloomberg Pursuits.
"I get sent pretty much every kind of T-shirt to try, and this is the only one that has made it into my regular rotation," says Rovzar. "It's a great T-shirt to wear out to a bar or nightclub—it's supersoft cotton plus rayon and polyester, so it has a little bit of stretch. It is a slim cut and tends to be sized a little small, so it will hug your body without looking tight. The collar has a slightly distressed treatment, so it looks like you have owned it forever. But it's well-made and can take a beating. When I can't figure out what to wear out, I always just grab a black version and it works for pretty much anything."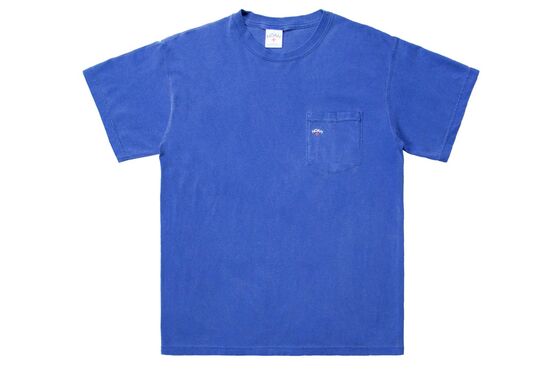 Recommended by: Jian DeLeon, editorial director at streetwear website Highsnobiety.
Says DeLeon: "They replenish every season in a few different colors, the washes are always great, and by now I have around five or six." Current colors include Grass, Pepper, Mustard, Berry, Chocolate, and something called Dust Royal. Wear it as a slouchy statement or under something in a more subtle color.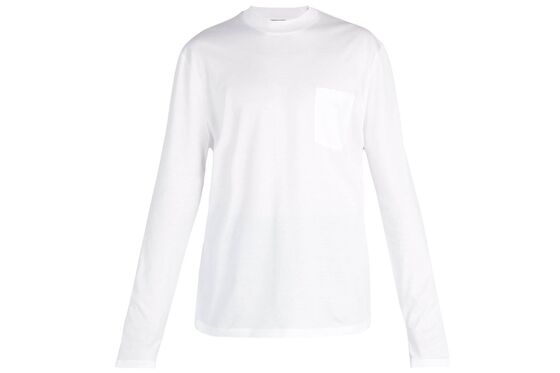 Recommended by: Damien Paul, buyer for the British retailer Matches.
"I think every man should have at least one long-sleeve T-shirt in his wardrobe," says Paul. "This elegant, versatile staple from Lanvin is one of my favorites. The high collar and pocket detail make it perfect for more formal occasions. I prefer to buy one size up and wear it half-tucked with the sleeves rolled up—wear with classic, straight leg or relaxed belted denim to nail a nonchalant '90s look." Yes, it's expensive, but it's also capital-F fashion.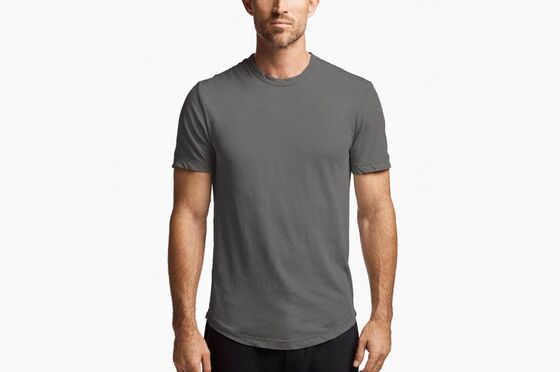 "My favorite T-shirt is the Clear cotton crew neck from James Perse—I can't get enough of them," says Wooster. "I buy them in both size 1 and size 2 and wear them depending on my mood and carbohydrate intake! I love the dry hand and the rounded shirttail hem. Plus, they take up virtually no room in a suitcase. They're perfect alone or under a jacket and because of the superlightweight nature of the cotton, if they're a wrinkled mess in the suitcase, you can't really tell!" These are snug, great for a guy who works out.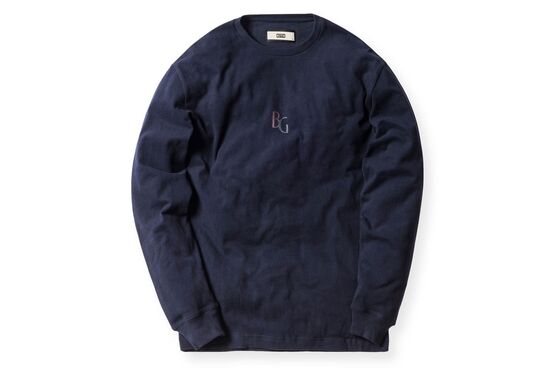 Kith x Bergdorf Goodman long-sleeve T-shirt, available in stores only. For a similar style: Kith Classics long-sleeve Laguardia T-shirt, $68, kith.com
Recommended by: Bruce Pask, men's fashion director at Bergdorf Goodman. He dresses the most stylish men in New York.
"My all-time favorite tee is my Kith x Bergdorf Goodman collab T-shirt from this past year," Pask says. "It's navy—I love navy!—and long-sleeved, with a Kith logo on the front and the Bergdorf Goodman logo on the back in dark green and burgundy. It's my go-to weekend tee. I wear it with pretty much anything casual: shorts, jeans, khakis, etc. I really like a long-sleeved T-shirt because I think it's a nice counterpoint to shorts. It feels very beach to me, like old-school surf T-shirts, and I like to push the sleeves up to elbow length."
The No-Frills Workman Tee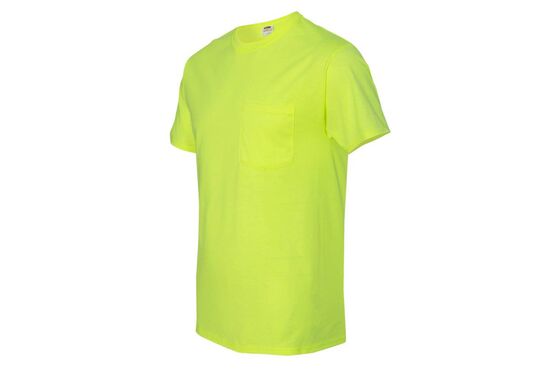 Fruit of the Loom heavy workwear T-shirt, $4.19, wordans.com
Recommended by: Bobby Whigham, creative director of Pacsun, which brought SoCal skater style to the masses.
"I've been wearing my dad's old Carhartt carpenter pants this summer—I cut them off for the perfect short," says Whigham. "And I've been pairing them with these tees you can get just about anywhere. They are the perfect drop shoulder fit. I've been all about the safety pop colors." Somehow, these seem to fit every body type.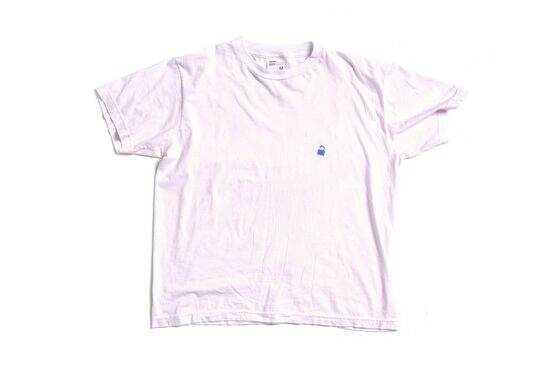 Recommended by: Connor Stanley, brand marketer for Vanity Fair and W.
"The perfect fit on these tees, combined with the subtle logo and design work, mixed with the supersoft fabric, make this a new brand you've gotta keep an eye on," says Stanley. "It's one of those shirts that only get better with every wear and wash."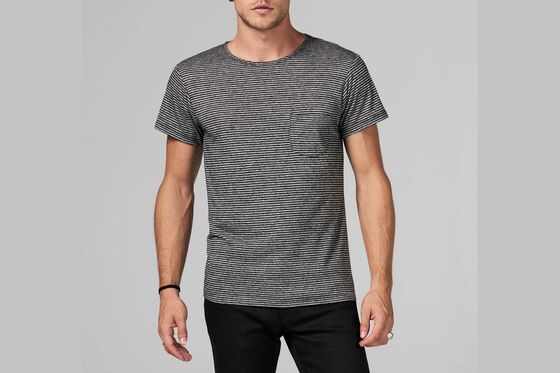 Recommended by: Adrian Brinkley, consumer engagement manager at SoundCloud.
"One of my more recent finds is this L.A. brand called Mika Jaymes that makes everything by hand and cut to order," says Brinkley. "They seriously have the most comfortable and stylish T-shirts that easily double for lounging in front of the TV or going out for dinner and drinks—they're practically all I swear by these days. My favorite is this thin strip pocket tee that's butter soft and has a very subtle raw edge detail that I think makes it super unique." If you've got a beach body, this is the perfect shirt to throw on top of it.