Craft Bourbon Craze Is Over in Europe Thanks to 25% Import Tax
(Bloomberg) -- Back before the U.S. and Europe started slapping tariffs on each other, Paul Hletko was benefiting from the Old World's growing passion for bourbon, pulling in six figures' worth of orders at his small-batch distillery in the first half of the year.
Those days are over. Bourbon exports for Hletko's Few Spirits, based in Evanston, Illinois, "dropped to zero" from 15 percent of revenue last year, he said. The European Union's 25 percent tariff on bourbon, implemented in June, wiped out demand for his product, which retails for $51 a bottle in the U.S.
"Every U.K. buyer backed off," Hletko said. "They may want to buy it, but if they can't sell it at the right price, that's not doing us any favors."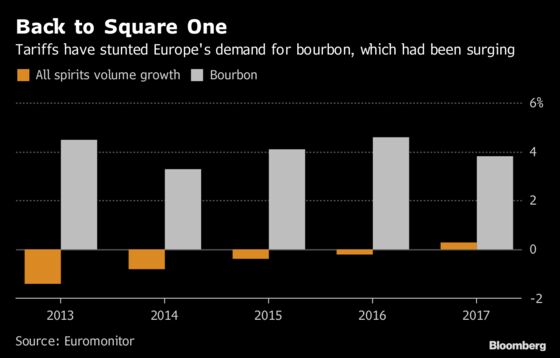 Small distillers cite the drought as proof their fears of a global trade war are coming to fruition. Europe had been blossoming as a source of new revenue -- but this market has been effectively cut off for producers that lack the clout or brand recognition of titans like Brown-Forman Corp. and Diageo Plc. Now they've been sent back to square one.
The tariffs, which target U.S. goods such as Levi Strauss & Co. blue jeans and Harley Davidson Inc. motorcycles, are the EU's retaliation to President Trump's duties on foreign steel and aluminum.
Hletko said the low six figures he's made this year from international orders all were booked before the tariffs' imposition. Meanwhile, Rob Cassell, the owner of Philadelphia-based New Liberty Distillery, said European buyers have dissolved.
"Everybody shops by price" Cassell said. "If your product before was 25 euros ($28.51) a bottle and all of a sudden it's 35, but nothing's changed, that's not the same great buy for you that it was before."