Star Wars Florida Ride Hits Capacity, With California Version Set to Open Soon
(Bloomberg) -- Walt Disney Co.'s Rise of the Resistance ride in Orlando, Florida, has been operating at capacity since its opening last month, suggesting the company's new $1 billion Star Wars lands are a hit with fans after a slow opening.
The world's largest theme-park operator said Friday it will introduce a virtual-queuing system, like the one it's using in Florida, for the California version of the ride, which opens Jan. 17 at Disneyland in Anaheim. At Disney's Hollywood Studios in Florida, the waitlist has been filling up within minutes of the park's opening, according to LaughingPlace.com, which tracks attendance.
"It's off the charts in terms of utilization and expectations," said Dennis Speigel, founder of consultant International Theme Park Services Inc. in Cincinnati.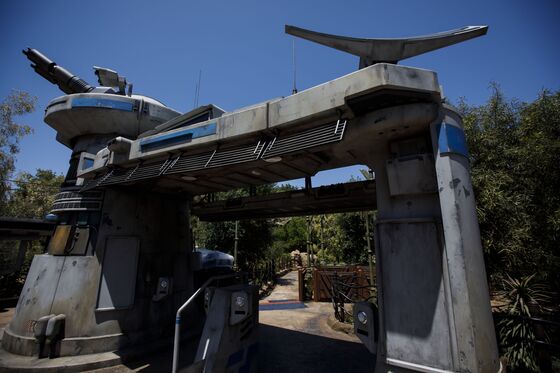 Rise of the Resistance is the second of the two rides at Disney's Star Wars: Galaxy's Edge themed lands, which opened last year to lower-than-expected crowds initially. The park additions were the largest the company has ever built, but attendance was flat last year at Disney's domestic resorts.
Chief Executive Officer Bob Iger told investors last year that guests may have been turned off by fears of crowds or were waiting until the second ride was open.
Rise of the Resistance is one of the longest and most technologically advanced rides Disney has created. Guests board a space transport, which is captured by the evil empire. Live and animatronic characters enhance the experience, which also relies on trackless vehicles for their escape.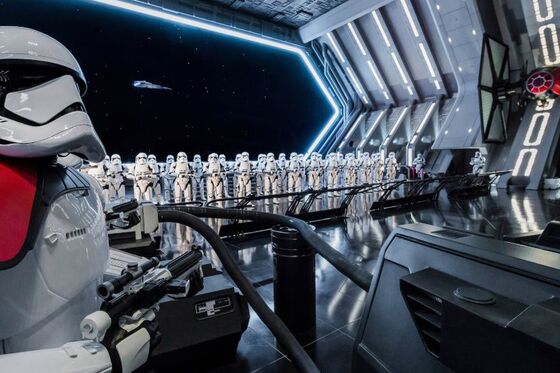 The virtual queue is aimed at eliminating long lines inside the park. Guests use an app to reserve a spot upon entering the park. They're then assigned a time to go on the ride. Disney said the technology allows guests to eat, shop or go see other attractions in the park. Fans have been sharing tips online for scoring a place in line, including getting to the park as early as 5:30 a.m. and using multiple phones to get a spot.
Disney has been opening Hollywood Studios to the general public at 7 a.m., two hours earlier than its other Florida parks. BlogMickey.com, a website with tips for guests, suggests turning up an hour earlier to secure a spot.
Disney took extraordinary steps to control crowds when Galaxy's Edge first opened at Disneyland last May, including limiting annual passholder visits. This week, however it introduced discounts for Southern California residents, an annual promotion, but one that suggests the company is confident it can handle the crowds.
"Now it's pedal to the metal, all out," Speigel said.