There's Still Time to Live Like a Rockefeller
(Bloomberg) -- When David Rockefeller's estate sold at Christie's New York earlier this year, the allure of "living like a Rockefeller" induced eager collectors to spend wild sums. Porcelain figures estimated to sell for a few thousand sold for five times that amount, while porcelain dishes (there was a lot of porcelain)  estimated in the thousands sold for millions.
Now, Christie's rival Sotheby's is hoping that there's some Rockefeller magic left over.
Starting on Nov. 13, the auction house will sell hundreds of pieces of furniture, art, decorations, and jewelry from Nelson and Happy Rockefeller's estate. Nelson, a former vice president and governor of New York, died in 1979; his widow Happy died in 2015.
The 450-odd lots have been parceled out three segments. The first will be a dedicated auction of 20th century design, impressionist, modern, and contemporary art from the couple's Fifth Avenue apartment; the second, comprising Happy's jewelry, will be included in the auction house's Dec. 4 "Magnificent Jewels" auction; and the third, which contains the remainder of their furniture and decorative arts objects, will be integrated into Sotheby's American Week auctions in January 2019.
In total, the lots from the estate carry an overall estimate "in excess of $8 million," according to the auction house.
While that estimate might be considered aggressively modest, considering the gangbuster results from Christie's earlier this year, it's important to remember that not all Rockefeller sales are alike. While David's was billed as a sort of total liquidation—the most lavish "everything must go" sale in history—the upcoming sale at Sotheby's is a much smaller grouping.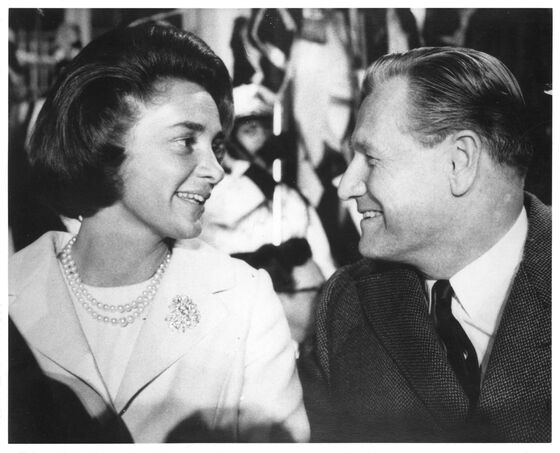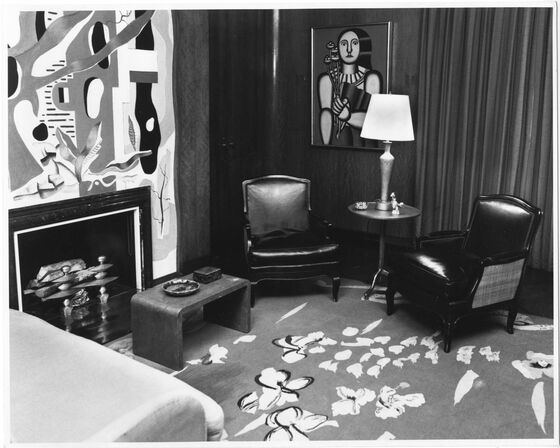 Nelson Rockefeller began to pare down, or at the very least, monetize his belongings well before his death.
A 1978 article in the Washington Post detailed some of his efforts: "After a lifetime of buying art and architecture, former vice president Nelson Rockefeller is now selling it—with all the money, energy and enthusiasm he once put into building his collection." There was an enterprise known simply as "The Nelson Rockefeller Collection" in which he made about 100 reproductions of his interior decorations, then sold them for from $75 to $7,500 a pop; an auction of some of of the furniture and art once housed in the couple's Washington, New York, and Maine residences; and the sale of both the Washington and Maine properties. In a 1978 article regarding the $1 million Maine retreat in the New York Times, the Rockefellers' real estate agent explained that they were selling because they haven't "spent more than a weekend a year here for the last 20 years."
There was even an exhibition of the Rockefellers' so-called "primitive art collection" in none other than a Neiman Marcus store in Dallas, according to the Washington Post article. Then, just months after Nelson's death, the Times reported that Christie, Manson & Woods in New York had auctioned: a bracelet, consigned by his estate, that sold for $220,000, a necklace, for $350,000, and a ring, for $95,000. A year later came a massive estate auction of his belongings.
So while Happy Rockefeller was hardly living in austere circumstances at the time of her death, the estate had been streamlined. "We think of it as, 'What did Happy choose to live with after his death?" says Nina Del Rio, the vice chairman at Sotheby's.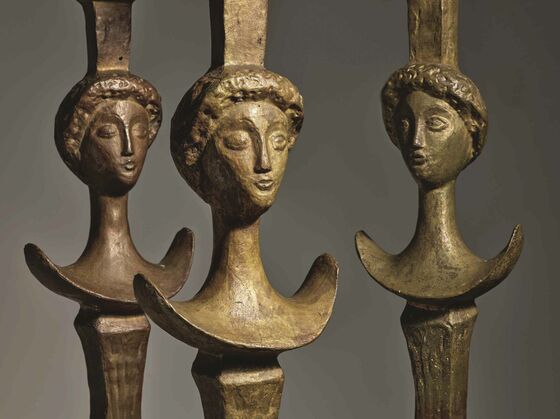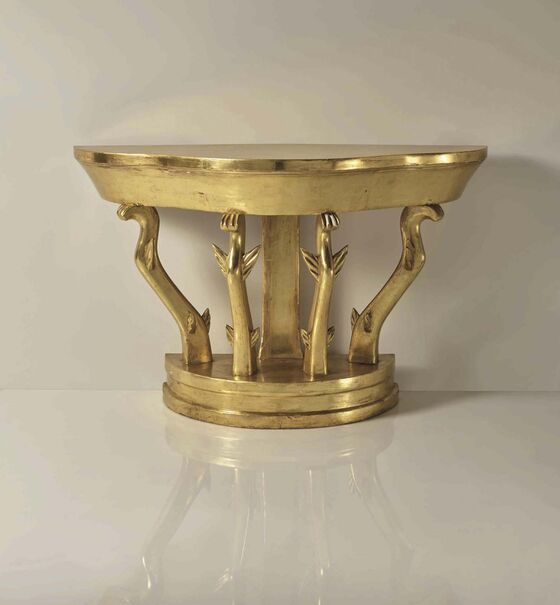 Sotheby's has a long history with Nelson Rockefeller's family. It hosted the auction in 1978, brokered the sale of his Maine house, and then held an estate auction the year after he died. In subsequent decades, specialists provided the family with a series of updated appraisals for the belongings that had been kept.
"We share a very good relationship with the estate," Del Rio says. "In this case, the trustees and the family paid close attention to what should be sold and what shouldn't be sold—of course, that was in consultation with us and what we thought makes sense to be presented in the sale."
The works that did make it onto the auction block are varied, to say the least. There are 18 pieces of jewelry, about 14 pieces of 18th century Meissen porcelain, million-dollar artworks, and some lots that are estimated as low as $500.
"We have an amazing range of price points," says Christina Prescott-Walker, the director of Sotheby's Asian and decorative arts division. "There will be some very affordable things—or at least, the estimates will be."
The jewelry is less accessible. A long Van Cleef & Arpels emerald and diamond suite is estimated from $60,000 to $80,000, while a sapphire and emerald bracelet is estimated from $150,00 to $250,000. An additional bracelet by Van Cleef, this one made up of four strands of diamonds, has an estimate of $125,00 to $175,000.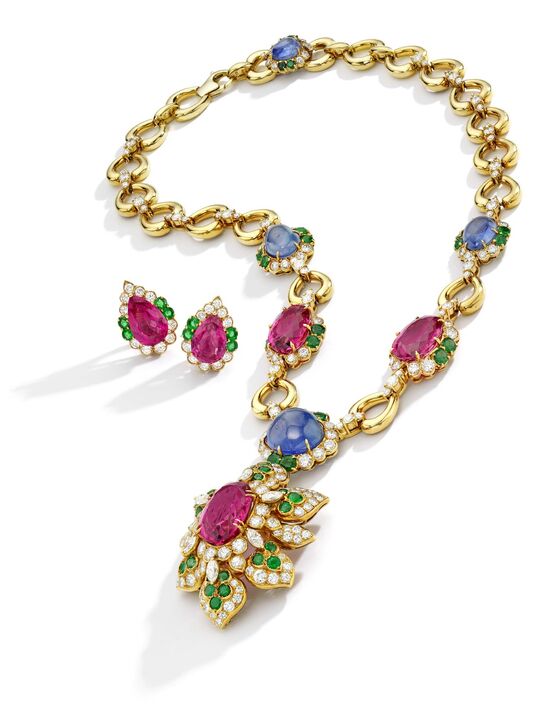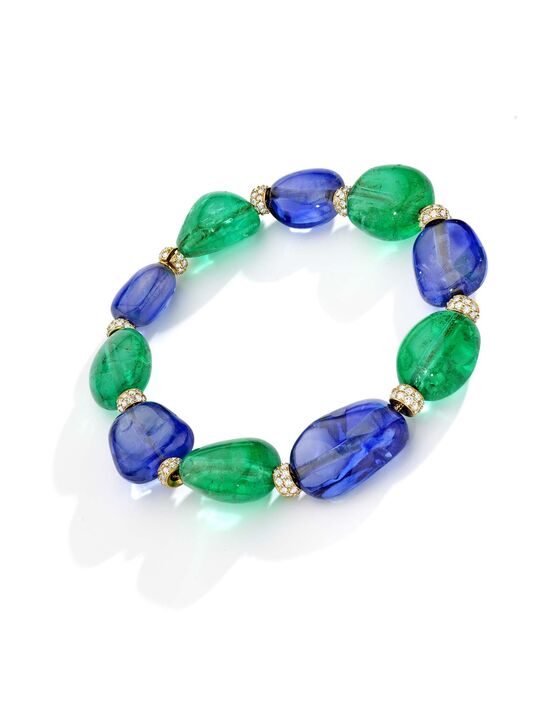 The real stars of the auction, though, will be a select array of porcelain from Meissen's famed "Swan" service, whose estimates range from $8,000 to $250,000, and a handful of artworks and decorative objects that are particularly in vogue in the current market.
Two consoles by sculptor Alberto Giacometti are each estimated from $700,000 to $1 million, while a trio of floor lamps by the artist carry estimates from $200 to $300,000 apiece. There's also a 1967 portrait of Nelson Rockefeller by Andy Warhol, which has an estimate of $1 million to $1.5 million. A 1933 work by Joan Miró carries an estimate of $600,000 to $800,000.
Holding the sale hot on the heels of Christie's auction a few months earlier is purely coincidental, Del Rio says. "The timing was dictated by the estate," she says. "But the timing of why November for one auction and January for another, is very much about positioning the paintings and decorative art alongside our modern and contemporary auctions this fall."
The Rockefeller name, she says, will always be a selling point: "I think the buyer will be interested in that story and will want a piece of that lineage."