Under Quarantine, Vintage Soloflexes Are Getting a Workout
(Bloomberg) -- Back in 1984, Steve Ockerman was a second lieutenant in the Marine Corps, stationed at Quantico, Va., when he noticed an ad campaign for Soloflex, the resistance-based home exercise machines. The ads featured model Scott Madsen, shirtless and ripped, with a price-conscious tagline that dubbed his torso "The $495 Body" (about $1,229.71 in 2020 dollars). Wowed by the ads, Ockerman ordered a Soloflex and worked out on it "pretty consistently" for a decade, he says, carting it with him to Okinawa, St. Louis, and beyond. 
"My wife didn't really like having it so prominently in our small, small residence," he says. "So up to the attic it went."
And there it rested for 26 years, "unused, unloved, almost forgotten," says Ockerman, now an attorney specializing in family law in Charlotte, N.C., where he generally worked out four or five times a week at the gym of the local tennis club.
On March 26, Mecklenburg County issued a stay-at-home order. Ockerman's exercise routine was halted. What to do?
"The light went on, and I went, Oh!" he says. Out came the Soloflex, which Ockerman set up in an alcove of his TV room. "And five minutes later, I was working out again."
Across the country, Americans under lockdown orders are trying to figure out how to stay fit. Lucky ones have home gyms, Peloton bikes, unpopulated forest trails in their back yards, or at least a few dumbbells or a dusty rowing machine easily converted back from doorstops and clothing rack. Others are joining in yoga and Crossfit classes, via Zoom.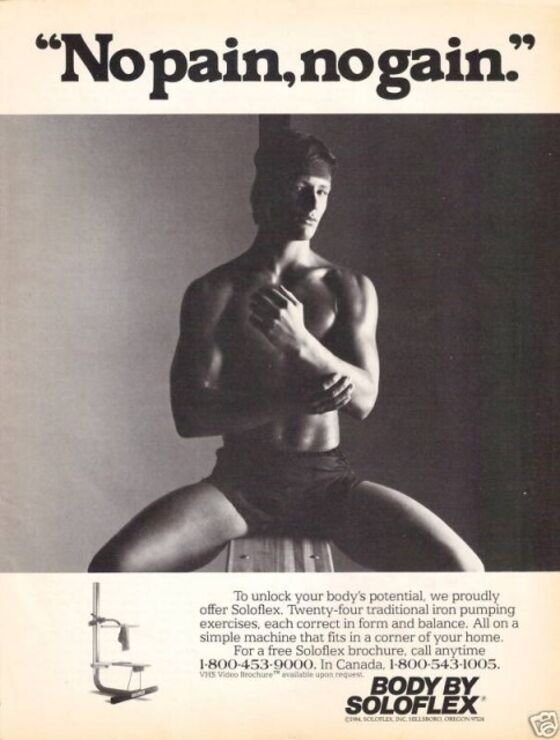 Somewhere in between lie people making do with ThighMasters—or NordicTracks, Bowflexes, even Gazelle Gliders—those almost-novelty, infomercial stalwarts of the 1990s–2000s heyday of cable TV salesmanship. Now that we're all sitting on our butts, those impulse purchases are coming out of storage, both to assuage our guilt and, quite possibly, to tone our glutes. 
"We're in a moment when exercise is considered to be a virtue," says Natalia Petrzela, an associate professor of history at the New School who is writing a book on American fitness culture. "Everyone feels they should be exercising at some point in their life."
Vintage Tunturi exercise bikes—those mod, elongated Finnish machines—have surfaced on Instagram, at the very least as fashionable props. And some gear makers have evolved, transcending their late-night cable pasts. (Shakeweights, with very rare exceptions, do not seem ever to have escaped meme-punchline territory.)
Famous in the 1980s for its ski machines, NordicTrack's treadmills, ellipticals, and cycles now make up the bulk of its sales, and the Classic Pro Skier is not even displayed on the company's homepage. Nor is Bowflex a joke; it's part of gym-equipment giant Nautilus. (Neither company has data on whether customers from long ago have made recent inquiries about resuscitating vintage devices.)
Soloflex remains in a liminal state, not fully embraced by the mainstream, but still beloved by a core group of serious muscle-builders. Whether they've purchased new machines or dusted off decades-old ones, they enthuse about the ease of setup, the solid construction, and even the appearance.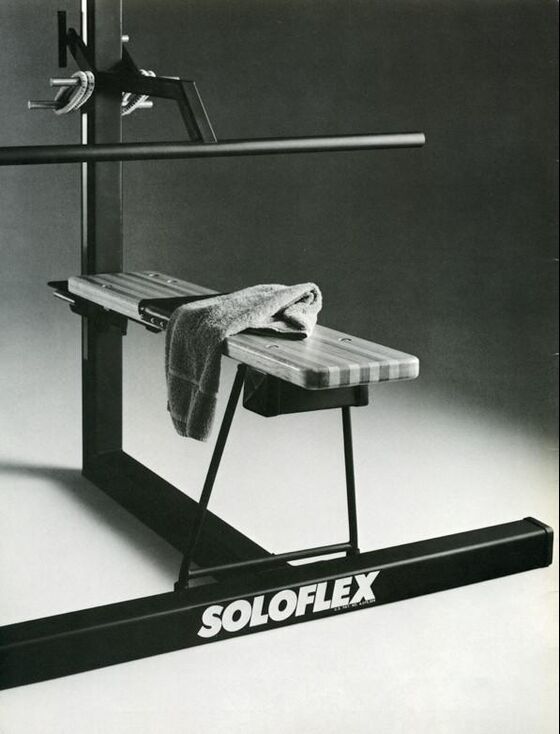 "It looks like a piece of Danish modern furniture," says Marion Roach Smith, a writer and memoir coach whose home gym, in Troy, N.Y., includes not only a 1978 Soloflex but also a 1984 Precor rowing machine.
Very little is apparently needed to resuscitate an ancient Soloflex—often just new resistance bands, which tend to degrade over the decades. Privé Fitness, which makes replacement bands for Soloflex, Body by Jake, and Weider machines, says March and April have seen a 211% increase in band sales over the same period last year.
Often, the Soloflex fans are older, and they appreciate the way resistance-band workouts are suited to aging bodies. "You get banged up through life," one wrote on the Soloflex Corner, a Facebook group. "Soloflex can provide a good platform to lift heavy without dealing with the weights."
The older generation's enthusiasm may now get passed down to a younger one: When the country started going on lockdown, Steve Ockerman's son, Will—a Division 1 tennis player at the U.S. Military Academy at West Point—came home to North Carolina.  At first, Will said, "I was kind of struggling, figuring out what to do" for exercise. Then his father texted. "He was, like, 'I'm gonna pull this Soloflex out!'"
"I had no idea what he was talking about," the 22-year-old Will admits.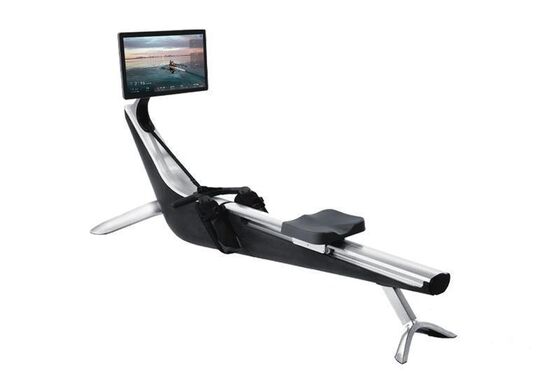 When Will saw the machine, he was skeptical, but then he tried it—and discovered its versatility. He could do bench presses, lat pulldowns, shoulder presses, even squats. "Every time I come back to my parents' house," he said. "I'm sure I'll hop on it and get back to the basics." (Boomers, take heed: Never, ever throw anything away.)
Some of these purchases aren't even as old as you'd think: Allison Robicelli bought a ThighMaster about a year and a half ago. The squeezable, bent metal tube has been sold since 1990, by former Three's Company star Suzanne Somers. (Successfully, too: Total sales reportedly surpass $100 million.) The device was not for herself, Robicelli says, but for her then-10-year-old son, who wanted to start exercising. Of course, it wound up "stashed in the corner."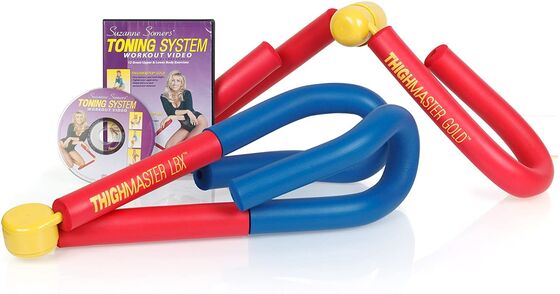 But when the Baltimore-based Robicelli started working from home (she writes for the Takeout), the purchase suddenly made sense for her. "I'm one of those people who think better when they're pacing," she says. "I don't have room or money for a treadmill desk, and the ThighMaster isn't exactly the same, but it's totally mindless. You can use it while sitting at a desk without even thinking about it."
While a few share her praise, for many it remains but an infomercial novelty. On Twitter, @HWildeNYC wrote of rediscovering her ThighMaster in mid-March, then added, "I used it for a hot second. Then it ended up snapping me in the face and I was done."