Saudi Arabia vs. Qatar Moves to the Soccer Field
(Bloomberg) -- Soccer isn't what you might first think of when it comes to rivalries between Middle East countries, but the region's geopolitics just caught up with the world's most popular game.
Saudi Arabia will play Qatar in the Asian Football Confederation Cup on Thursday, adding a sporting dimension to another conflict. It follows the clash between former warring foes Iran and Iraq the evening before.
Since June 2017, the Saudis have pursued an economic embargo against their neighbor. They accuse Qatar of financing terrorism, something its leaders deny. What's more, the tournament is being hosted by the United Arab Emirates, a staunch ally of Saudi Arabia, and there are question marks over whether some Qatari officials will be able to get there.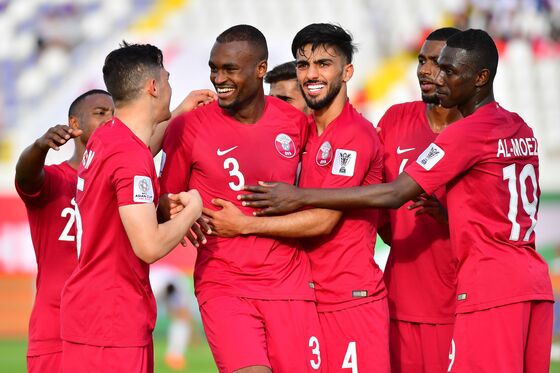 Qataris are barred from traveling to the U.A.E. It's also illegal to show support for Qatar in the country. Qatar's previous game, against North Korea, was in a largely empty stadium. 
Soccer has a habit of throwing together geopolitical rivals. It may not have the same international resonance as Iran beating the U.S. in the 1998 World Cup or East Germany defeating West Germany in the same competition at the height of the Cold War, but the hostility is just as palpable.
The standoff has divided the Gulf nations, financial markets and sport. Qatar is due to host the World Cup in 2022 while Saudi Crown Prince Mohammed bin Salman has been trying to burnish the image of his country, which triggered an international outcry with the murder of newspaper columnist Jamal Khashoggi.
The Saudi city of Jeddah hosted the clash between Italian champion Juventus and cup winner A.C. Milan on Wednesday, Juventus prevailing 1-0 thanks to a goal by Portuguese star Cristiano Ronaldo. Qatari-owned broadcaster beIN tried in vain to move the game as part of a dispute over alleged piracy of content it blames on Saudi Arabia. The company had written to the chief executive of the Italian soccer league to try to persuade him to relocate the prestigious Super Cup match.
The Qataris say that another broadcaster, called beOutQ, pirates much of its premium content in sports rights and entertainment and is backed by Riyadh. Saudi officials have denied any link to a sports service broadcasting pirated programming.
At least the two go into Thursday's match in Abu Dhabi in good spirits on the field. Both teams have already qualified for the next round without conceding a goal so far.