Sandals Resorts Bets Big on Luxury With $8,000-a-Night Rooms
(Bloomberg) -- When Sandals Resorts International reopened its Royal Barbados hotel in mid-May after being shuttered by the pandemic for more than a year, elite guests—those paying as much as $6,000 a night to stay in the hotel's top suites—were met at the airport in Rolls-Royce Ghosts and led to their rooms by white-gloved butlers.
Inside the complex, their oceanside rooms came with personal infinity pools, round-the-clock service, and balconies with "tranquility soaking tubs" built for two.
It's a level of luxury that might surprise many who associate the 40-year-old, all-inclusive Caribbean hotel chain with its longtime jingle "Sandals is for lovers" and its ubiquitous and kitschy television ads from the 1980s and 1990s. After all, the adults-only resorts are not commonly perceived as five-star destinations.
But if the fleet of Ghosts isn't proof enough, Sandals Executive Chairman Adam Stewart is aiming to change that. 
"We are positioning ourselves at the top of the all-inclusive segment," Stewart says. "While others have stayed at the 2 1/2- or 3-star level, we're building into the 5- and 6-star realm."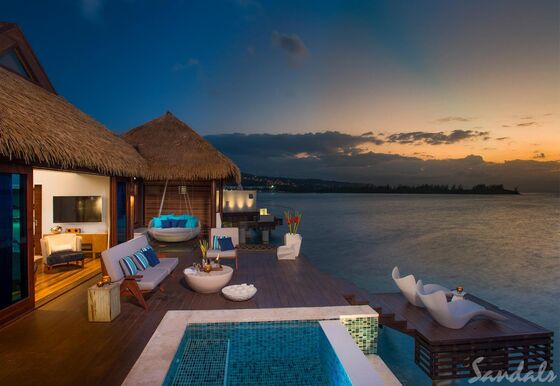 An Unlikely Luxury Player
Stewart continues that Sandals is "the most expensive all-inclusive chain."Rates average around $2,170 a night, according to a company spokesperson.
"Chain" is the operative word. Such mid-tier, all-inclusive brands in the Caribbean as Paradisius and Club Med have been actively vying for a more luxurious consumer base with new services such as infant care and increasingly ambitious restaurants, though they may fall short of Sandals's plunge pool suites and overwater bungalows. And while luxury consumers love certain brands that focus on individualized, location-inspired design for each hotel—think Aman and Auberge resorts—the heavily branded "chain" hotel is anathema to most five-star resort goers.
This year, that doesn't seem to matter. Bookings across the company's 24 properties—the Sandals brand, as well as Beaches, Grand Pineapple, Fowl Cay Resort, and Your Jamaican Villas—are running 30% to 50% above their 2019 levels. The namesake resort brand is the company's most luxurious offering, ranging from traditionally-styled mid-rises with dark wood accents and terracotta roofs to thatched bungalows around a floating, heart-shaped boardwalk. 
Sandals's fanciest rooms, such as villas with large private pools, are being snapped up fastest by lockdown-weary travelers. That may reflect a mix of consumers, blending a spillover crowd from more conventional Caribbean resorts that are all booked up with mass market travelers who are ready to splurge after a year of being homebound.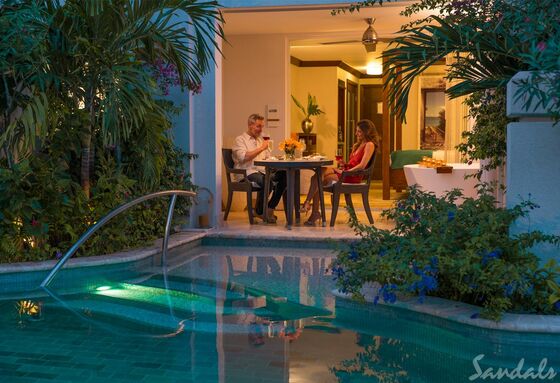 "It's like a breakthrough," Stewart, 40, says in a phone call from Jamaica. "People are saying: 'I'm going to the Caribbean, and I'm going to treat myself because I haven't been able to and it has been a stressful year.'"
It's been a stressful year for Sandals as well. Along with the rest of the tourism industry, the family-run, closely held company was hammered by Covid-19. Most Sandals resorts were running at about 40% of normal capacity and others were closed entirely as islands banned foreign tourists. Then, in January, Gordon "Butch" Stewart, the company's founder and then-chairman, succumbed to cancer at the age of 79. 
The younger Stewart is continuing the evolution set out by his father: During the pandemic he pumped $75 million into new hotels in Curaçao and Saint Vincent, which are slated to open in the spring of 2022 and 2023, respectively. There are no plans to again restart efforts to sell the company, which by some accounts was valued at $4.5 billion in 2019. "For the foreseeable future," says Stewart, "this company will remain entirely a family-owned enterprise." 

Sandals is also overhauling some legacy properties. At the Royal Bahamian in Nassau, the Bahamas—built in 1946 and remodeled in 2016—the company is adding a winding "lagoon pool" that connects the suites to bars and social areas, and installing personal soaking tubs on some room balconies. In a nod to the new pandemic reality, it's also demolishing an auditorium to create an outdoor entertainment area where guests can catch live shows on the beach, if they're not already busy at the hotel's 19 restaurants and bars, or in the suites.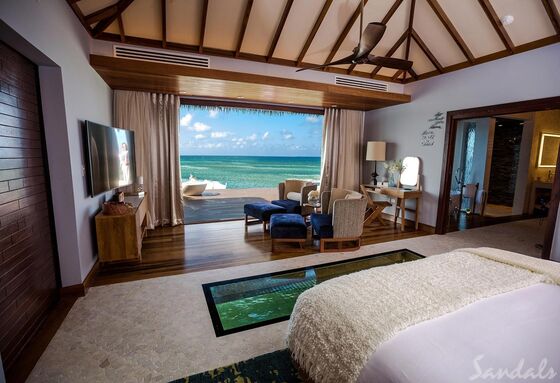 While the company is forging ahead in something of a new direction, it's still retaining its honeymoon-centric roots. To wit: Its highest suite category is called the "Love Nest," themed nights include a Newlywed Game-style "lovers night," and the hotel's marketing images focus on heterosexual couples canoodling while from cracked coconuts.
Stewart likes to boast that Sandals is "the largest bridal company on planet Earth," hosting some 8,000 weddings a year. 
In many ways, it's the emphasis on lovers and honeymooners that contributes to Sandals's unsophisticated reputation—a perception problem that Stewart acknowledges and that mars the all-inclusive sector at large.
"When travelers hear the term 'all-inclusive,' it's usually not married to super, super luxury," says Lindsey Epperly, founder and CEO of the Caribbean-focused agency Epperly Travel. "But the terms are not mutually exclusive. And Sandals has taken some very interesting steps, like creating resorts inside of resorts—where things like their overwater bungalows offer a higher level of luxury."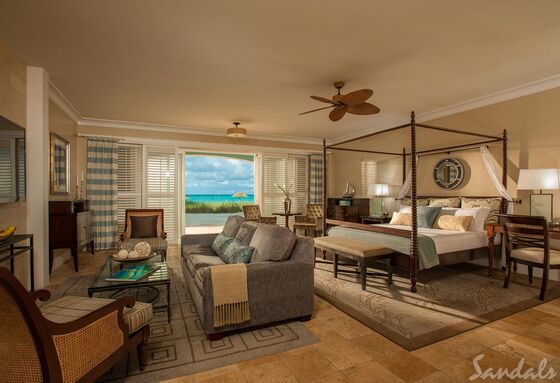 At more than $6,000 for one night, the top-tier beachside suites at the Sandals Royal Barbados cost three to six times as luxury resorts across the Caribbean; prices do drop considerably with multiday stays, to around $2,200 per night for three nights. By comparison, a one-bedroom cottage on the beach at independent six-star, private-island resort Petit St. Vincent in the Grenadines runs around $1,300 per night including all meals and many activities. At Sandals Emerald Bay in the Bahamas, a beachfront villa with two bedrooms can fetch $8,000 for one night—or near $9,000 for three nights.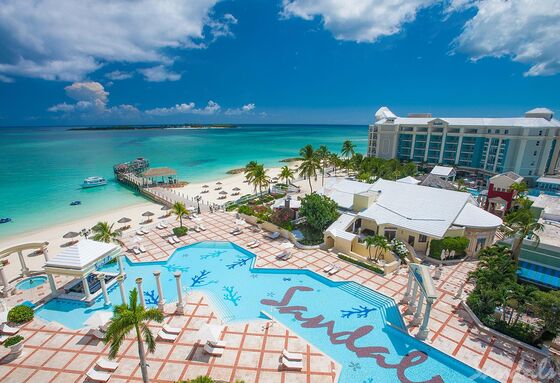 Staying Ahead of the Competition
Stewart says the push to overhaul Sandals's reputation started more than a decade ago. The company has been deliberately trying to outspend its rivals for 12 years, and it has some 20 lots of prime Caribbean real estate across the Dutch, Spanish, and French Caribbean that will determine its future development. (Sibling brand Beaches, which has more of a family focus, is also on a mission to upscale.)
But Sandals has new competition. In 2020, Marriott moved into the sector, taking over 19 Blue Diamond Resorts in the Caribbean with the intention of turning them into all-inclusive versions of the Ritz-Carlton, Luxury Collection, and Westin. "When you think about a Ritz-Carlton all-inclusive, I don't want you to think about an all-inclusive, I want you to think of an amazing Ritz that happens to be inclusive of every desire you might have," Marriott's global brand officer Tina Edmundson told Bloomberg in May. "There's some negativity around that space, but we are setting out to craft and curate something that doesn't exist."
Stewart is unfazed. He said he's told his design team to "go to town"—building glass-bottomed bungalows, increasingly lavish pools, French- and Caribbean-themed suites, and piling on the amenities at forthcoming locations that have broken ground in Curaçao and Jamaica. The latter property, to be called Sandals Dunn's River, already has a $230 million budget.
"I'm looking forward to showing the world what innovation really means in this next phase of the family legacy," Stewart says. "We are going to develop rooms that will blow your mind away."