Ronaldo's Old Soccer Club Gets a Financial Lifeline
(Bloomberg) -- In European soccer, 30 million euros ($34 million) doesn't go very far nowadays. It's a year's salary for Juventus striker Cristiano Ronaldo and less than a third of his purchase price from Real Madrid in the summer.
But it's the kind of money that could save the Portuguese club that nurtured the global star. Sporting Lisbon, one of three major teams in the country, was trying to raise that amount from a bond sale to avoid the risk of defaulting to creditors. As of Thursday, buyers had pledged 26 million euros.
On the field, 112-year-old Sporting is a model football factory, unearthing talent and selling it on to bigger leagues. It's raked in more than 100 million euros just the past two years offloading players to England, Italy and Spain.
The trouble is that off the field, Sporting and other Portuguese teams have struggled to fix their finances after years of mismanagement and a legacy of debt going back to when Portugal built new stadiums to host the 2004 European Championships. The clubs then couldn't fill or maintain them. Ironically, given what's happened since then, that tournament was won by Greece.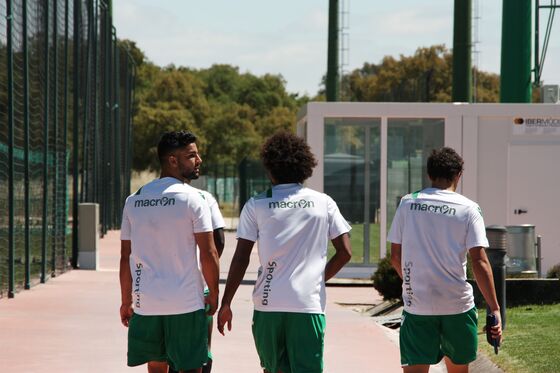 Sporting Clube de Portugal -- its full name -- has endured a particularly turbulent year. Toward the end of last season in May, nine players quit after being attacked at their training ground by an angry mob carrying sticks and belts. It became a company with a mountain of debt and its assets literally walking out the door, though some players returned and others agreed to negotiate their exit.
"This sale is crucial for Sporting to stabilize its finances and turn the page on a disastrous recent past," said Joao Duque, a finance professor at the University of Lisbon's School of Economics and Management. "Sporting is clearly in a very fragile situation."
A report by the European University's Football Observatory declared that Sporting and rival FC Porto were "technically bankrupt" because of debt to service that exceeded the value of their assets. Sporting's vice president, Francisco Zenha, dismissed the report as outdated and incorrect because it related to Sporting's earnings in June.
The club posted net profit of 16.1 million euros in the three months that ended in September, he said. Debt amounted to 281 million euros, just under what its assets were valued at. Sporting also has a 515 million-euro television rights contract, Zenha said. "The club's financial situation is much better today than a few years ago," he said.
The money raised from the bond sale, which was managed by Portuguese bank Montepio Investimento, will be used to repay 30 million euros of securities that are due on Nov. 26 after the payment was postponed from the deadline in May.
Buyers may have included former players such as goalkeeper Rui Patricio, who moved to the English Premier League after the attack on the Sporting academy, and William Carvalho, now at Real Betis is Spain, according to sports newspaper A Bola, which cited comments the players made on Instagram.
Sporting needed to raise at least 15 million euros from the 5.25 percent bonds maturing in 2021, according to a prospectus released earlier this month. Zenha said, though, that there was enough liquidity to cover the repayment of the existing securities if necessary.
It's turned the corner, the club says. Sporting, which has lived in the shadow of Lisbon rival Benfica, finished third in the Portuguese League last season and reached the quarter-finals of the Europa League competition. It's currently second in Portugal's Primeira Liga, trailing Porto by two points ahead of this weekend's round of matches.
"This bond sale will give some much-needed breathing space," said Duque, the finance professor and a fan of Sporting. "This will enable Sporting to remain in the game."