That $325,000 Rolls-Royce Cullinan SUV Should Be Taken Off-Road
(Bloomberg Businessweek) -- Cullinan is the name of the largest rough diamond ever found. Weighing 3,106 carats—the size of a grapefruit—it emerged from the Premier No. 2 mine in Cullinan, South Africa, in 1905. It traveled by mail to London in a brown-paper-covered biscuit box—resurfacing later that year in more manageable pieces. Those bits ended up ensconced in a place of suitable prominence: among Edward VII's crown jewels, now Queen Elizabeth II's.
Cullinan is also the name of another behemoth polished to brilliance in the British realm: the first-ever SUV from Rolls-Royce Plc.
The $325,000 V-12 563-horsepower beast has all the trappings of luxury you'd expect from a rig of this price and heritage. First, you'll encounter the doors—the back seat is rear-hinged, suicide-style—that open with the push of a button. They reveal an expansive interior sheathed in open-pore santo palisander wood and carpeted with inch-thick lambswool. The cabin is eerily quiet: With double-thick glass and sound-canceling, foam-filled tires underneath, the only thing you hear with the radio off is the turn signal's soft click.
You'd never expect them in another car, but here, meter-long door-mounted umbrellas, a hidden Champagne chiller, and back-seat workstations with folding tables and 12.5-inch touchscreens are taken for granted. The rear splits open automatically into a tailgate, allowing for the lowest loading level of a full-size SUV on the market. And that luggage space—big enough to fit an elk—is separated from the main cabin to minimize disturbances while your valets load the bags.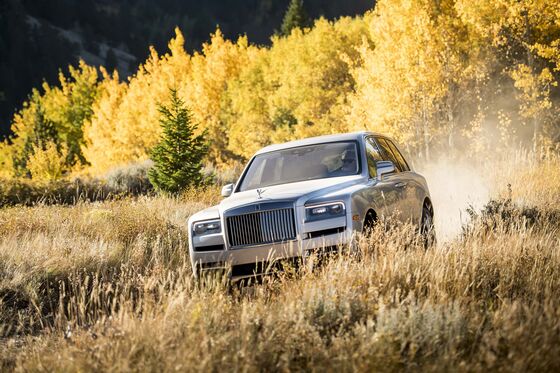 The Cullinan is very much a Rolls, in short, but it's also the brand's first vehicle with four-wheel drive; it's meant to be taken off-road, if you can believe it. I didn't, until I got the chance to test it during a launch event in Jackson Hole, Wyo. I was amazed to drive it over the soccer ball-sized rocks and shale-lined switchbacks of Snow King Mountain.
In fact, much of the promotion of the Cullinan has focused on proving its rugged virtues, since the brand's credentials are already proven in the flat-and-paved-road domain. Rolls-Royce Chief Executive Officer Torsten Müller-Otvös says it must be so. "We must demonstrate that we are the Rolls-Royce of SUVs," he said in Jackson Hole. (He also said the brand will never do a hybrid.)
It's a surreal feeling to find oneself staring through the raised wings of the Spirit of Ecstasy hood ornament at giant shards of granite on a double-black-diamond ski run laid bare in October grimness. But the car's automatic hill-descent control requires no gas or braking at all. The Cullinan is as surefooted as a mule and as capable as a Mack truck—and it has a ground clearance of 10 inches. (The driving position sits as high as any comparable rig you might pass on the highway, too.) A new suspension system means the Cullinan doesn't have the jerky feedback through the steering wheel and chassis so common to most off-road SUVs. Coupled with the utter silence of the interior, the car felt as placid on the mountain as a ride up the nearby chairlift.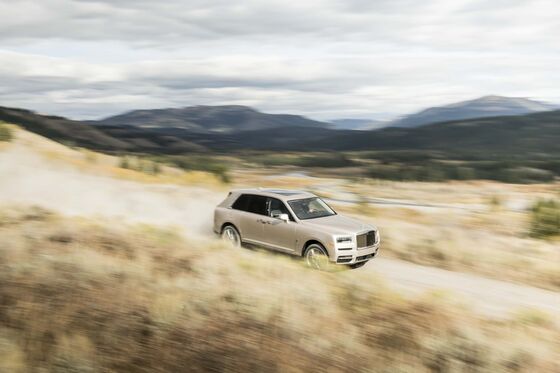 Weighing more than 6,000 pounds, with a not-entirely popular tankish body and a chrome grille about a mile high, it's an easy target for those who'd recoil from such an obvious status symbol. But this is a vehicle that carries real off-road genes—T.E. Lawrence crossed the Arabian desert in an armored Rolls-Royce Silver Ghost in 1919. And the company says its core customers have vociferously clamored for something like the Cullinan for years. Rolls-Royce will make fewer than 800 of them, but all indicators say it will become the brand's best-selling (and most self-driven) vehicle after deliveries start this holiday season.
If you don't like it, it wasn't made for you, anyway.
To contact the editor responsible for this story: Justin Ocean at jocean1@bloomberg.net, Chris Rovzar