A Star Chef's Roast Vegetable Tart Solves Many Holiday Problems
(Bloomberg) -- Editor's Note: As more people are working from home, Bloomberg Pursuits is running a weekly Lunch Break column that highlights a notable recipe from a favorite cookbook and the hack that makes it genius. 
Thanksgiving represents a test for even the most organized cooks. Some glorious farmer's market vegetables might upend your side dish plans; a guest's late-breaking special diet will test your menu. And that's in a normal year.
The pitfalls are higher than usual this time around, as people adjust to smaller celebrations and intermittently stocked market shelves. What everyone needs this year, whether they know it or not, is an expert to see them through.
May I suggest Jacques Pépin, one of the world's best—and best-loved—cooks. The 84-year-old chef has helped the likes of Julia Child to improve their already formidable kitchen skills.
Pépin has a new, non-traditional cookbook out, one that features several notable chef friends. It's offered as a benefit to becoming a member of the Jacques Pépin Foundation, which supports culinary training for people facing employment challenges due to such problems as homelessness and previous incarceration. The foundation funds more than 20 organizations such as Forge City Works in Hartford, Conn., that help people find employment. (JPF membership starts at $40 per year.)
Cook with Jacques Pépin and Friends, Volume 1, is a kind of online recipe subscription service-meets-flashy chefs cookbook. It features videos of many of Pepin's illustrious friends cooking their favorite recipes at home. (Because: pandemic. And also, awesome.) There's Eggs Three Ways from activist chef José Andrés, a Spinach and Beef Salad from Top Chef star and Taste the Nation host Padma Lakshmi, a Squash and Crab Curry from Kwame Onwuachi, a major factor in making Washington the best food city last year. There are a handful of recipes from Pépin himself, including a veal breast roast with vegetables.
Each recipe is accompanied by an entertaining video of the chef making the dish, telling stories, and offering tips. "The chefs in our book include many friends, and some of the best chefs I know," said Pépin via email. "To see them all together in this digital book, and to have their support for the JPF and culinary education is really terrific."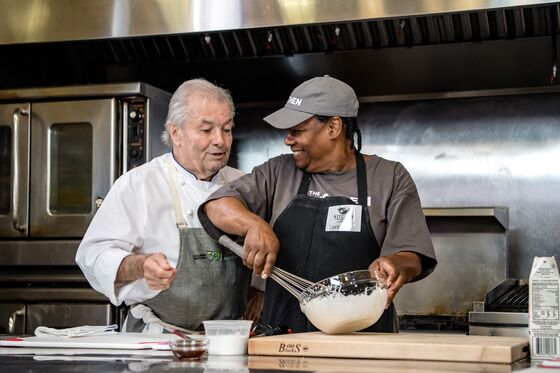 One of the book's most show-stopping recipes—one that will win Thanksgiving bragging rights, even if family and friends are admiring it through a screen—is a dead-simple roast vegetable galette from Justin Chapple, culinary director-at-large at Food & Wine. His dish maximizes the produce that highlights many a Thanksgiving table: sweet potatoes, red potatoes, carrots. They're enclosed in an easy-to-make rustic crust with folded over sides. The result is spectacular.
And the galette does double duty by acting as the main course for anyone who is avoiding meat. "It can be a side dish for people who eat everything, or a main course for vegetarians," says Chapple. "It's not like, 'Here, you have to eat this mashed squash as your dinner.' Instead, it's 'Here's a beautiful tart.'" Moreover, it's a clever, out-of-the-box extension of classic holiday ingredients that this food writer hasn't seen before.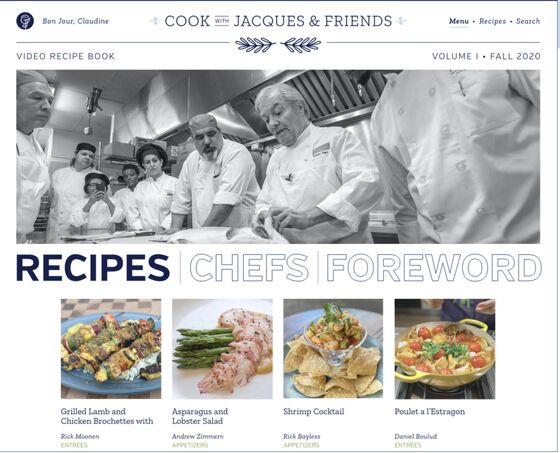 Chapple keeps it simple, forgoing any complicated béchamel sauce or custard, and uses sour cream and Parmesan as the base. This makes for a rich, creamy, salty contrast to the flaky pastry and the colorful veg, whose flavors dance from sweet beets to nutty parsnips. Pépin, who made a plum galette famous at Food & Wine in the '90s, approves.
"Justin is a talented, passionate cook, and that's reflected in his delicious savory galette. It combines two of my favorite things—flaky dough and seasonal vegetables," he said about the recipe.
It's also perfect for this year's holiday season—as good looking as it is big—and easily cut in half if your guest list is smaller than usual.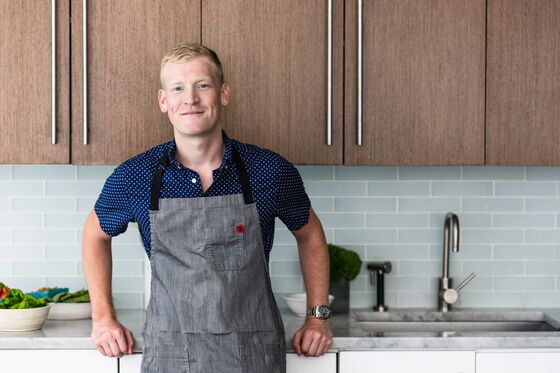 The following recipe, from Justin Chapple, is adapted from Cook with Jacques Pépin and Friends, Volume 1.
Tester's note: The pastry is monumentally easy to make—it just requires food processor pulsing—but you can buy a store-bought pastry dough. Avoid the refrigerated pie doughs at supermarkets, unless they're top quality; they won't be sturdy enough for the vegetables.
Tester's note II: The hardest part of this recipe might be finding small root vegetables; if it seems as if there's too many sliced vegetables piled up on the pastry, there probably is. Roast extra slices separately in a pan and serve with the tart, or as its own side dish, along with sour cream and cheese.
Roasted Root Vegetable Galette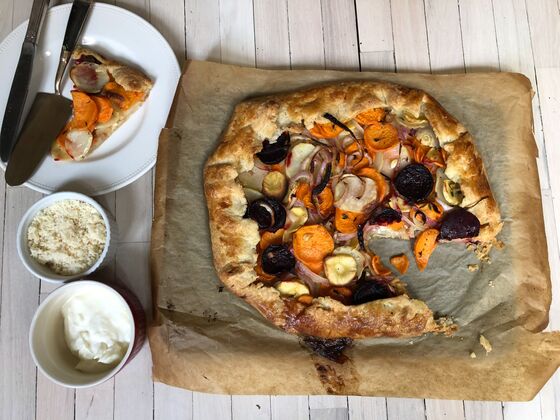 1¼ cups all-purpose flour
Kosher salt and freshly ground black pepper
4 oz. unsalted butter, cubed and chilled
Ice water
1 small carrot, peeled and very thinly sliced on a bias
1 small parsnip, peeled and very thinly sliced on a bias
1 small red potato (not baby), very thinly sliced
1 very small sweet potato, peeled and thinly sliced
1 small red onion, very thinly sliced
1 small beet, peeled and very thinly sliced
2 tbsp. extra-virgin olive oil
1 tbsp. fresh thyme leaves
¼ cup sour cream, plus more for serving
¼ cup freshly grated Parmesan cheese, plus more for serving
1 large egg beaten with 1 tsp. water or milk, for an egg wash
In a food processor, combine the flour, 1 teaspoon salt and ½ teaspoon pepper; pulse to mix. Scatter the cold butter on top and pulse to the size of small peas. While pulsing, drizzle in 1/3 cup ice water until the mixture is evenly moistened. Transfer the mixture to a work surface, gather up any crumbs and knead gently, just until the dough comes together. Pat into a disk, wrap in plastic, and refrigerate until chilled, about 1 hour.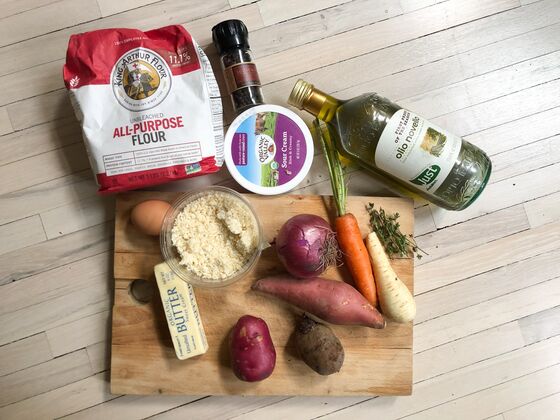 Preheat the oven to 450°F. In a large bowl, toss the carrot, parsnip, red potato, sweet potato, and onion with the olive oil and thyme. Season generously with salt and pepper; toss again.
On a lightly floured work surface, roll out the dough to a 14-inch round. Carefully transfer to a parchment paper-lined baking sheet.
Spread the ¼ cup of sour cream over the dough, leaving a 1½-inch border. Sprinkle ¼ cup of the Parmesan cheese on top. Spread the vegetables in 2 or 3 pretty layers on top of the sour cream. Tuck the beets in last, so they don't stain the other vegetables red. Fold the pastry edge up and over the vegetables to create a 1½-inch border around the tart. Brush the edge with the egg wash. Bake the galette for about 35 minutes, or until the crust is browned and the vegetables are just tender. Let cool slightly.
Season with salt, cut into wedges, and serve warm with sour cream and more freshly grated Parmesan.