At America's Longest Off-Road Rally, No Men Are Allowed
(Bloomberg) -- The Rebelle Rally crosses 1,600 miles of high desert, through Death Valley and Nevada's Gold Point ghost town, before finishing at the end of the Glamis sand dunes where George Lucas filmed Star Wars.
Forty 4x4s and crossovers make the trek in eight days of competition, plus two days of technical training and practice. Teams hail from South Africa, Japan, Canada, Norway, and France. It's the single longest off-road rally held in the U.S., in terms of distance and days behind the wheel.
I expected the drivers to be typical rugged overlanding buffs, decked out in Gore-Tex and tactical pants with lots of pockets. Or the type of beer-drinking flat-cap off-roaders who often find themselves at odds with national park rangers over their destructive habits.
Then I saw the Goyard bag.
It belonged to Karen Hoehn, a co-owner of luxury car dealerships who, with her navigator Dana Saxten, has driven all four of the Rebelle rallies held to date. Hoehn has twice completed the famously grueling two-week Rallye Aicha des Gazelles through the Merzouga sand dunes of Morocco; Saxten has done it once.
The pair were in high spirits when I sat with them over cocktails the night before the event, a testament to their unflappable nature considering they'd suffered a tire puncture in their Land Rover LR4 before even reaching the starting line. With less than 12 hours until the rally began, they'd installed their existing spare tire, called ahead to a dealer in Reno to have a new one delivered, then driven an hour there and back to pick it up so they'd have a proper spare for the race. (This is one of the myriad technical and safety items required to compete.) All done with pearl earrings the size of Gobstoppers serenely intact.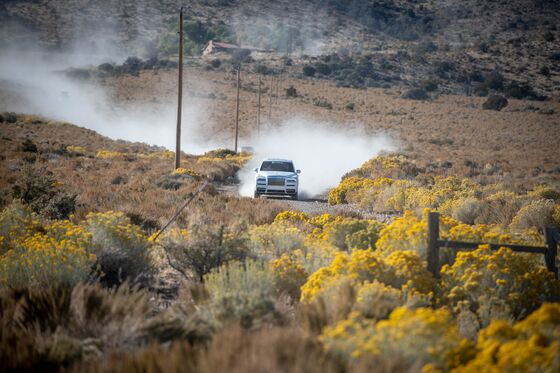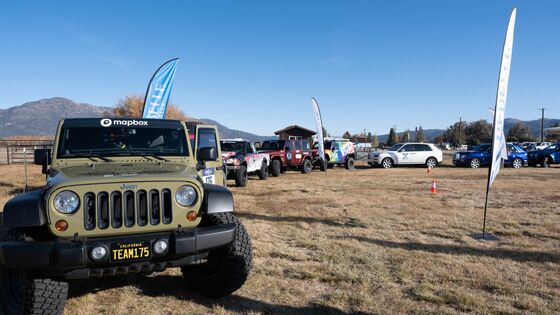 "How was your day?" the waitress asked as she poured Hoehn a martini.
"Great!" the team answered in happy unison. There was no mention of the puncture drama—or the rush to retrieve the spare.
The optimism and can-do attitude aligned precisely with the overwhelming mood of the annual event, which this year started on a private ranch near Bridgeport, Calif. There was Chrissie Beavis, an architect and former X Games gold medalist for rally car racing; Laura Wanless, a corporate lawyer; Heather Lewis, a forensic scientist; Wendy Fisher, a world champion skier; Michelle Klein, an automotive engineer; and Chris and Emily Benzie, the mother-daughter team who in their day jobs work as an aerospace engineer and a genetic immunologist, respectively.
This does bring up one more thing: The Rebelle is open only to entrants who happen to be female.
Well, that's not completely accurate. Men are involved: They cook (Michelin-starred chef Drew Deckman); scout trails (motorcycle legend Jimmy Lewis); run search and rescue (IMAX videographer Rob Walker); and take photos (underwater pro Tim Calver). There's practically a waiting list to volunteer, with the ratio of staff to competitors at nearly 1 to 1. The official count: 76 competitors, 70 staff. Lipstick optional.
"The Rebelle isn't really for women who say, 'Oh, I wish I could do that, and I'm going to talk about it on Instagram, but I'm never going to really do it,' " says founder Emily Miller. "Rebelles are women who say, 'I can do this. I'm not sure how, but I'm going to figure it out.' "
Miller is a dynamo off-road champion in her own right. In 2011 she became the first American to podium at Morocco's Rallye des Gazelles, which for almost two decades saw winners from Europe and Africa but none from the U.S. She was a Baja 1000 class champion in 2009 and the first woman to win the infamous and unnamed Vegas-to-Reno off-road race doing it "Ironman" style—that is, driving and navigating solo. (The race is so intense and competitive, most pilots wear diapers while they compete.)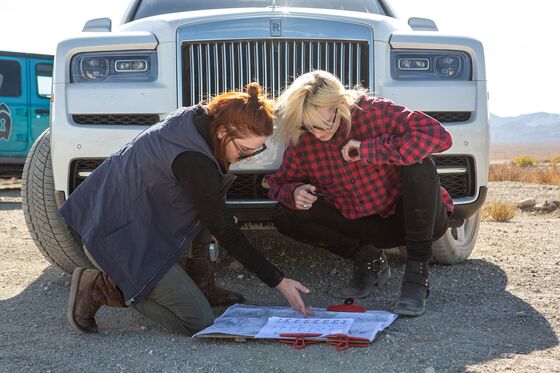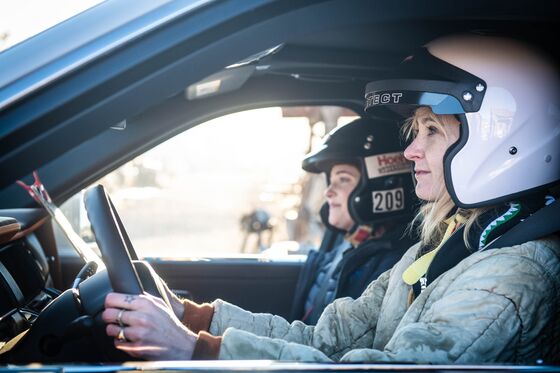 Miller lives with her lifeguard captain husband, Larry, in Encinitas, Calif. After working for years as the driving instructor for Michelin BFGoodrich, she now runs her own sports management company. Miller started the Rebelle in 2016 as a way to get women "more seat time," as she puts it. In her experience, women have been less than enthusiastic about joining existing competitions such as King of the Hammers and the Baja 1000.
"I'm doing this so that women will stop going, 'Oh, my gosh, that's so cool. I could never do that,' " Miller tells me one evening at base camp as we wait for Deckman's legendary taco dinner. (Beef tongue is one of the protein options; a vegan option is offered as well.) "A man will see it and say, 'Oh, my gosh, that's so cool. Where do I sign up?' "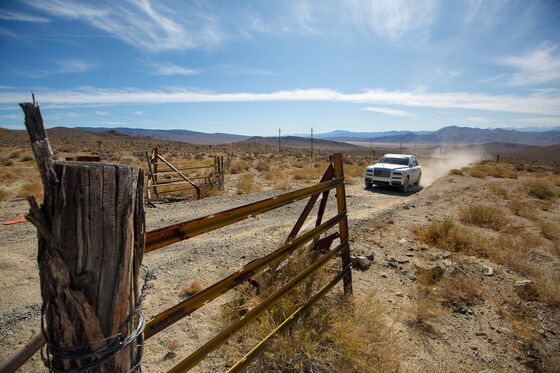 The rally works as a navigation and driving challenge set over 11- or 12-hour stages for eight days in the desert. (The route changes every year.) Competitors leave one of four base camps at 7 each morning to cover 200 miles or so of rocks and sand, earning points for navigating to checkpoints set by latitude and longitude along the way. All phones are surrendered at the start of the rally and permanently locked away, day and night, for the duration of the event. GPS systems and other navigation devices are not permitted.
Each team consists of a pilot and a navigator, who uses old topography maps, a compass, and a ruler to find the route. When teams reach a checkpoint, some of which are indicated by a flag or pole in the ground, they push the button on a special tracker that reports their location back to base camp. Points are deducted if you, say, hit the tracker at the incorrect spot, among other breaches of protocol. There's a special two-day marathon stage where competitors sleep under the stars in their own tents across 3,000 miles of desert; an enduro challenge involves handheld stopwatches over an hourlong course while they count kilometers and attempt to maintain set speeds.
It's easier said than done: When you're in a lumbering 4x4 canvassing washed-out riverbeds and climbing the deep shale sides of ancient rock walls, it's a lot more difficult to maintain 40 kmph, then 30 kmph, then 20 kmph, then back up to 40 kmph for the precise amounts of time and distance you've had to calculate on your own and hope are correct.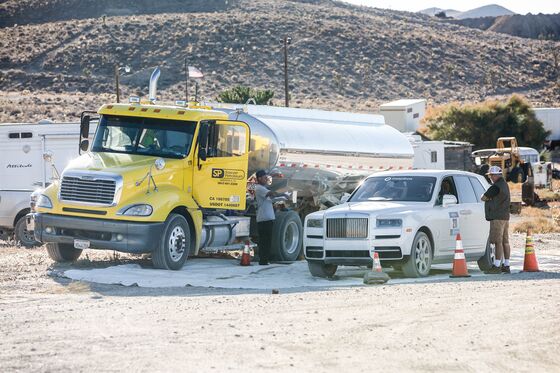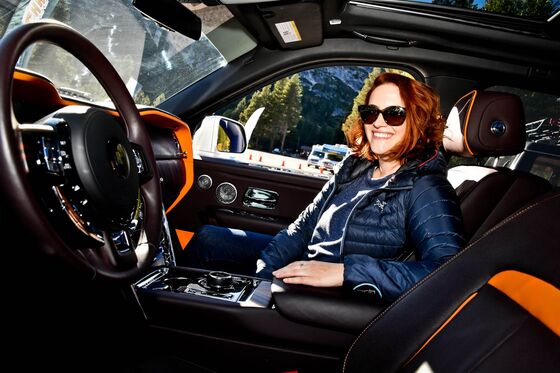 Car brands have taken notice, too. Companies ranging from Jeep, Nissan, Ford, Mitsubishi, and Lexus all entered official team vehicles into the rally. Honda even fielded two with company engineers at the helm.
I drove a 2020 Rolls-Royce Cullinan for three days of the rally with Susie Saxten (Dana's daughter) as navigator. A well-known expert on the off-road circuit, Saxten is chairman of the board of TS Restaurants, a holding company with a dozen restaurants across Hawaii and California. She came highly recommended, having competed in Rallye des Gazelles three times, twice finishing in the top 10. Last year, Saxten and her longtime co-pilot, Jo Hannah Hoehn, placed fourth in the Rebelle.
If you're wondering, the $420,000 bone-stock Rolls-Royce performed like a dream. We deflated the tires a bit to handle the softer surfaces, threw it into off-road mode, and sailed along our merry way.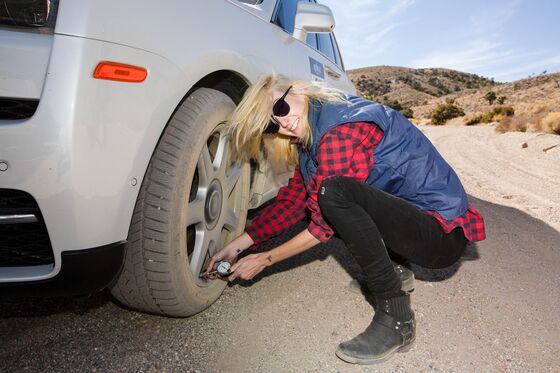 The price is $12,000 per car to compete in the Rebelle, which covers all food, safety, and mechanical assistance (if needed), as well as sleeping accommodations—including the hotel at the end of the rally and the glamping-style base camps during competition days.
If it sounds expensive, that's because it is, but it's still far less than the roughly $50,000 needed to enter the Rallye des Gazelles (not including the expense of getting to Morocco) and the $25,000 per person Porsche charges for some of its consumer off-road expeditions. It barely covers the cost of producing the event. (Miller declined to specify annual profits but says "definitely right now we consider ourselves a startup.")
While many participants in the Rebelle are wealthy, some save all year to participate. Still others seek sponsorships from automotive-related companies. MaxTrax, Total Chaos, Kühl, Airaid, Mapbox, and Jeep are also title sponsors.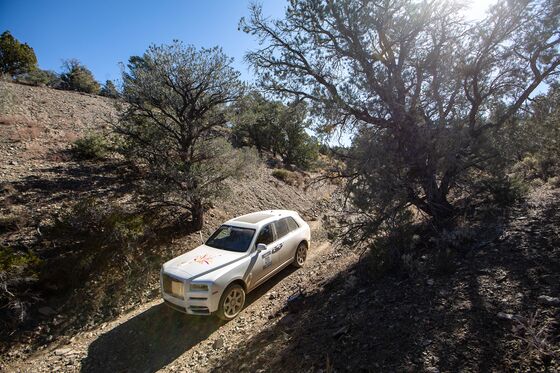 "I skipped lunches out and coffee and begged my co-workers for donations all year to make this happen," one driver told me. The general impression is that if you really want to enter the rally, there's a way to make it happen.
Here's the bigger picture: Miller uses rallies like this to refine the Rebelle Mapbox Data Visualization Platform, which she created with programmers from Mapbox to capture vast amounts of technical information from sensors attached to all the vehicles as they pick their way through the sunbaked terrain. The program collects more than 50 different data points, including engine load, throttle position, fuel levels, rpm, engine temperature, and ambient air temperature.
It's working to turn a world-class off-road rally into a proving ground for original equipment manufacturers.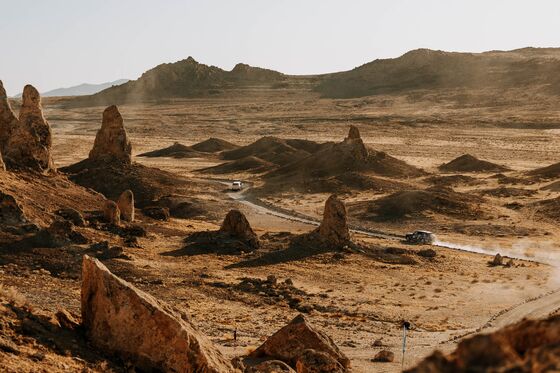 "Every single time you drive your vehicle, you can collect data that builds the better beast," Miller says. "Manufacturers spend half a billion dollars on a proving ground, and they drive the same track round and round—or bumps or whatever—with pro drivers, and they never really uncover the problems the consumer has. But we are trying to solve problems here. It's Formula One-level data but in really remote locations."
The prospect of refining the paltry offerings of autonomous driving currently available in production cars also looms large.
"There's no reason why, every time we are out here running, we are not testing the cameras to make them smarter for autonomous vehicles," she says. "Because everybody right now is just testing them in freaking downtown San Francisco."
It certainly felt like the farthest thing from Lombard Street when I was behind the wheel. I'd driven the Cullinan up ski runs in Jackson, Wyo., a year prior, so I knew it could handle the terrain. But the scope of the drive, the proficiency and efficiency of the staff, and the energy created by the group of competitors surpassed my expectations. I've participated in several car rallies, including the Mille Miglia and Silvretta Rally, and this was the most well-run, professional, and high-end event of them all.
We started each day in the pitch dark and 20F desert cold. (Lights out was at 10 every night; at 5 each morning, Miller famously walked through camp gently clanging a cowbell.) At Base Camp 1, truck-towed toilets with a small sink and single shower were the only source of restroom-related conveniences; in an effort to conserve resources, bathing was not encouraged. Breakfast consisted of fresh egg scrambles, roasted potatoes, English muffins toasted with fresh butter, yogurt, fruit, and strong Café Moto coffee. Everyone must bring their own cutlery; tubs of soapy water sat out back for washing them each day.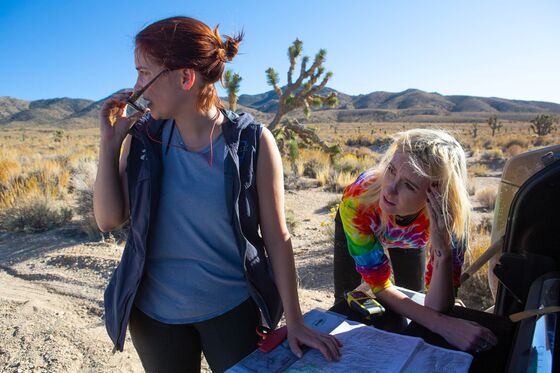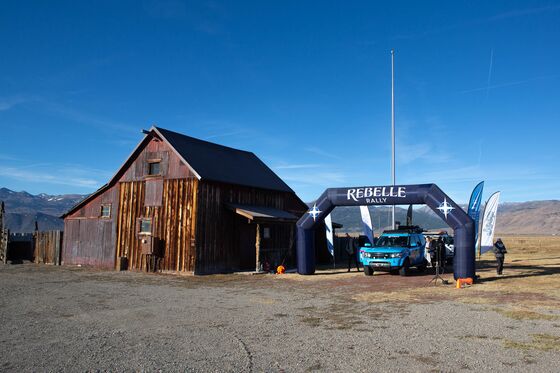 During our drives, Saxten and I saw sweeping vistas of the Sierra Nevada mountains glowing in the morning light; we saw deer and cattle and jackrabbits on their evening routes. We took the 563-horsepower, twin-turbocharged V-12 SUV through washed-out riverbeds, over dry dirt gullies, and up the crest of old hunting trails cobbled together with mud and stone. The Cullinan was as quiet as a bank vault and as smooth as a skating rink.
Of course, that was on the straightaways. I had to really work to keep it under the roughly 40 kmph levels Miller mandated for those old back dirt roads. Keeping dust levels down and minimizing road ruts was key. But covering the boulders and gullies was a different matter: I would slow the car to 5 kmph, ever so gently pressing the gas pedal as it crept forward slowly then lurched forward as each wheel went up, down, and over each rock. Thump. I'd hear it underneath the chassis somewhere as I kept the steering wheel light and in motion, urging the car to just keep moving. Whomp. Was that a branch? Some thick root? I still don't know—I just tried to focus on keeping Cullinan moving forward.
It worked. Lumbering over dirt heels and volcanic rocks, I felt each wheel of the big rig work like the leg of a brontosaurus rocking and rolling its way through an ancient seabed long since dried out into what looked like the surface of Mars.
I half-expected some competitors or staffers to scoff at such a luxury item in the American outback, but everyone I met was excited to jump in and try the massaging seats, play with the doors that closed automatically at the push of a button, and twirl the heavy umbrellas installed in each rear door.
After completing the day's checkpoint challenges, we'd pull into camp around 5 p.m. as the 70F Indian summer sun finally created the long shadows that meant the day was done. A large gasoline truck filled us up for the next day; tired competitors pitched their tents, then slowly filed into the main chow tent or gathered around a roaring campfire while we waited for dinner.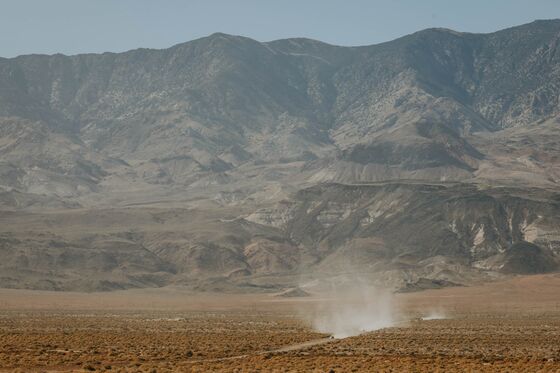 On my last night, I snuck behind a generator truck to join Karen Hoehn and Dana and Susie Saxten for a surreptitious gin and tonic. They had procured limes and Fever Tree tonic water for themselves—more touchingly, they'd acquired a bottle of vodka and olives for me, since they noted at our first meeting that I drank a vodka martini instead of gin. It was a simple act of civilization, even luxury, done in the middle of the desert two hours' drive from any paved road, after a demanding day of dusty, difficult driving. It was the perfect encapsulation of the camaraderie and joie de vivre the Rebelle embodies.
"This just so happens to be for women because, if it weren't all women, women wouldn't sign up to do it," Miller says. "I would love it if we didn't need to do women's events at all. But I also believe that Rebelles can pretty much change the world as a community. They're really smart, amazing women, and when you get that together the energy is really cool."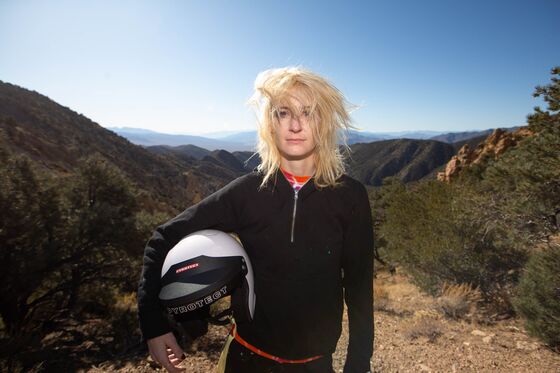 Indeed. In this retinue, the term "girl power" feels irrelevant and out of touch, like biting into a puff of cotton candy when you need a hamburger. These heads of companies, elite athletes, scientists, and entrepreneurs are the opposite of those who imbibe a mass-marketed cream-puff version of "feminism."
I didn't hear the phrase used once. It wouldn't have been accurate, anyway. These women are light-years beyond it.