Premier League's New Season Clouded by Financial Uncertainty
(Bloomberg) -- In the 28-year history of the English Premier League, the world's richest soccer competition, the start of a season has never been clouded by such financial uncertainty.
As teams take to the field this weekend, they'll do so without fans in attendance, as happened in the restart to last season. League Chief Executive Officer Richard Masters hopes that by October a trickle will be allowed into stadiums, socially distanced and with their temperatures checked on entry. But without fans, he estimates the league's revenue will be hit by about 700 million pounds ($896 million).
When spectators will be allowed back remains a mystery. The U.K. government's mixed messaging on how to combat the coronavirus has baffled most of the country, including the all-important leisure industry. It recently restricted numbers at test sports events to 1,000 -- not enough to make it worthwhile, according to Tottenham Hotspur, one of a handful of clubs with seating for more than 60,000.
"The Premier League has written to Government today to express its concern at the decisions taken to restrict, and potentially delay, the planned programme for the return of fans to football stadiums," the Premier League said in a Friday statement. "For each month of the season without fans, more than 100 million pounds is lost to football across the leagues, with consequent damage to the local and national economy."
Tottenham, the north London team that only moved into a brand new all-purpose stadium last season, had plans to admit 8,000 fans on Sunday for its opening match against Everton. That's now on hold, according to a person familiar with the situation. A spokesman for the club declined to comment.
The pandemic-elongated 2019-2020 season, with its empty stadiums and rebates to broadcasters for re-arranged games, triggered the first drop in revenues in Premier League history, according to Deloitte, which produces an annual review of football's finances.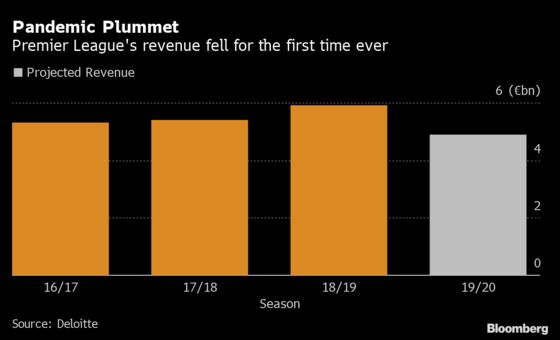 The financial blows don't stop there. During the short summer break, the Premier League terminated its largest overseas contract with PPTV in China after the broadcaster stopped paying fees, even after matches resumed. PPTV, owned by Suning Holdings Group Co., had a three-year contract worth over 500 million pounds, or about 25 million pounds per team over the length of the contract.
In total, Deloitte estimates that Covid-19 cost the League's 20 teams around 1 billion pounds last season, a figure that excludes the loss of the China deal.
So far only Brighton & Hove Albion has welcomed fans to a game -- just 2,500 of them -- for a pre-season trial event. Its stadium normally seats around 30,000.
"Getting fans back -- safely and in good numbers -- is vital for clubs at every level, including the Premier League," said Paul Barber, chairman at Brighton. Barber says it's particularly important at levels below the top tier where matchday income is a more significant proportion of overall revenue.
When it made use of a government loan program earlier this year, Tottenham estimated that the revenue shortfall due to an absence of fans could be as high as 200 million pounds. In addition to hosting soccer, the stadium was expected to stage NFL football matches, boxing bouts and music gigs. Fans haven't been in it for more than six months.
Even before Covid, Premier League clubs' bottom lines were deteriorating due to increased spending. In 2018-19, the last full season before the pandemic, the 20 teams had an aggregate operating loss of 165 million pounds, according to Deloitte.
So far only Arsenal has managed to cut expenses by negotiating player wage cuts. Other teams have simply opted to stay out of the transfer market or buy modestly valued players.
"We have seen a decrease in prices being recorded for players and a decline in general transfer activity for most clubs," said Kieran Maguire, a senior teacher in accountancy at the University of Liverpool and author of "the Price of Football."
One team might be seeing opportunity in all the chaos.
Chelsea, owned by billionaire Roman Abramovich, has seized on the financial uncertainty for its own gain. The Blues have bucked the trend and spent freely during the latest transfer window, adding stars like Thiago Silva, Kai Havertz and Timo Werner for relative discounts.
"No matter what the strange circumstances are, I think the expectations to deliver are always there," Chelsea coach Frank Lampard told the club's TV channel. "I didn't come here just to bring Academy players into the team. No, I came here to try and win."