At Sydney's Best New Restaurant, Reservations Are Gone in Minutes
(Bloomberg) -- Here's some advice if you want to dine at Clare Smyth's new Sydney restaurant: Be quick.

When bookings finally opened—after a four-month delay when Sydney was plunged into lockdown—demand was so overwhelming that the restaurant's website crashed. When reservations for February 2022 were made available, it took just 20 minutes for them to disappear.
Oncore by Clare Smyth has been open only a month. But the strikingly innovative dishes and a focus on local products—along with sweeping harbor views—lets it lay claim to the title of Sydney's best restaurant, no small feat in such a food-obsessed town.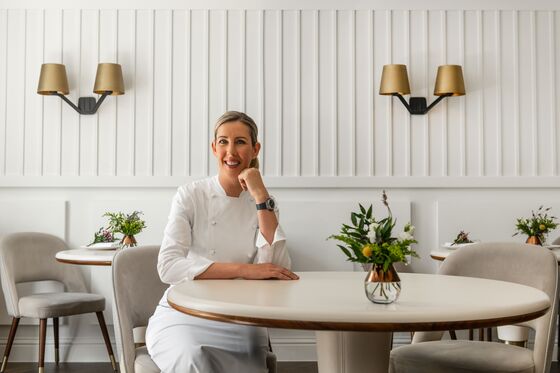 It's certainly the most exciting opening to hit Sydney in years. Smyth's unabashed embrace of fine dining–the A$300 ($215) seven-course tasting menu clocks in at about 3 ½ hours—is bold, given the shift away from expensive, time-consuming meals that has swept the city's dining scene, shuttering spots like Sepia, where Martin Benn served an exquisite 12-course tasting menu.
There's also the lure of being a flagship restaurant at Crown Resorts Ltd.'s shiny new A$2.2 billion ($1.56 billion) harborside casino and hotel complex, alongside the first Sydney outlet of Nobu and acclaimed Australian chef Ross Lusted's Woodcut. Oncore is Smyth's first restaurant outside London, where she famously became the first female British chef to win three Michelin stars. Smyth chose the city because of time she spent traveling the country during the 2000 Sydney Olympics. 
Oncore's sold-out start will be a welcome relief for Crown Resorts after a horrific year. Billionaire James Packer's development has been mired in scandal. More than a year after its scheduled opening, the casino floors remain shrouded in darkness after Crown was found unfit to hold a gaming license in Sydney for having facilitated money laundering at its Melbourne and Perth casinos and working with junket operators connected to Asian organized crime gangs.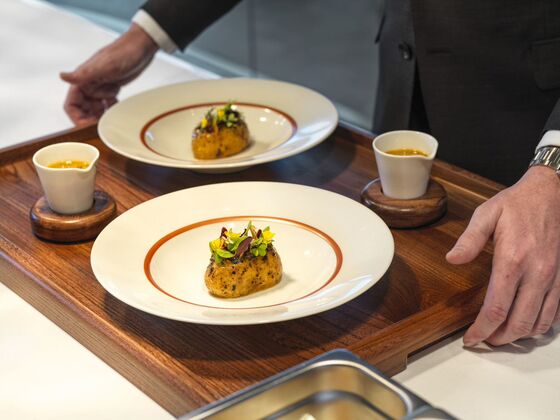 Smyth hasn't set foot in the restaurant, kept out by Australia's strict border restrictions. The country is only starting to open slowly to the rest of the world after being largely shut off for 18 months. She plans to spend some time in Sydney next year. 
In the meantime, head chef Alan Stuart, who cooked with Smyth at Restaurant Gordon Ramsay in London and again at Core, is running the show, with Smyth holding calls almost daily with the Sydney team; the time difference means service in London is just finishing when Sydney is starting to prep for the day, and vice-versa.
"It certainly isn't how we planned to open, but this is the way things are at the moment," Smyth said over email. "We have kept the menu very close to Core for the time being, and it will evolve over time when I am able to be there, which will be soon." For now, Smyth's distanced fingerprints are all over the restaurant—even visually, in the case of the oversized thumbprint that adorns the plates.
The headliner dish at Oncore is one that fans of Smyth will recognize from Core but with a local twist. Potato and Roe—which harks back to her farming childhood in Northern Ireland—features a Charlotte potato grown by fourth-generation farmers in regional New South Wales. Slow-cooked for 9 ½-hours, the creamy flesh topped with smoked trout and herring roe combine for a salty, flavor-packed pop that cuts through a rich kombu butter.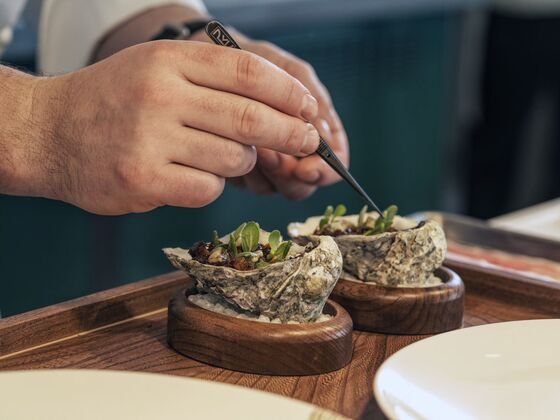 Beef and Oyster is a new dish, a play on the Victorian-era savory pie. A square of mouth-filling wagyu beef from Queensland's Darling Downs farming region is topped with poached oysters from the south coast of New South Wales and surrounded by a stout-infused sauce; an accompanying beef braise is topped with potato puree and an oyster-flavored crisp. The last of the savory dishes, it is also the richest, a heart-stopping combination of beef, beer, bivalves, and butter.

While the atmosphere is understated—a bookcase is stocked with a collection of Sydney Morning Herald Good Food Guides stretching back to 2000—presentations are striking. An opening course of sweet, pale-pink kingfish sashimi with razor-thin slices of radish in a sea-vegetable nage is served in a bowl nestled in a garden of succulents and native flowers. A snack chicken liver parfait and madeira tart comes on a moss-covered log with more native flowers. It all adds up to a sense of indulgence and theater; many dishes are finished tableside with a pour of sauce or a plume of smoke. 

Links to nature run through the restaurant, from the branch-like light fixtures snaking across the roof to the twig-like handles on the chair backs and the vine motif embossed on the plates and cutlery.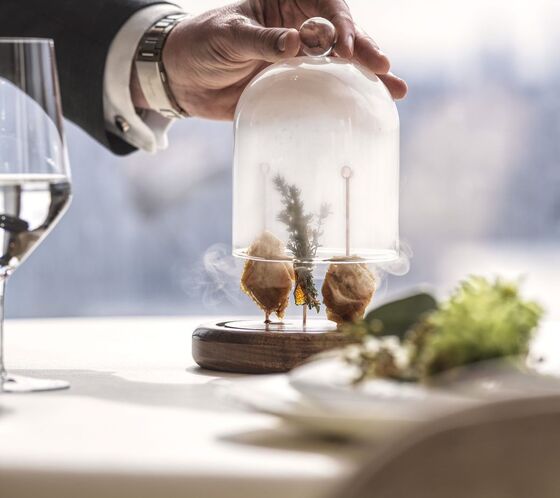 The most striking dessert is Core Apple, a grown-up's version of the candied dessert, with an apple mousse encased in a shining half-red, half-green gel orb. Smyth also takes on the English school favorite Eton Mess, a more refined version of Poire Williams sorbet in a meringue shell covered with thin pear gel discs and more meringue. It's an interplay of textures and tastes, with the sugary shards of meringue offsetting the silky and slight acidity of the sorbet.  
The dinner's finale pays further homage to Australia. Glistening marble-sized jellies are fashioned from two of the country's most renowned dessert wines: De Bortoli Noble One Bortrytis Semillon and a Rutherglen Muscat.

It's hard to ignore Oncore's sweeping harbor views from the 26th floor. Floor-to-ceiling windows look out at the redeveloped docklands that were known as the Hungry Mile during the Great Depression but have since been transformed into the Barangaroo precinct of shiny skyscrapers, restaurants, and a new harbor-front park.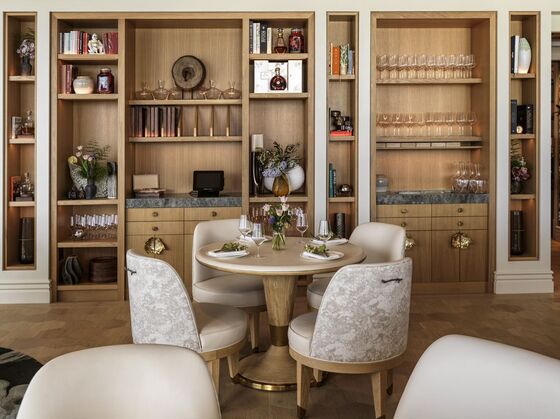 Even for locals who might ordinarily be unmoved by the city's natural beauty, the view looking east down to the Sydney Harbour Bridge and Opera House on an unseasonably wet and stormy early summer night is breathtaking. Expect an Instagram onslaught when more tourists arrive as Australia starts to open its borders to travelers from beyond Singapore, Japan, South Korea, and New Zealand.
There's no timeline regarding when the Crown Resort's casino might be allowed to open. Even when it does, the Chinese high-rollers it was built to attract are unlikely to come, given China's crackdown on gambling and its pandemic border restrictions. Crown is trying to fend off a takeover bid from U.S. private-equity giant Blackstone Inc.
For James Packer and the family, it's a humbling comedown. Larger-than-life father Kerry, who died in 2005, was once Australia's most powerful tycoon, who used a powerful media empire to wield influence over governments. James, who was once engaged to pop diva Mariah Carey, has largely retreated from corporate life and has rarely been seen in Australia since he emigrated in 2013. He now splits his time among Israel, Argentina, Aspen, Colo., and his luxury yacht, according to local media reports, and is building a mansion in Cabo San Lucas, Mexico.
For Sydneysiders, it's an opportunity: With Oncore largely to themselves, it's an additional reason to get in quickly before it becomes even harder to get a table.