NYC Restaurants Rush Toward Reopening With Grim 25% Math in Mind
(Bloomberg) -- On Friday, New York City will pull back indoor dining restrictions. Not every restaurant plans to open its doors.
Major chains like McDonald's Corp. and Chipotle Mexican Grill Inc. are opting to keep their tables cordoned off due to health and staffing concerns. Other restaurants say opening at New York's limit of 25% capacity won't yield enough sales to warrant the additional staffing, cleaning and operational costs.
"For us, 25% is four tables," said T.J. Steele, chef and co-owner of the Mexican restaurant Claro in Brooklyn. "Restaurants are already on such slim margins. Unless overhead was being reduced 75%, the numbers don't add up."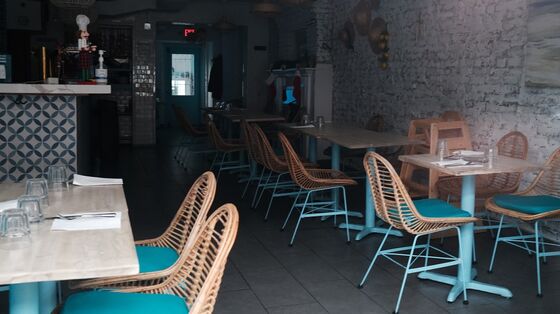 The city's restaurant owners were already struggling financially after being closed for more than five months during the initial Covid-19 outbreak. Allowed to reopen at limited capacity in September, indoor dining lasted less than three months before being halted by Governor Andrew Cuomo to quell a post-holiday Covid surge. While cases declined from January highs, the seven-day average of new cases in the city remains higher than on Dec. 12, when Cuomo shut down indoor dining.
Cuomo's surprise announcement on Jan. 29 to let restaurants host their customers indoors again in time for Valentine's Day provided establishments with little time to prepare. Indoor dining isn't as easy as just opening the doors -- restaurants have to clean, line up waiters and kitchen staff and restock pantries with booze and food. Still, the change will bring extra revenue to establishments currently limited to delivery, takeout and outdoor dining in the midst of winter.
Steve Kanellos, co-owner of Court Square Diner in Long Island City, said he was hard-pressed to find eight more part-time workers to staff up ahead of Friday's reopening.
"It's a different type of business now," he said. "You got to make sure your plates are washed and everything is clean, so you have to give people a couple of days ahead of time."
He said indoor dining will bring in an additional $5,000 per week in sales, although costs, like paying additional workers, will also rise as a result. That will make it hard to earn a profit, especially on weekdays, since workers at nearby office buildings haven't returned.
Chipotle, which operates about 110 restaurants in the city, said it won't reopen dining rooms on Friday because it needs more time to prepare and notify employees. McDonald's also is opting not to resume indoor dining yet and will monitor the city's Covid positivity rates as it makes a decision when to allow customers to eat inside.
At Luthun, which serves American cuisine in the East Village, chef Nahid Ahmed is tweaking his menu because he doesn't have time to source international ingredients. "We don't have that inventory to be ready on such short notice," he said. Instead of the sea bream and fresh wasabi he usually gets from Japan, he'll serve Gulf red snapper and mustard greens.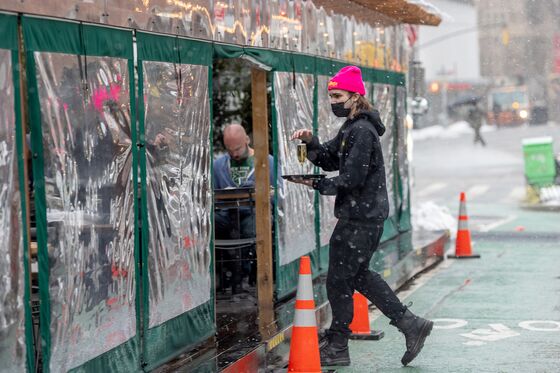 Then there's the question of closing time: New York City requires restaurants to close at 10 p.m., earlier than neighboring areas.
Daniel Boulud, whose dining empire includes the flagship Daniel on the Upper East Side, said he needs the same amount of staff no matter the closing time, so the earlier limit ends up being significant -- especially on a holiday like Valentine's Day.
"To stop reservations early, financially it's a disaster," he said.
Dan Kluger, chef and co-owner of Loring Place in Greenwich Village, said he'll be operating at a loss.
"It's not enough -- especially without proper financial assistance," he said, adding that looser restrictions just outside city limits provide unfair competition. "It doesn't make sense to keep the city's restaurants closed when you could go one block from Queens into Nassau county and restaurants are at 50%."
Neighboring New Jersey kept indoor dining open at 25% even when New York shut it down in December -- and the state recently expanded capacity to 35%. Nearby Westchester is operating at half capacity.
Kluger said more lenient restrictions elsewhere also drove restaurant employees out of the city. "A number of people have moved away because they couldn't afford to stay in New York with no real guarantee of work," he said.
Already more than 110,000 restaurants have closed permanently or for the long-term across the country, with New York City seeing more than 4,000 closures, according to the New York State Restaurant Association. Many of the city's restaurateurs, including celebrity chef Tom Colicchio, are lobbying Washington for $25 billion in federal aid for restaurants and small businesses.
In the meantime, restaurants are taking it day by day.
"I have stopped planning for my business because the change has happened so many times over the last year," said Roni Mazumdar, owner of three Indian restaurants including Adda Indian Canteen in Long Island City. His recommendation to changes mandated by the city: "Don't get too excited."