Now on Sale: A $10 Million Assyrian Relief and Other Pieces of History
(Bloomberg) -- Dozens of exhibitions, art fairs, and auctions are on this week in New York City. This year's TEFAF, the fine art and antiques fair at the Park Avenue Armory, coincides with a series of pop-up exhibitions by Europe's noted Old Master dealers, including Alessandra di Castro, Patricia Wengraf, and Galerie J. Kugel. 
Most prominently, Christie's is holding a series of auctions for its Classic Week, including an estate sale from the late dealer Eugene Thaw on Tuesday and a standalone sale from the socialite and connoisseur Mimi Stafford on Thursday. All of which makes this perhaps the best week of the year to find a rare piece of history.
Bloomberg Pursuits asked Philip Hewat-Jaboor, a collector and the chairman of the London art fair Masterpiece, to look over many of the items available.
He admits that connoisseurship is an inexact science. "It's about an eye and a gut feeling based on years of knowledge and experience," he says. "It is the breadth of knowledge, the years of looking at things—those are the inherent part of it." Here are eight pieces that impressed him most.
Blue Painted Egyptian Jars, Circa 1390-1353 B.C.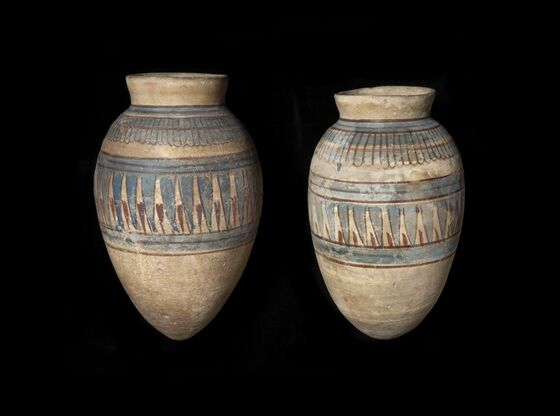 These Egyptian vases date to the reign of Amenhotep III, a period of prosperity from 1400 to 1300 B.C. that scholars associated with the zenith of the civilization's influence. "Amenhotep III basically colonized the whole west bank of the Nile and built this immense palace in mud brick," Hewat-Jaboor says. "He was probably one of the biggest patrons of the arts and commissioned a huge amount of sculpture." These vases, he continues, are "very simple and very beautiful, well-painted with wonderful patterns." But best of all, "they're in superb, superb condition—really mini-masterpieces."
Etruscan Chair by George Jacob, Late 18th Century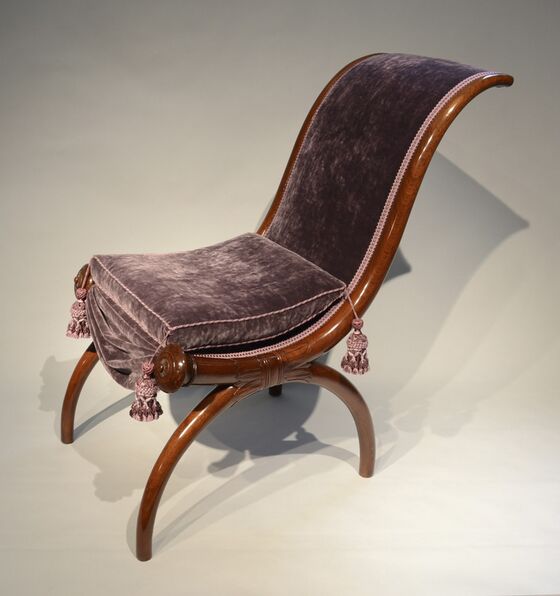 "This is something that transcends what it actually is," Hewat-Jaboor says. "It's obviously a chair, but it's become a piece of sculpture that harks back to a completely different period in time." And at that time, he says, George Jacob was one of the greatest furniture makers. The chair is made of carved mahogany and was probably created between 1790 and 1795. "And then, of course, you find furniture made in the 1920s that will have referred to furniture like this, so it's part of a long line in history."
Tripod Vase in Red Egyptian Porphyry and Gilt Bronze, Circa 1810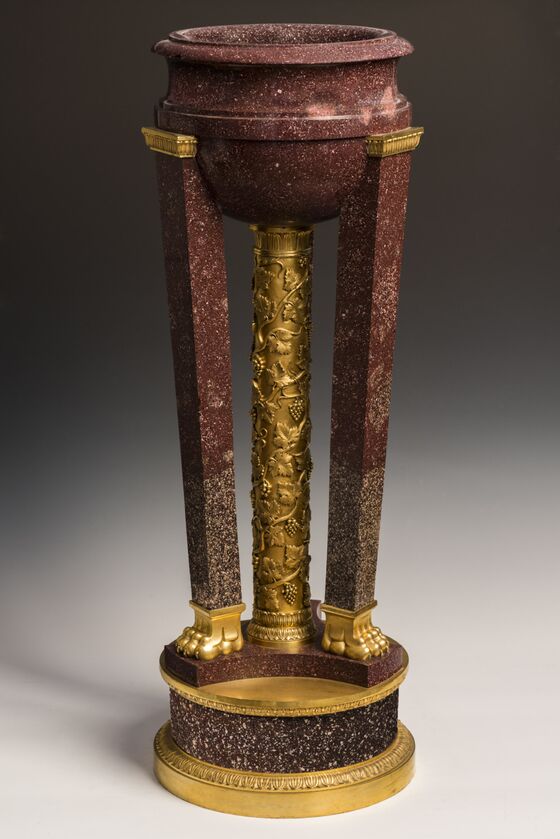 "What's incredibly nice about this is that it has fantastic provenance," says Hewat-Jaboor. This vase was owned by Joachim-Napoleon, the 4th Prince Murat, whose grandfather was Joachim Murat, the "dandy king" of Naples who himself was brother-in-law to Napoleon Bonaparte after marrying the emperor's sister Caroline. The piece was sold at auction after Marie-Cécile Ney d'Elchingen, Princess Murat, died in 1960. "This is superb craftsmanship using superb material, and that material has been used exquisitely," Hewat-Jaboor says. "It's a major piece of decorative art."
Virgil Writing His Epitaph at Brundisi by Angelica Kauffman, 1785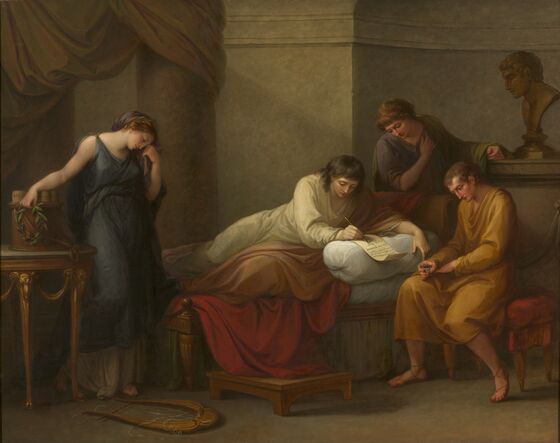 This is a rare example of a woman who became an 18th century celebrity artist. It was painted in Naples by Angelica Kauffman, who was born in Switzerland, then bounced around England and Italy, gaining fame as a neoclassical painter. It's sold by the London-based dealers Lowell Libson and Jonny Yarker. "This is the sort of dealer where if you were aiming to buy me a present, anything you bought me there, I'd be supremely happy about," says Hewat-Jaboor. "What's fantastic about this painting is that it has all of these wonderful neoclassical details. It's quite rare, and it's just a rather beautiful, eye-holding canvas."
A Regence Oval Covered Urn, Circa 1725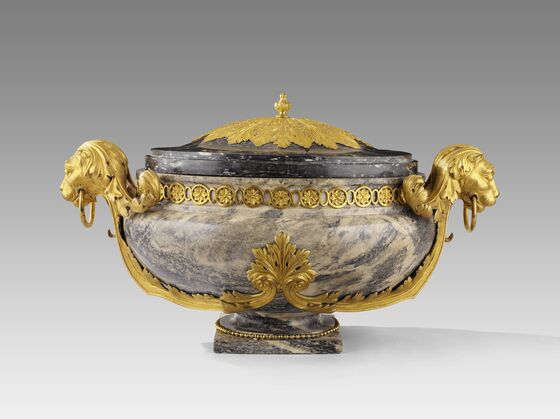 "This is something I haven't seen before," Hewat-Jaboor says. "It epitomizes grand, French taste, with sumptuous gilt-bronze mounts. The whole piece is alive." The item is unusually large—more than 18 inches high and 30 inches wide. "It's one of those things without a background, which transcends itself, and the gilt bronze is superb in a very free and flowing way."
An Assyrian Gypsum Relief of a Winged Genius, Circa 883-859 B.C.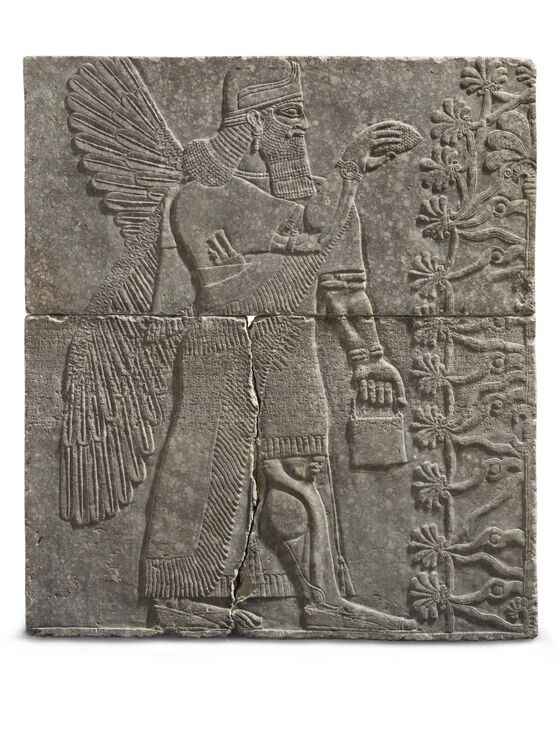 "It's a staggering object," Hewat-Jaboor says. "Most of these are from the British Museum." The work is massive—7 feet by 6 feet—and was excavated from the Northwest Palace in Nimrud, Iraq by Sir Austen Henry Layard in the 1840s. "The opportunity to buy something like this is astonishing," says Hewat-Jaboor. "It's an incredibly beautiful, striking object, that will either scrape through or go for an enormous amount of money."
Term by Alessandro Vittoria and Agostino Rubini, Late 16th Century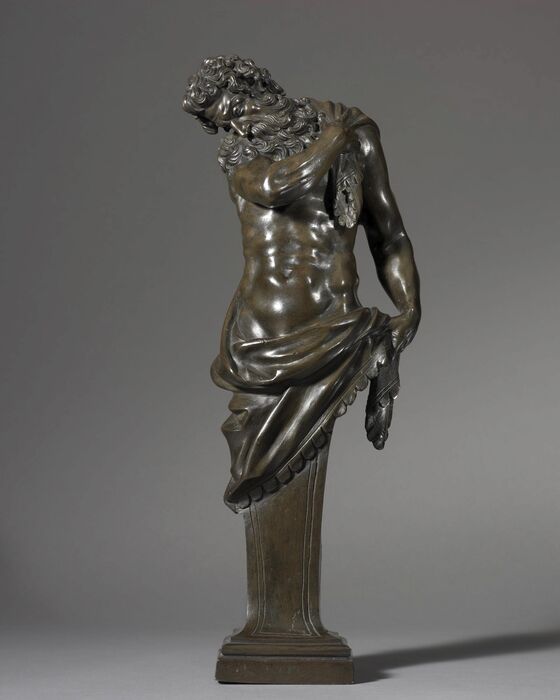 Representations of the deity Terminus in the 16th century were known as Terms. This one, which was made in the late 1500s, "is just beautifully cast," says Hewat-Jaboor. Research indicates that this sculpture is hollowed out at the back, which suggests it was once attached to a wood support, perhaps for a chair or table. "It has a wonderful patina and must have come from an astonishing piece of furniture." Another factor in its favor? It belonged to the painter Howard Hodgkin, "a man of great taste as well as being a fantastic artist."
Micromosaic and Pietre Dure White Marble Vase, Circa 1800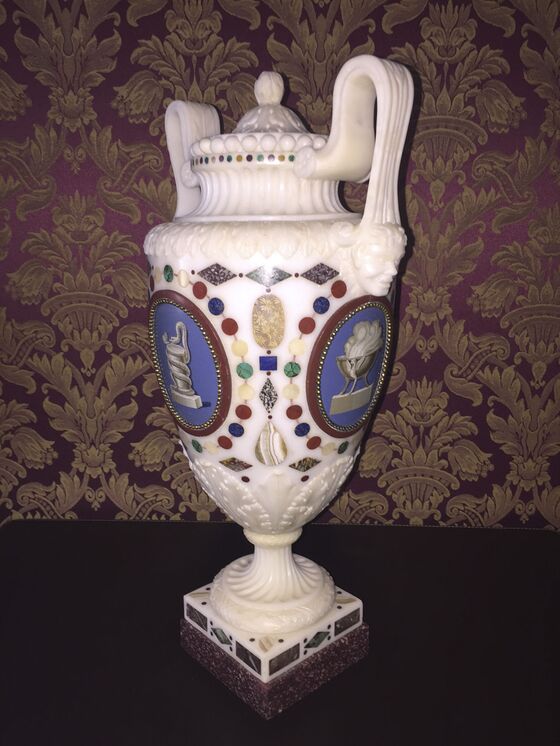 Sometimes it's enough to just be really good and really rare, says Hewat-Jaboor. Here, he says, provenance is not the point. "It's inlaid with micromosaics by one of the best mosaicists and a rather serious object," which is on view at the slightly more modest AADLA Fine Art and Antiques Fair on Park Avenue. "I possibly like it more, simply because of its present company," Hewat-Jaboor says. In other words, it's a find.