Even Lady Gaga Won't Help Warner Bros. Catch Disney
(Bloomberg) -- "A Star is Born," opening Friday, is making critics giddy. The film is expected to turn a tidy profit and is already being touted for a possible Best Picture Oscar.
It may not be enough for AT&T Inc., the new owner of Warner Bros.
AT&T took over the movie studio in June as part of the $85 billion deal for Time Warner Inc. The telecom giant is hungry for content to compete with Netflix Inc. and expects to use Warner Bros. -- especially its vast film library and its DC Comics franchise -- to create and sell AT&T services to its 170 million subscribers. Ideally, that means releasing a $1 billion-grossing movie in a wave of hype that gets the whole world talking.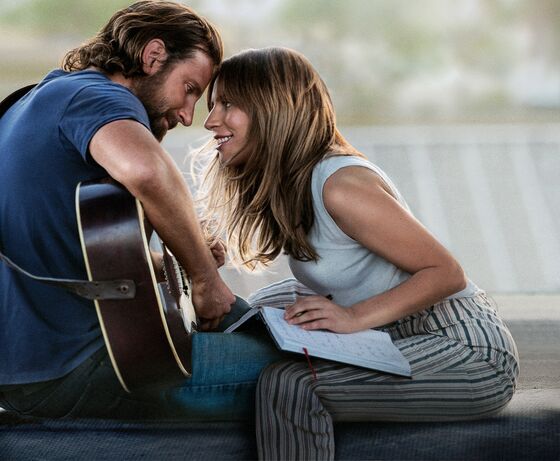 Something like, say, Walt Disney Co.'s "Black Panther."
No one is expecting a smartphone game based on "A Star is Born" stars Bradley Cooper and Lady Gaga singing duets at Coachella.
Warner Bros. was the top studio for years, but not since 2014. Everybody in the movie business is chasing Disney right now. Disney makes half as many films as Warner Bros. and earns roughly twice the profit. The Disney strategy is to release about 10 movies a year and make them all blockbusters. The Warner Bros. way is to do 20 or more films of various genres, with stars like Cooper and Gaga, and hope the hits outnumber the flops.
The market "doesn't support as many films as it used to," said Doug Creutz, an analyst at Cowen & Co. "The top 25 films are taking a much larger share of the box office than they did, so running a broad slate is almost going to ensure that you're going to have films that don't work."
As of Sept. 30, Disney's 30.8 percent domestic market share in 2018 was double that of Comcast Corp.'s Universal Pictures (14.7 percent) and Warner Bros. (13.7 percent), according to Box Office Mojo.
"Warner Bros. has always had a broad, diverse film slate and it's one of our core principles as a studio, to produce content with an array of creative voices who span the talent spectrum," Dee Dee Myers, a studio spokeswoman, said in a statement. Disney declined to comment.
Though it trailed Disney, Burbank, California-based Warner Bros. had its most profitable year ever in 2017, led by DC's "Wonder Woman" and the remake of Stephen King's "It," which took in more than $700 million globally on a budget of $35 million.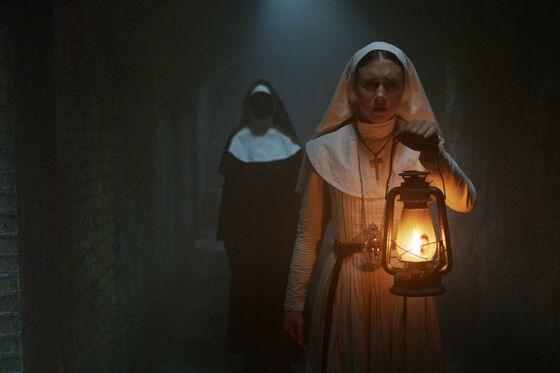 This year, "The Meg" was a surprise hit for Warner Bros., and "The Nun" became the most popular movie in "The Conjuring" series, which has generated more than $1.5 billion globally. Still, if Warner Bros. wants to deliver a golden goose for its corporate parent, it may have to figure out a way to deliver films big enough to inspire toy sales and live events. Its best-performing 2018 film domestically, "Crazy Rich Asians," has sequel potential, but can't be counted on for action figures.
"If AT&T is looking for financial returns, 'Crazy Rich Asians' isn't going to do it," said Paul Sweeney, a Bloomberg Intelligence media analyst. "They paid a big premium for Time Warner. They need another Harry Potter to get over the next 10 years."
John Stankey, who oversees the film studio as head of WarnerMedia, said the overall returns of some franchises, particularly DC Comics, could be improved.
"We all think we can do better," he told a conference last month. "There's yet another gear we can find on those things. And I think that, from a revenue perspective, is probably the single best thing we can do and focus on."
Warner Bros. has "Aquaman," starring Jason Momoa, landing Dec. 21, and "Joker," with Joaquin Phoenix, slated for next year. Warner Bros. also plans to bring its successful TV show, "Supergirl," to the big screen.
Last month, AT&T launched a DC Universe digital subscription service. For $7.99 a month, fans can watch TV shows and films and buy exclusive merchandise.
But Disney is on a roll. No doubt it's spent money to get where it is right now, buying Pixar, Lucasfilm and Marvel. It has the top three U.S. box-office hits this year, and all of them have taken in more than $1 billion worldwide. Warner Bros.'s last $1 billion movie was "The Hobbit: An Unexpected Journey" in 2012.
"If you cede that big-budget franchise to Disney, the problem is there isn't that much left to really support a meaningfully profitable and additive business for AT&T," Creutz said. "Making small bets for small rewards just doesn't cut it."
Still, there are high expectations for "A Star is Born." It's directed, produced and co-written by Cooper, 43, a four-time Oscar nominee. It's the first big-screen role for Gaga, 32. Reviewers have, generally, praised her and the film.
Kenneth Turan of the Los Angeles Times called it "passionate, emotional and fearless," the one movie "everyone has to see right now."
Wrote Peter Travers, the critic for Rolling Stone magazine: "The Oscar race has now officially begun."
The Warner Bros. production is projected to be the second-biggest U.S. film of the weekend. The expected winner? According to independent forecasters at Box Office Pro, it'll be "Venom," a Marvel superhero movie from Sony Corp.