Land Rover Unveils Reborn Defender 
(Bloomberg) -- One of the hottest launches at the Frankfurt auto show wasn't a million-dollar supercar or mass-market bestseller but an updated version of a boxy, no-frills favorite of farmers, explorers and the military.
The new Land Rover Defender, which traces its heritage back almost to World War II, was unveiled Tuesday, three years after stricter emissions and safety standards consigned the go-anywhere original to the history books.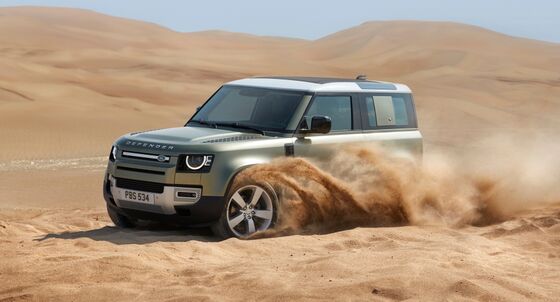 The new car's most difficult mission might be satisfying die-hard Land Rover purists while meeting modern technical requirements that have found their way into rivals including the Mercedes-Benz G Wagon. The Defender retains many traditional design elements and claims industry-leading off-road capabilities, but with modern twists like a plug-in electric option, retractable sun roof and an infotainment system all a world away from its analog predecessor.
The unveiling comes at a tough time for Jaguar Land Rover as Britain's biggest automaker struggles with fallout from the Brexit vote, weak sales in China and slumping U.K. demand following a clampdown on diesel vehicles. The Defender will sell for 35,000 pounds ($43,000) plus sales tax, less than some analysts expected, while a longer-wheelbase model starts at 45,000 pounds.
Ferdinand Dudenhoeffer, director of the University of Duisburg-Essen's Center for Automotive Research, said the Defender is the Land Rover equivalent of Porsche AG's iconic 911, but that JLR must still make a car for the modern age rather than being bound by its history.
"It's a great move for them to have brought it back," he said. "Fans of the old Defender may be disappointed, but Land Rover needs to look to the future, and not get caught up with getting stuck in the past."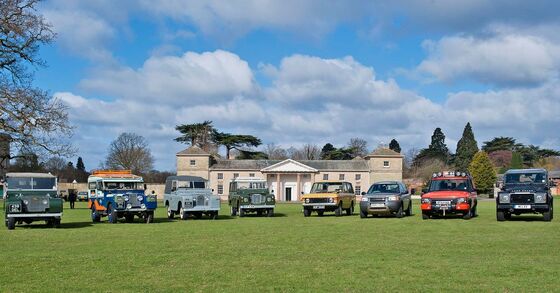 JLR Chief Executive Officer Ralf Speth said at the launch that the company has done just that, with the new Defender's environmental credentials making it very much a 21st century car.
"Four years ago I had to make the difficult decision to stop the old production of the iconic Defender," he said. "Today is a very special day for us all at Land Rover. Today we give the Defender back."
The bigger version of car will carry seven people and seeks to address the old model's wide-ranging markets with accessory packs dubbed Explorer, Adventure, Country and Urban.
JLR has accumulated 1.5 million test kilometers for the Defender and recently completed what it called a "real-world" trial in Kenya that saw the SUV negotiate a variety of obstacles and pull heavily loaded trailers while tracking lions in the Borana game reserve.
The old Defender -- so simple it was originally sketched in beach sand -- attracted early customers including Winston Churchill and Queen Elizabeth II, who drives the model on her country estates. It has also shuttled soldiers in the Korean War, carried Red Cross volunteers to successive global crises and helped generations of U.K. sheep farmers rescue their flocks from snow drifts.
What you get:

Maximum payload: 900kg
Roof load: 300kg
Towing capability: 3,720kg
Wading depth: 90cm
Aluminum monocoque chassis
Permanent all-wheel drive
Three-abreast front seating
Optional fabric roof for 'full safari experience'
The model stayed remarkably unchanged over 67 years of production until tougher carbon-dioxide emission standards and pedestrian safety concerns eventually made an overhaul unavoidable. Of the more than 2 million built, around 70% are thought to survive today.
JLR -- now owned by India's Tata Motors Ltd. -- said in January it would cut 10% of workers globally, though the Defender won't immediately safeguard U.K. assembly jobs. While developed in Gaydon, England, the model will be produced at Land Rover's lower-cost plant in Slovakia.