Netflix's 'Roma' Slammed as 'Made-for-TV' Movie    
(Bloomberg) -- If Netflix Inc.'s "Roma" wins best picture at this weekend's Oscars ceremony -- it's the oddsmakers' favorite -- the U.K. has already provided a sneak peek at potential infighting ahead.
Theater chain Vue International, whose operations span the U.K., Europe and Taiwan, slammed Britain's Bafta Awards for supporting a "made-for-TV" movie by giving "Roma" four awards on Feb. 10, including best film. Netflix paid to distribute the movie, director Alfonso Cuaron's semiautobiographical look at the life of a Mexico City maid, on its home streaming service after only an abbreviated run in theaters.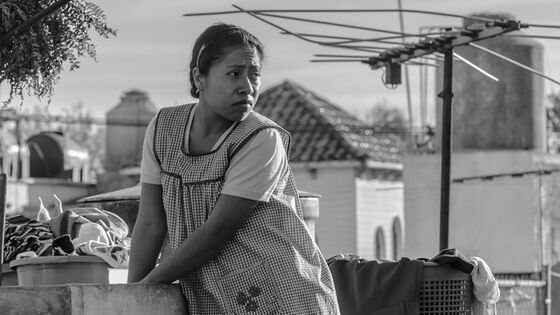 And there's the rub: Vue and some major U.S. chains chose not to show "Roma" because the film didn't adhere to a typical several-month window of exclusive run in theaters. Netflix also split with convention by not releasing the box office results for theaters where it was shown, including 20 in the U.K. and Ireland and 250 in the U.S.
"Not knowing how many people have seen 'Roma,' where it was screened or what level of box office it delivered is another example of how Netflix acts outside the industry whilst at the same time it craves its acceptance," Timothy Richards, Vue's founder and chief executive officer, said in an open letter.
Richards says "Roma" didn't meet the British Academy of Film & Television Arts' own criteria, which includes not screening a movie purely to qualify for the awards. He said that going forward, Vue won't support the Bafta Awards, the British equivalent of the Oscars and an important fixture on the prize calendar, unless the academy board reconsiders its eligibility criteria.
Netflix declined to comment, while a Bafta representative said its film committee is "satisfied that every film in contention for this year's Film Awards met the criteria for entry, which includes a meaningful U.K. theatrical release."
The Oscars, awarded by Hollywood's Academy of Motion Picture Arts & Sciences, will be presented in a broadcast on Sunday, Feb. 24. "Roma" is ranked by GoldDerby.com as a 4-to-1 favorite to win best picture among eight contenders. Netflix has given movies like "Roma" and "The Ballad of Buster Scruggs" a limited release in theaters to meet the academy's eligibility rules.