Jose Mourinho's Ouster to Cost Manchester United $25 Million
(Bloomberg) -- Manchester United Plc said it cost the soccer club 19.6 million pounds ($25.1 million) to remove former coach Jose Mourinho and some of his staff last year.
The sum, revealed in the Premier League club's second-quarter earnings report, is more than double the 8.4 million pounds it cost to remove his predecessor, Louis van Gaal, and members of the Dutch man's coaching staff in 2016.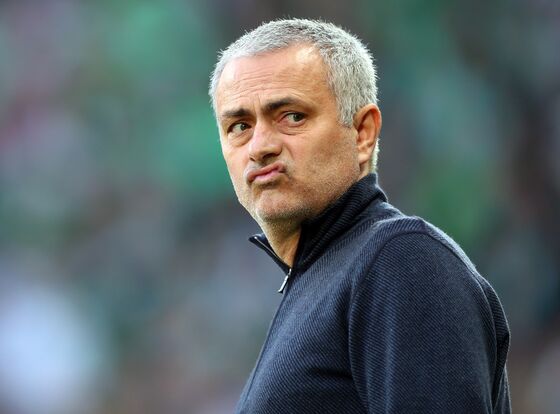 Prior to joining United, 56-year-old Mourinho from Portugal built a reputation as one of the most successful soccer managers of the past two decades, overseeing league title wins in four different countries and winning Europe's premier prize, the UEFA Champions League, twice.
Those achievements weren't replicated at the north England-based club, however, and he left his position in December after overseeing the team's worst start to a league season for 28 years. Under his interim replacement, former player Ole Gunnar Solskjaer, United went 11 games without defeat before losing to Paris Saint-Germain in the Champions League on Tuesday.
Man Utd. reported quarterly revenue of 208.6 million pounds, up about 18 percent from a year earlier, noting a boost from UEFA Champions League broadcasting rights changes and playing one additional home game in the tournament. The club's shares, traded in New York, are down about 24 percent since August's record high.