In the World's Most Dangerous Nation, Police Get a $3 Bonus
(Bloomberg) -- Venezuela's Nicolas Maduro, president of the world's most dangerous nation, said he would give each member of the national police force a 10 million-bolivar bonus, which amounts to about $3 at today's black-market exchange rate.
Ranked below countries like Afghanistan and South Sudan, only 17 percent of Venezuelans said they felt safe walking alone at night and just one of four has confidence in the police, according to Gallup's latest Law and Order Index. Maduro announced the bonus during a police academy graduation ceremony Monday, where he said the country needed "policemen of great morals and commitment."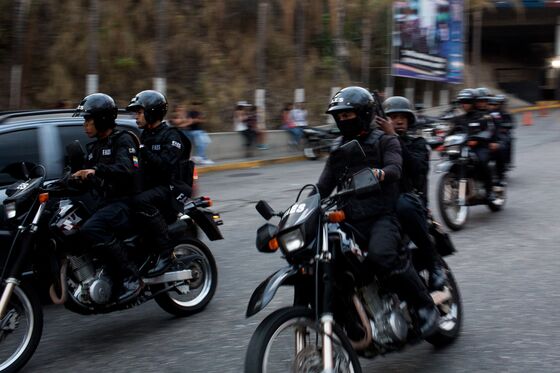 More than 5,000 protests were registered in Venezuela in first half of 2018, largely focused on failing public services and acute shortages of food and medicine as the socialist nation slips further into economic collapse. Soaring hyperinflation of 60,000 percent has left the country's currency virtually worthless: The monthly minimum wage of 5 million bolivars amounts to little more than a single McDonald's burger meal or a two-liter bottle of soda.
Elements of discord among security forces began to appear a year ago when Oscar Pérez, a police officer and pilot, commandeered a helicopter and threw grenades at government ministries. Pérez was later killed in a raid.