The $12 Billion Hotpot Fortune Cooked Up by a Chinese Foursome
(Bloomberg) -- China's passion for spicy hotpot has served up four new mega-rich entrepreneurs.
Haidilao International Holding Ltd. became the biggest restaurant group on regional exchanges after rising in its Hong Kong debut, approaching the value of Domino's Pizza Inc. and Chipotle Mexican Grill Inc. The shares closed 0.1 percent higher at HK$17.82, valuing the company at about 63 times its adjusted earnings for the year ended June 30.
The IPO helped lift the combined net worth of founders Zhang Yong and wife Shu Ping together with Shi Yonghong and his wife Li Haiyan, to about $12 billion, including other assets, according to the Bloomberg Billionaires Index.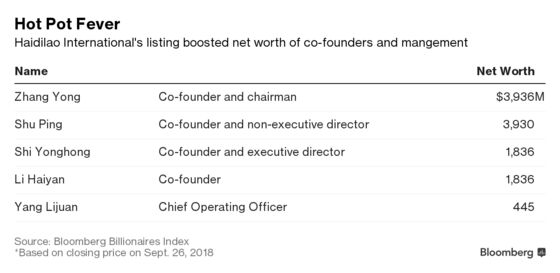 The four control their stakes through discretionary trusts held by offshore companies. Zhang, 47, chairman and CEO of Haidilao International, controls 58 percent of Haidilao International and 36 percent of Yihai International, a Haidilao Group subsidiary listed in 2016, with his wife, giving them a $7.9 billion fortune.
Shi Yonghong, 48, executive director of Haidilao International, has a net worth of $3.7 billion with his wife, through a 27 percent holding in Haidilao International and 17 percent in Yihai. The company didn't immediately respond to request for comments on the net worth calculations.
Zhang, a former welder who quit a job at a state-owned factory, opened the first restaurant in 1994 with just four tables. Haidilao now owns more than 360 restaurants in over 100 Chinese cities and has expanded to the U.S., Singapore, Japan and Korea. It woos customers with treats such as a noodle dance if you order noodles, and free manicures or shoe-polishing services when queuing for tables.
The Beijing-based restaurant operator, which serves up boiling soup broth with meat, seafood, vegetables, and noodles, reported revenue of 10.6 billion yuan ($1.6 billion) for 2017, making it the largest chain globally, according to its prospectus. Revenue surged 54 percent to 7.3 billion yuan in the first half from a year ago.
"It's easy for a market leader to tell an attractive Chinese consumer story," said Linus Yip, a strategist at First Shanghai Securities Ltd. in Hong Kong. "Investors will watch closely how well the company can control costs and maintain high growth when its network is already very big."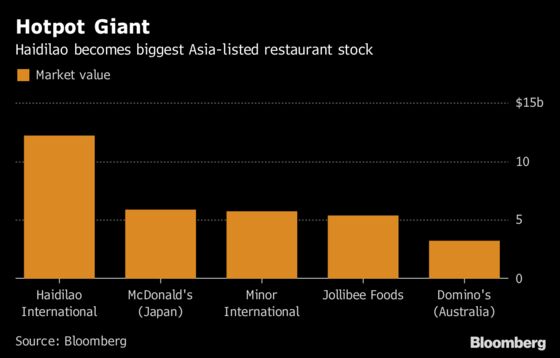 While its trailing price-earnings ratio eclipses nearly all global peers with a market value of more than $10 billion, Haidilao's forward multiple appears more reasonable. The hotpot chain's offer price of HK$17.80 valued the company at about 30 times estimated 2019 earnings, people with knowledge of the matter said earlier this month.
Hotpot chain Xiabuxiabu Catering Management China Holdings Co. is trading at about 26 times trailing 12-month earnings and 17 times estimated 2019 net income, data compiled by Bloomberg show.