Here's Why England's Best Restaurants Are Now Outside London
First, there are the kind of places these lists traditionally celebrate: baronial establishments that usher you to a table sheathed in white, to be presented with dish after dish of plated masterpieces—the ones no one could experience over the past year and a half.
The other, current one is the opposite: the clanging, aroma-filled bustle of a dining hall with an open kitchen, servers dashing to-and-fro, the front desk peering at the booking list to accommodate walk-ins, regulars chatting up the cooks, a wine glass shattering accidentally amid a rambunctious conversation; cackling laughter; the moment of silence that possesses you after a first bite of immense delight. They have gained visibility since a not-grand restaurant called Noma relaxed the rules of fine dining and was named best in the world in 2010. But those types of places are still in the minority on big lists.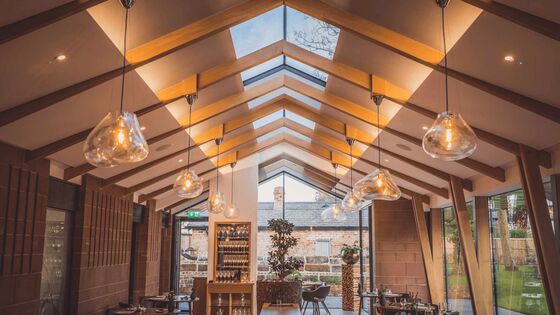 The National Restaurant Awards recognizes these two disparate pleasures, even if it continues to promote the former.
The appeal of Moor Hall, which came in at No. 1 for the second time, is undeniable. Set amid acres of greenery and overlooking a lake, it is the epitome of destination dining, replete with the aura of privilege and the implicit sense of entitlement. I aspire to eat there one day.
The pandemic, however, has altered my priorities. I'm very glad a place like Brat—a wood-paneled, Welsh-Basque culinary wonder that's a one-floor walkup in Shoreditch in London—remains in the top 10 (No. 7), even if it was No. 2 before. You can see almost everything happen in front of you.
After nearly 30 years of eating out for virtually every meal, I learned to cook again during the lockdowns. Now, I am fascinated by how the restaurant dining experience is put together, not just how a dish is prepared but how the whole establishment is organized and run. It is bracing—and humbling—to see how the business is actually conducted.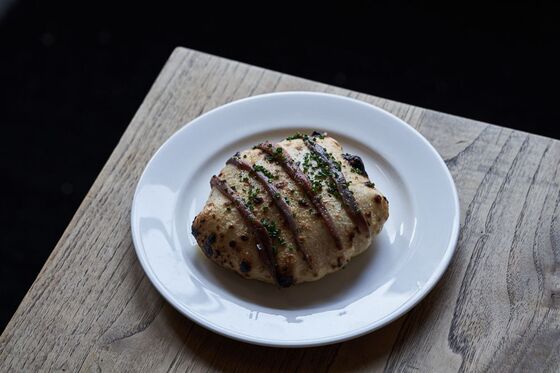 I can also walk to Brat in half an hour from where I live. It would take me 66 hours on foot to get to Moor Hall.
That highlights one refreshing change on the new list: For the first time, it includes just as many restaurants outside London as within the metropolis. Four of the top five spots are taken up by places outside London, including the Angel at Hetton, an ambitious gastropub in North Yorkshire, at No. 2 behind Moor Hall. That also reflects how the pandemic has changed things: Diners are focused on what's closer to them, realizing that good food and good restaurants must have a strong component of physical and communal immediacy—the familiarity and warmth that so many of us were deprived of by lockdowns.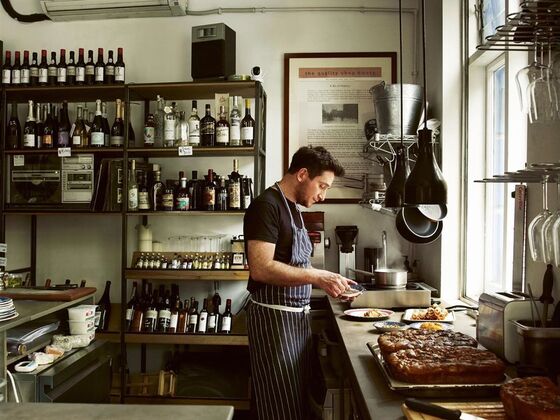 So I'm advocating for places that are more open and more personal than the National Restaurant awards recognize. I opt for Quality Wines Farringdon (not on the list) instead of its bigger sibling next door, Quality Chop House (No. 21). It gives you a clear view of chef Nick Bramham putting together his gildas (guindilla peppers, anchovies, olives) and the joy of smelling the cherry clafoutis as it emerges from the oven.
At 40 Maltby Street (No. 12), diners not only witness chef Stevie Williams at work over a hot fire but hear him whipping up cream in a metal bowl. If they linger long enough, they'll see him mopping the floor. It's very moving.
At these smaller, far-from-posh restaurants, you can, if you wish, hear how the business is going. You can talk to chefs about why people show up when they do, why some days are better than others. You are participating in how the world is learning to come back to life after the virus. Indeed, Quality Wines and 40 Maltby—as well as Flor (No. 49) and Brawn (No. 57)—were key to my surviving the pandemic: I'd pick up food and supplies from them, even as they recalibrated their own business strategies.
It is an enchanted symbiosis: restaurants that need you as much as you need them. We're all in this together.