The Latest Fitness-From-Home Mirror Uses AI and Live Trainers
(Bloomberg Businessweek) -- Since its founding more than 20 years ago, Yves Béhar's Fuseproject has ­created a range of innovative home products: a robotic crib, a TV that looks like a painting, door locks without keys. With co-founder Trent Ward, the San Francisco designer has now introduced Forme (pronounced "form"), an AI-powered "wellness machine" for the home that costs $149 per month.
The 6-foot-tall touch-response mirror looks a lot like Tonal, Mirror, and other competitors but has a larger screen (43 inches), 4K resolution, voice control, and stowable arms for resistance training. (Preorders will begin on May 1.)
Here Béhar explains his own at-home routine and why he thinks this design will resonate with an older crowd.
What's it like ­introducing a new product during a pandemic?
It's accelerated the concept we've been working on for 3½ years. I'm being asked more how to work out from home. For people over 40 like me, maintaining a schedule at the gym or with a trainer, it's quite ­challenging—you're at an intense phase of your career, plus with family. It's at minimum a two-hour cycle out of your day.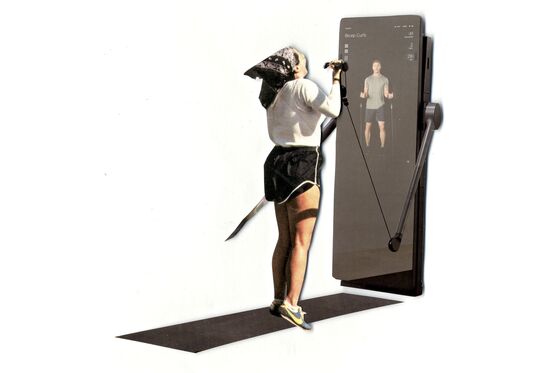 Do you have an exercise regimen?
Resistance training, yoga, and meditation are the three practices that I try to do three times a week, but we wanted to bring diversity here. For some it might be barre, others stretching, so that's why a multipurpose device in the home makes a lot of sense. What we wanted to solve was [the ­feeling of] one-on-one instruction.
Your design is about 20 inches taller than Tonal and Mirror.
The importance of a large screen is so you can see what your trainer is doing. The real breakthrough for us was being able to see the trainer and yourself at the same time. It's a mirrored screen, so when it's in use, you will see the instructor, but you also see yourself. Having somebody large-scale in front of you, instructing you, makes a big ­difference. For a beginner or someone who is over 40, who doesn't feel confident going to a crowded gym with much younger people, you are essentially copying what somebody is doing on screen, so you're self-correcting—which you don't really get even in a boutique fitness class.
So is there a live person talking to you here through the screen?
You have a choice of prerecorded ­workouts—they will change every three or four days. Maybe you've committed to working out three times a week for 45 minutes, so the machine's AI will remember what weights you use, what resistance you're at, and will adjust the workout to the next training. And live trainers will be available at launch.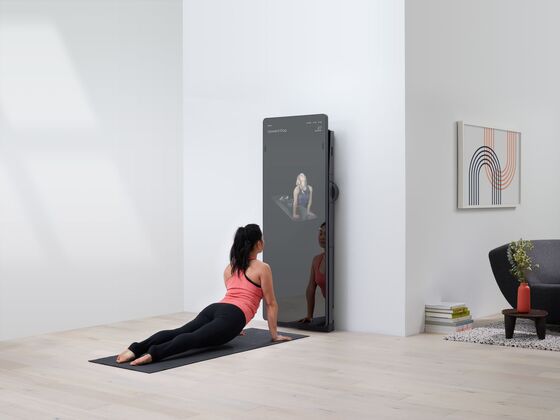 Why is voice control so important?
Other products require you to take out your phone, but having the ability to quickly touch the screen and stay in the workout is very important, and voice is another way to make those quick adjustments. From a user experience, the tech falls away and keeps you in the flow. In my experience testing it out, there's so little interruption, I can do in 30 minutes what would normally take me 45 at the gym.
What did you learn from Peloton, if anything?
I think Peloton has demonstrated that the subscription business is the right model for at-home exercising. From our research we realized it's more about your relationship with your trainer. The UX we developed is unique in that it shows your progress—you can make incremental changes with our AI that sets the weights, and because it's cable-­resistant, we can adjust by a pound or even half a pound instead of going in 5-pound increments. When you go to the gym by yourself, you still want to know how much is enough. How do you start? When do you end? I think every form of exercise requires a different interface.