Easter Meat and Candy Feasts Suffer From Life Under Lockdown
(Bloomberg) -- Forget the usual feasts of lamb, ham and chocolate treats this Easter.
With restaurants closed and social gatherings restricted around the world, U.K. lamb prices fell about 20% last month and wholesale costs for U.S. ham slumped to the lowest in a decade as demand faltered.
"You eat lamb with your friends and family over Easter," said James Wright, who raises sheep and cattle in West Sussex, England. "And if you're not able to see your friends and family over Easter, you don't buy lamb."
Easter is normally one of the top sales periods for ham and lamb, but the coronavirus pandemic is forcing people across Europe and the U.S. to stay home and alter food purchases. That will likely mean fewer showcase dishes like roasts, and chocolate sales will fall as consumers cut back on gifts, said Tom Rees, food and nutrition industry manager at Euromonitor.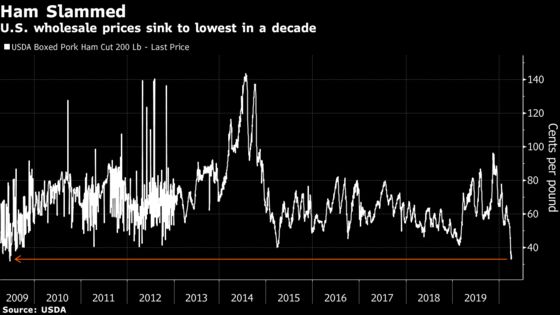 Italian farmer group Coldiretti expects the nation's Easter-lunch spending to fall 27% to 1.1 billion euros ($1.2 billion) this year. Prices have already taken a big hit. Lamb costs slid recently as pubs shut and open-air markets were halted in parts of Europe, while New York cocoa futures have dropped 18% from a February peak.
Although some of the lost demand from restaurants will shift to homes, smaller portions could subdue lamb demand across Europe, said Tosin Jack, commodity intelligence manager at researcher Mintec. That should lead to a "significant" glut of leg cuts, according to the U.K.'s Agriculture and Horticulture Development Board.
The weak Easter orders come at a tough time for food producers trying to adapt to supply-chain disruptions and demand changes brought on by the virus outbreak. Getting food from farm to table has become much harder as the crisis causes delays in transportation and warehouse operations.
Still, a recent rush from consumers to stockpile food for lockdowns helped prop up demand at the retail level. For example, U.S. spiral-ham sales in the four weeks to March 28 surpassed last year, according to the National Pork Board. U.K. grocery giant Tesco Plc on Wednesday said the panic buying has now eased and it no longer needs to impose most of the recent rationing.
Easter chocolate sales may fall "sharply" as shoppers buy fewer gifts and stay away from stores, said Judy Ganes-Chase, president of J. Ganes Consulting. Americans spent more than $2 billion on Easter candy in the previous two years, according to the National Retail Federation, which hasn't made a forecast for 2020 amid uncertainty over the virus.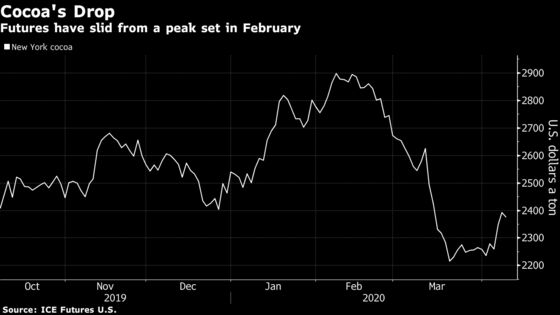 In Britain, stores have put fewer chocolate eggs on shelves to prioritize space for more important foods, according to consultant Edge by Ascential. The country's chocolate confectionery sales slid 21% in the week to March 28 from a year earlier, Nielsen data show.
"Chocolate hasn't been at the top of the list for shoppers when stocking their cupboard," said Mike Watkins, head of business and retailer insight at Nielsen. "Retailers have also been focusing shelf space to promote and stock essential categories."