Ferrari's First Hybrid Supercar Debuts in May: Geneva Update
(Bloomberg) -- Ferrari NV plans to unveil its first hybrid supercar at the end of May, Chief Executive Officer Louis Camilleri told reporters in Geneva, and it's likely to be more powerful than a previous model.
The combustion engine -- possibly a V8 -- will be smaller, stronger and cleaner than a previous model, according to people familiar with the matter. The electric motor will provide the car with added power, the people said, asking not to be named because these details aren't public.
One question still unanswered: Will it have the same Ferrari rumble?
Industry executives and their teams are showing off their latest models and discussing strategy at the annual Geneva Motor Show. Follow along for all the latest updates.
Renault, Nissan Move On (6:40 p.m.)
Renault SA has no plans to take back former star Chief Executive Officer Carlos Ghosn, even if the fallen car industry titan is exonerated from allegations of misusing company funds and irregularities over his pay.
Ghosn, who's spent more than 100 days in jail since his arrest in Tokyo, has won bail and but still remains in custody. He could be released as soon as Wednesday in Japan, so long as the bail is paid and authorities don't seek to extend his detention by arresting him on new charges. Getting bail was "good news for him," Renault CEO Thierry Bollore told reporters in Geneva Tuesday.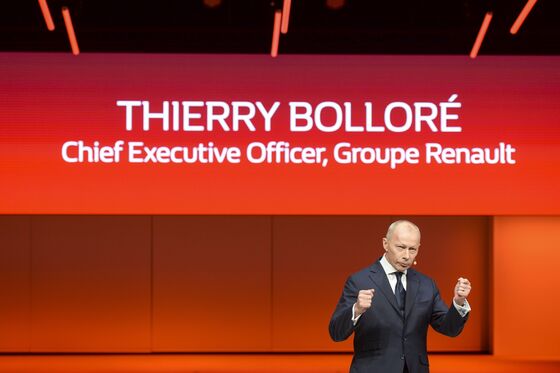 The former car industry luminary, credited with pulling Nissan Motor Co. back from the brink, and Renault are on paths that are "completely different today," Bollore said. The frosty response follows drastically different approaches Renault and Nissan took after allegations against Ghosn became public.
Nissan let go of its chairman within days, while the French carmaker first put Bollore in an interim CEO position only at first, throwing open tensions within the Franco-Japanese carmaking alliance, the world's biggest.
In Geneva, both carmakers made a joint show of friendship, saying they were committed to extend the two-decade partnership and grow out of the shadow cast by Ghosn. "Nissan couldn't exist in Europe without the alliance," the company's regional Chairman Gianluca de Ficchy said in an interview.
Consolidation Game (1:43 p.m.)
Manly was responding to a question on whether Fiat Chrysler would engage with PSA. The French carmaker of Peugeot, Citroen and DS cars has started sounding out advisers for a possible deal that would turn the company led by Carlos Tavares into a global player, according to people familiar with the matter. Fiat is among possible targets considered, the people said.
Manly has been battling issues left over from the reign of the late CEO Sergio Marchionne as well as emerging challenges. China, the world's biggest auto market, has weakened substantially while demand in Europe has declined for five straight months. Fiat generated 20 percent of its revenue in Europe last year -- but just 6 percent of operating profit -- as the Fiat, Maserati and Alfa Romeo brands struggled.
Future Tesla Fighters (12:27 p.m.)
BMW is "reasonably well-situated" to take on Tesla with the electric Mini this year and 2020's iX3 sport-utility vehicle, according to Chief Executive Officer Harald Krueger. "But of course we are doing this step-by-step, and we're going to have to re-examine our competitive position month-by-month," he said.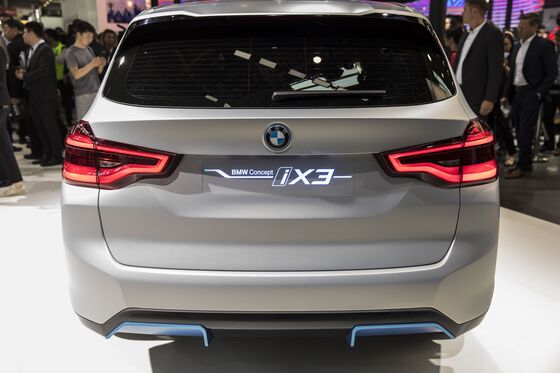 Going by reports from Sonic Automotive Inc., the fifth-largest U.S. dealership group, BMW will need to keep Tesla from pulling away after its head start. Sonic said there was "no question" Tesla's success had contributed to a rough quarter for the dealer.
Daimler's designated CEO, Ola Kallenius, said he didn't expect the Model 3's early arrival to shrink its future lineup of customers. While uptake of electric vehicles is still small, more models enticing customers will help boost the market, Kallenius said. "A growing offering can create demand. There's certainly been rising interest that's growing even faster now."
PSA Ready for Expansion (11:08 a.m.)
The maker of Peugeot, Citroen and Opel cars is ready to seize opportunities for expansion, saying manufacturers need to change or "die" in the rapidly evolving auto industry.
While PSA is focused on strategic initiatives such as bringing the Peugeot brand to North America and expand Opel to Russia, "we are also open for business," Tavares said in an interview with Bloomberg TV. "There is nothing in our mind that we want to be rigid or not open minded. We want to be open and try to look for the best opportunities for our company."
Tavares is riding high on turning around General Motors Co.'s Opel and Vauxhall brands in record time -- the business recorded a profit last year after two decades of losses. The feat (PSA bought the nameplates in 2017) has helped boost PSA's share price 22 percent in the past year -- compared with a 17 percent drop in the Stoxx Europe 600 Automobiles Index.
VW Brand Future (10:40 a.m.)
Volkswagen AG, closing in on an increasingly likely decision for a share sale in its heavy-trucks unit Traton, acknowledged other parts of its 12-brand empire -- spanning the world's most expensive cars to engines for ships -- remain under review. VW CEO Herbert Diess plans to fold the Lamborghini unit into Porsche umbrella, creating a super-premium brand group that also includes Bentley and Bugatti. The move has led to speculation a Porsche share sale may follow in light of sky-high valuations commanded by Ferrari NV after it was spun off from parent Fiat Chrysler several years ago.
In an interview with Bloomberg TV, Diess said the reorganization was mainly to find more efficiencies. Nevertheless, when asked about a potential initial public offering of Lamborghini or Porsche, Diess left the door open. "We need to understand which brands do we need in five, in 10 years time," Diess said. "How do we cover the world of mobility? We have new brands to come when it comes to services. So the brand portfolio is under review, but we think we have a very good brand portfolio, from top-level premium cars to mainstream."
Audi, Volkswagen's biggest profit center, expects deeper cooperation with sister brands VW and Porsche to start to help lifting returns within 18 months to 2 years, Chief Executive Officer Bram Schot said in an interview with Bloomberg television. Audi has struggled to return to form, stemming from ongoing fallout from VW's 2015 diesel-emissions cheating crisis that culminated in former CEO Rupert Stadler's arrest over his role in the scandal.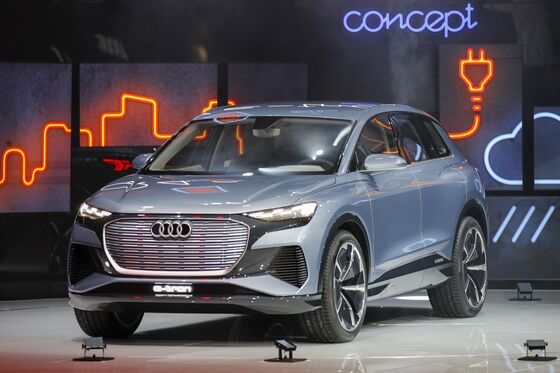 Schot aims to save 15 billion euros ($17 billion) by 2022, while orchestrating a broader shakeup to keep Audi from falling further behind luxury rivals Mercedes-Benz and BMW AG.
Startup Joins VW's Electric Platform
In the spirit of cooperation, VW is allowing German startup e.GO Mobile AG to use its electric platform, dubbed MEB. To help spread costs in the aggressive transition away from combustion engine vehicles, Volkswagen is also in talks to share the underpinnings with other manufacturers, including Ford Motor Co.
While the industry, and Volkswagen, looks to save costs, the world's biggest carmaker couldn't resist unleashing its engineering prowess on the Bugatti La Voiture Noire. The 11 million-euro ($12.5 million) jet black 16-cylinder rocket is a one-off and already sold.
Speculation points to former VW CEO and Chairman Ferdinand Piech as the new owner. Piech was known for his tough leadership style before quitting the brand's parent Volkswagen AG in acrimony in April 2015. CEO Diess, in charge since April, has sought to accelerate an overhaul to make the company more agile and rein in spending.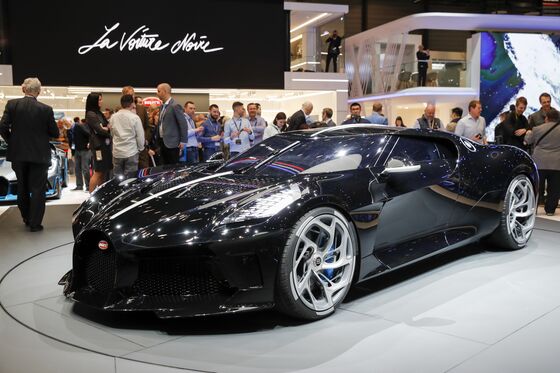 Brexit, U.S. Trade Tensions
The U.K.'s looming exit from the European Union remains front and center of carmakers' minds, even as Prime Minister Theresa May edges closer to a deal. Toyota Motor Corp.'s head of Europe Johan van Zyl said the company's biggest trade concern remained disruption from Brexit. Toyota makes cars in Burnaston, England, the bulk of which are exported to mainland Europe. A production stoppage would put weekly revenue of 60 million pounds ($ million) at risk, the company has said.
Trade concerns are Daimler AG's top priority, head of sales Britta Seeger said of U.S. President Donald Trump's threat to impose a 25 percent levy on European-made cars. The Mercedes-Benz maker could raise prices and change around its production plans to help pass on some of the costs. Credit Suisse has estimated such a tariff would shave off 7.5 percent of Daimler's operation profit.