Rosé Wine Has a Dark Side. Here's Why You Should Embrace It
(Bloomberg) -- Labor Day has come and gone, but like so many wine lovers, I'm still sipping rosé.  
Not the summer-water, pale-pink, Provence-style bottles we've all been day-drinking during August heat waves. For me, fall is the time to embrace the other side of rosé: darker, more serious wines that glow with vivid tones of coral, pomegranate, fuchsia. Typically, they have more intense and complex fruit flavors, richer textures, and, yes, even the structure to age.
Southern French winemakers call them rosé d'assiette, meaning rosé to go with meals. Surely, that's why they've recently gained buzz with sommeliers, something I base on having judged more than 200 restaurant wine lists last week for the London-based magazine World of Fine Wine annual competition. You can pair them with everything from Korean barbecue to steak tacos to spicy paella.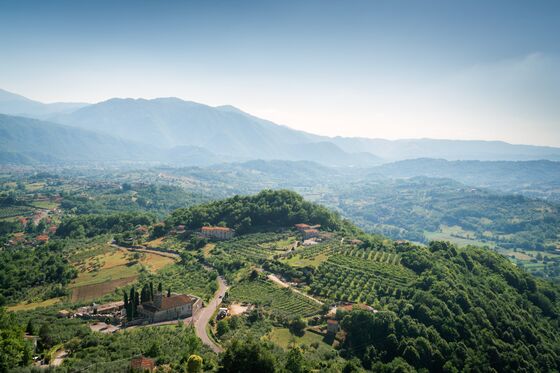 This darker style of rosé harks back to history and tradition and didn't start in Provence, though those pinks may get all the attention. The first French region dedicated exclusively to rosé is Tavel, in the southern Rhône Valley just north of Avignon, where wines are noted for their deep watermelon color. They were favorites of Louis XIV, and in the 20th century, Hemingway liked to knock back glasses of the stuff with oysters.
Other dark rosé hot spots are Central Italy's Abruzzo region, long known for its cerasuolo d'Abruzzo (cerasuolo means cherry in Italian, and the wines have the color to match), Spain's Rioja, Greece's Peloponnesus, the Republic of Georgia, and more.
Darker color partly reflects the grape variety used and partly winemaking methods. Wine color, as you probably already know, comes from a grape's skin, and you can make pink wines in several ways. Quickly pressing the juice from the grapes and separating it, as you would for a white wine, results in a very pale color. If you macerate the juice with grape skins before pressing, on the other hand, it will pick up pigment but also additional flavor and tannin. How much will depend on how long the contact lasts.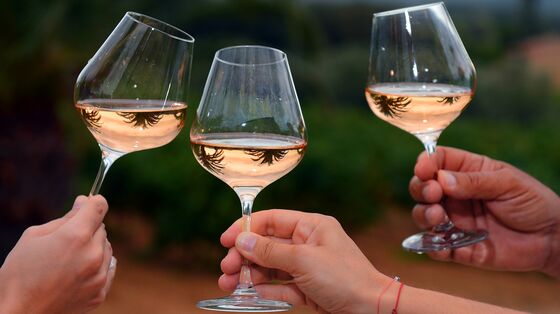 Greek producer Gai'a Wines provides a great comparison of this in its two rosés, both from agiorgitiko grapes. The pale one is labeled 4-6h, the darker-pink one 14-18h. The names refer to the number of hours the juice stays in contact with the skins. Tavel winemakers typically let maceration go on for up to 48 hours. (By contrast, for red wine, the time runs from a week to a month.)
The fashion for super, super pale rosé was born in the mid-1980s, when technological advances such as sterile filtration permitted new styles. The dirty little secret behind that pale color is the refrigeration of grapes to prevent oxidation (which can turn the color orange-y) and various fining agents to lighten it, from pea protein to widely used polyvinylpolypyrrolidone (PVPP), a form of polymer forbidden in organic wine by the EU.
Still, the myth that the lighter the hue, the more sophisticated the pink wine persists, helped along by clear glass bottles to show off the liquid inside and recorded in countless Instagram posts. Provence's research facility, the Centre du Rosé, determined that color intensity in rosé declined by more than half from 2006 to 2018. In some regions with a darker-pink tradition, such as Rioja, the legal definition of rosado was changed to permit paler wines in a bow to market pressure.
But the world of rosé is wider and more diverse than those popular, thirst-quenching, delicate wines of summer—something illustrated in a new rosé museum exhibit, the Pink Palace, which opened last month in the World of Wine district of Porto's Vila Nova de Gaia.
Try the following nine bottles to see for yourself.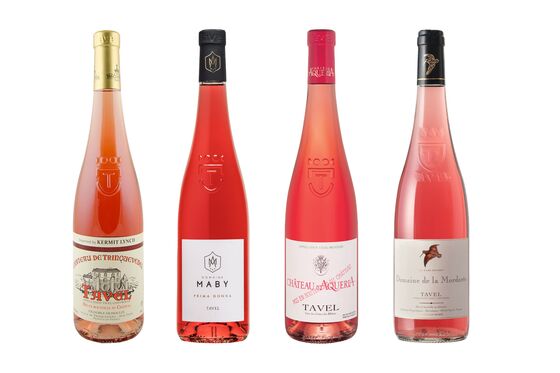 2020 Château de Trinquevedel ($20)
"Rich" and "robust" describe this elegant, widely available Tavel pink wine. A blend of grapes from vines averaging 35 years of age, it balances raspberry and cherry flavors with bright citrusy acidity—a winner year-round.
2020 Domaine Maby Prima Donna ($25)
The almost ruby hue of the Domaine's top Tavel cuvée signals its complexity. Added to that are rose petal-scented aromas and intense berry flavors. This is a rosé you can serve with grilled steak.
2020 Château d'Aqueria ($25)
Fresh, yet concentrated, this cranberry-colored Tavel rosé is a dazzling blend of seven grapes (four red, three white). Its mouth-filling, peppery cherry flavors pair well with lamb curry or paella.
2020 Domaine de la Mordorée La Dame Rousse Tavel ($45)
This rosy-colored Tavel classic shows enticing floral and spicy red-berry aromas and tart, mouth-filling cranberry flavors. It feels like a light red that's ideal with sausages, grilled fish, and burgers. Also look for the Reine des Bois bottling, which is darker, smokier, and spicier.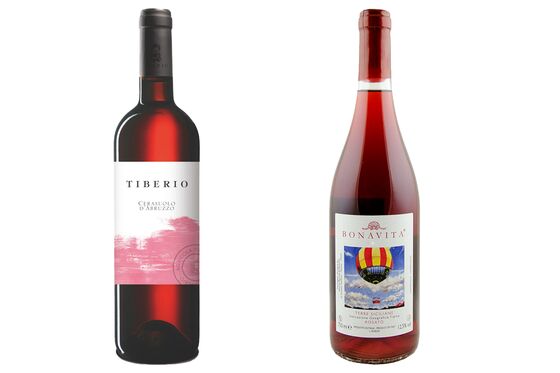 2020 Tiberio Cerasuolo d'Abruzzo ($20)
The vibrant pinkish-red color of this rosé, made from montepulciano d'Abruzzo grapes, is enticing, packed with pure flavors of pomegranates, herbs, and spice. You'll find wines from this terrific family estate on the very best restaurant wine lists.
2020 Bonavita Rosato Terre Siciliane ($21)
This stunning rosé from Sicily bears a translucent, deep-cherry color. Just inhaling its rose petal and ripe cherry aromas makes me want to gulp it down. A blend of nerello mascalese, nerello cappuccino, and Nocera grapes, it's soft-textured and suffused with herb and red fruit.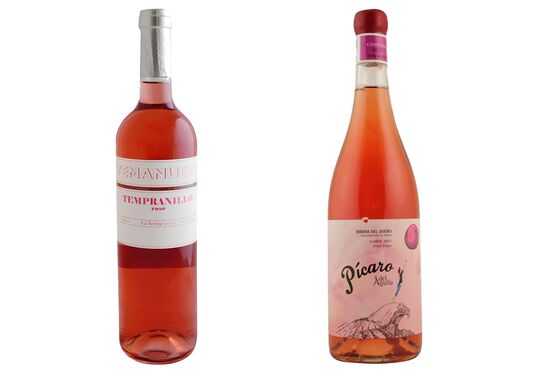 2020 Bodega La Tercia Yemanueva Rosado ($9)
This estate in central Spain celebrates such local varieties as tempranillo and airen. The wine's intense cherry-strawberry flavors, married with jazzy acidity, go well with tapas like Jamon Iberico.
2017 Dominio del Aguila Picaro Clarete ($36)
Although not technically a rosé, clarete is the original pink wine style and stands with the best of them. Gutsy and powerful, with dark, plummy fruit, it's made in Ribera del Duero by treading bunches of certified organic red and white grapes; skin-contact fermenting to pick up the pink; and aging in oak barrels.