BuzzFeed Opens New Hollywood Chapter With R. Kelly Documentary
(Bloomberg) -- BuzzFeed is getting more serious about Hollywood.
The digital media outlet, famous for its quizzes and listicles, is developing a documentary about the singer R. Kelly for the Hulu streaming service as part of a renewed push to reduce its dependence on ad sales by getting into television and movies.
The program will explore Kelly's alleged abuse and exploitation of young black women and will be based on BuzzFeed News' own reporting last year. One of the executive producers will be Laura Poitras, who directed the Oscar-winning "Citizenfour" about Edward Snowden.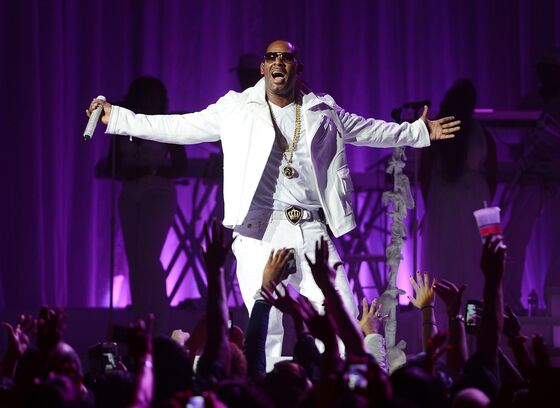 BuzzFeed Inc. and competitors including Vice Media Inc. and Vox Media Inc. are looking to bolster their finances by providing high-end programming to larger media outlets. BuzzFeed will debut a Netflix series in July that goes behind the scenes at its newsroom. It also has a morning program on Twitter and a show set to air this fall on the Oxygen channel about the mysterious death of a Mississippi teen.
"This is going to be a bigger focus of the company," Chief Executive Officer Jonah Peretti said in an interview. "We want to really expand in that area and have a new and different relationship with Hollywood."
For the past few years, BuzzFeed focused mostly on developing shows for online platforms, such as YouTube. Now, it's targeting conventional media more directly. The company recently hired former MTV producer Lauren Dolgen and signed with the talent agency WME to more aggressively pursue TV and film projects.
Like other media companies, BuzzFeed is trying to develop a diverse mix of revenue as Google and Facebook Inc. swallow the majority of online advertising dollars. Peretti says he wants his company to make money in TV and films, e-commerce, and licensing or merchandising. Peretti is also considering "focused subscription products" in topics such as education, gaming or lifestyle media.
Last fall, BuzzFeed cut about 100 jobs, or about 8 percent of its U.S. workforce, after missing its revenue target for 2017 of about $350 million. Sales have risen this year due to a growing e-commerce business and the company's decision to start selling programmatic advertising, or automated display ads, on its website.
Quarterly sales surpassed $100 million for the first time in the final three months of 2017, Peretti said, and revenue is showing "strong double-digit growth" this year. The outlook for the fourth quarter of 2018 is "considerably better" than last year, he said.
"The model is definitely working," Peretti said.
Last year, about one-fourth of BuzzFeed's revenue came from sources other than advertising. This year it'll be about one-third, and by next year, Peretti wants that to be half.
BuzzFeed is using its popular food brand as a model. Tasty has an advertising partnership with Walmart Inc. and licenses the name for kitchenware in the discounter's stores. BuzzFeed is also developing food-related TV shows for Facebook Watch, YouTube, Amazon.com Inc. and Hulu. One show, "Tasty 101," teaches viewers to be better cooks.
BuzzFeed was valued at about $1.7 billion in 2016 after a $200 million investment from Comcast Corp.'s NBCUniversal. Peretti declined to say whether the company is profitable or if it's still considering going public, as Bloomberg News and other outlets reported last year.
"I'm focused on building a strong company and doing all the things that would give us the option to IPO if we wanted to," Peretti said. "An IPO is one of many great options."