Banksy Delivers the Ultimate Prank at Sotheby's Auction
(Bloomberg) -- It's looks like the ever-mischievous Banksy has pulled off the ultimate art prank.
Hours after his "Girl With Balloon" was destroyed at a Sotheby's auction in London following its sale to a phone bidder, an Instagram account tagged to Banksy suggested he was behind the incident.
"A few years ago I secretly built a shredder into a painting," according to a post on the account. It then cited a quotation from Pablo Picasso that: "The urge to destroy is also a creative urge."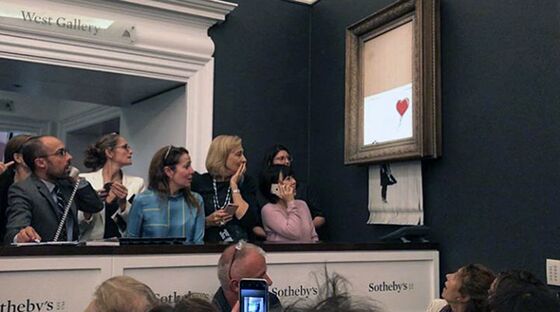 A video on the same account shows a delighted auctioneer bringing the gavel down on the sale for 1.04 million pounds ($1.2 million). The camera then turns to the painting -- the canvas slides through the bottom of the frame, is half-shredded and is hurriedly removed from the room by two attendants. Cue footage of amazement and outrage.
Sotheby's said it's discussing what do next with the anonymous buyer, who was bidding by phone. The U.K.'s Press Association suggested that Banksy might even have been involved in the bidding process, while some observers posited the idea that whole event wasn't quite as unexpected as Sotheby's made out.
At a briefing immediately after the sale, the auction house tried to explain the incident.
"We've just been Banksy'ed," said Alex Branczik, Sotheby's European head of contemporary art.
Banksy made his reputation as a street artist known for provocative and sometimes politically charged stencils. He protects his identity although a Wikipedia entry identifies him as Robin Gunningham from near Bristol, England. His art has appeared unannounced on city walls around the world, helping to create strong demand for his images.
His latest prank rather overshadowed another intended highlight of Friday's auction. Jenny Saville became the top living female artist at auction when her self-portrait, "Propped," fetched 9.5 million pounds ($12.4 million).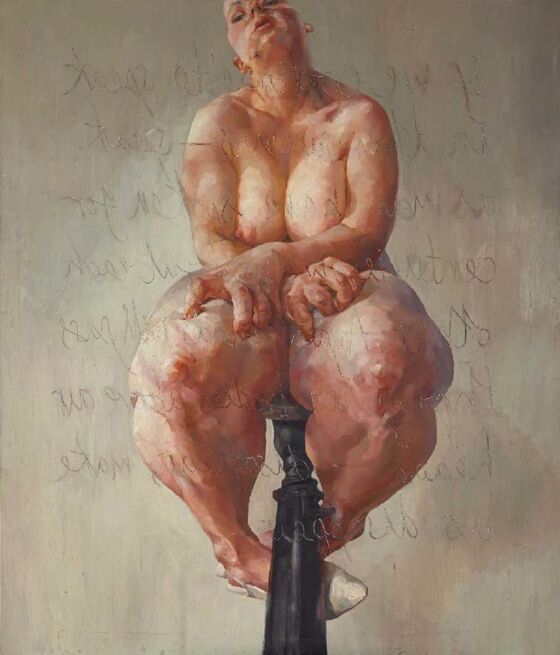 The 7-foot-tall painting depicts a fleshy nude, perched on a stool and gazing in the mirror, scribbled with text. Completed in 1992, the work brought the U.K. artist international acclaim after it appeared on the front cover of the Times Saturday Review later that year. It was purchased by advertising mogul Charles Saatchi.
The work, estimated by Sotheby's at 3 million pounds to 4 million pounds, was offered as part of the estate of David Teiger, a Museum of Modern Art trustee who died in 2014. The collection's proceeds will benefit the Teiger Foundation for the Support of Contemporary Art.
The auction record for a living male artist is $58.4 million for a Jeff Koons sculpture.