A Hypercar That Goes From Zero to 60 in 1.9 Seconds Is Taking Pre-Orders
(Bloomberg) -- This is an updated version of a story that ran on October 1.
Imagine a car that exists only to humiliate every other car off the line at a stop light. How much should that cost? One million? Two million? How about €3.1 million ($3.6 million)?
A little-known Japanese company is betting at least 50 people will say yes. At least, that's the number it will make of its all-electric Owl.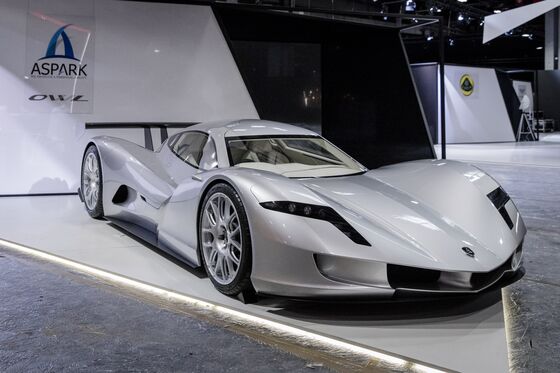 When it delivers the first car in mid-2020, Osaka-based Aspark is guaranteeing customers a sprint time of 1.99 seconds from a dead stop to 100 kilometers per hour on street-legal tires. A prototype that sports racing slicks already clocked this in as little as 1.89 seconds in February.
That face-flattening performance is fueled by an electric powertrain that promises to deliver a minimum 1,150 horsepower and 885 Newton meters of torque, according to an official spec sheet. A carbon-fiber body and magnesium alloy wheels keep the rest of the car as light as possible, giving it a dry weight of about 1,500 kilograms.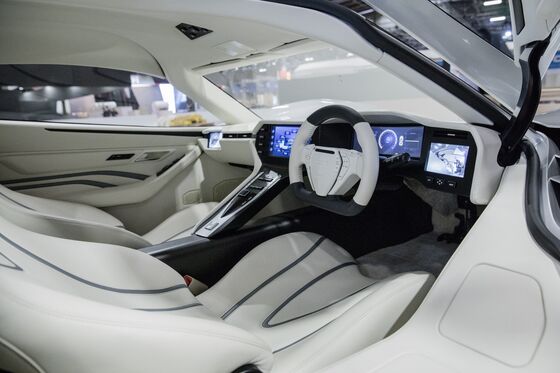 The Owl will be on display at the Paris Motor Show that begins this week, and Aspark will start taking non-refundable €1 million deposits there. (The company will only return your money if the finished car doesn't produce the promised performance, or if delivery is significantly delayed, or — worst case scenario — it fails to produce a car at all.)
You won't be able to test drive it for another year or so, though—the show car is basically a shell, and the test car is back at a warehouse in Japan. Even the powertrain won't be finalized for a couple of months, as the handful of engineers comprising the Owl team debates crucial details like how many motors to use.
The low-slung two-seater certainly looks the part of a Lambo killer. Aspark founder and Chief Executive Officer Masanori Yoshida says the sleek lines are as much about fulfilling his own personal hypercar fantasy as about aerodynamics. The front end is designed to be menacing when spotted approaching in the rear-view mirror, and the tail lights are styled to resemble a smug grin as the car accelerates away.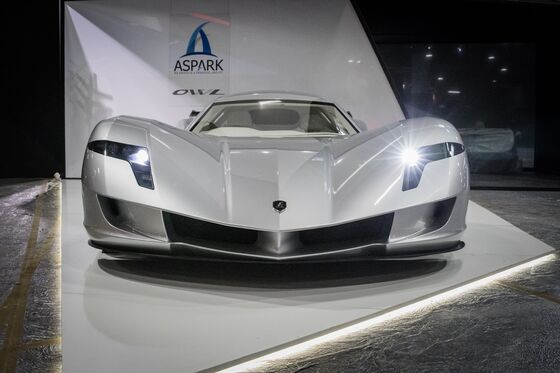 Voluptuous wheel arches and an oversized spoiler give an air of extravagance, but in other respects the car is spartan. There's little in the way of electronics to speak of, and no assisted-driving features. Overnight trip? Forget about it. The only storage space is the glove box.
That's not really surprising when you consider the Owl's single-minded purpose. Apart from its blistering acceleration, the car is rather unremarkable for the price. It promises a top speed of 280 kilometers per hour and 300 kilometers of range on a full charge.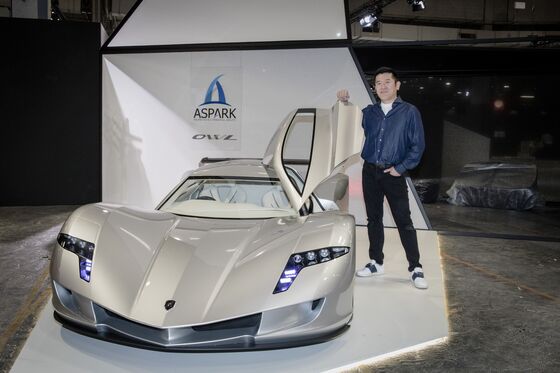 Compare that to the Owl's ever-growing list of rivals, and it's clear just how much Aspark is counting on enthusiasts to pay for a 10th-of-a-second advantage. From the C Two from electric hypercar pioneer Rimac and iconic car designer Pininfarina's PF0 to Tesla Inc.'s next-generation Roadster, all promise similar sprint times—but with higher top speeds and hundreds of kilometers in additional range. Even the most expensive of these costs more than €1 million less, and the Roadster looks a positive steal, at $250,000.
It's unclear that Aspark's claim to be the quickest is even accurate. Measurements can vary according to the type of tires and how much "rollout" is included in the time. Nor is there any guarantee that in the year and a half before the Owl's first delivery, technological advances won't allow for another car that is exponentially quicker. Those customers who laid down seven-figure sums would find themselves with something rather average, instead of extraordinary. For Aspark, cracking the two-second barrier may turn out to have been the easy part.