A First Look Inside Disney's Star Wars Hotel and Its Many Jedi Mind Tricks
(Bloomberg) -- From the Halcyon starship—the imagineered setting for Disney's new Star Wars: Galactic Starcruiser hotel—I watched in awe as TIE fighters started whizzing by an enormous "window" looking out onto space. Suddenly the skills I'd just learned in my hour-long Bridge Training made sense. In a process reminiscent of vintage arcade game play, I joined my fellow passengers in using joysticks, knobs, and dials to fend off threats and protect the ship I was momentarily living on from an impending catastrophe. 
Would the Resistance return to save us? Or would our luxury liner perish in the battle? An imposing First Order officer flanked by Stormtroopers only added to the suspense.
Star Wars: Galactic Starcruiser will be no ordinary hotel when it opens on March 1, 2022. The experience represents Walt Disney Co.'s most ambitious project in recent memory—effectively, a family-friendly mission to the far reaches of outer space. It may not fall in the same category as Virgin Galactic or Blue Origin, but one takeaway from my afternoon aboard is that its all-inclusive "space voyages" may be the next best thing. My preview in November included tours of its cabins, some lightsaber training, and an abridged version of the immersive character-led narrative that'll unfold over three days.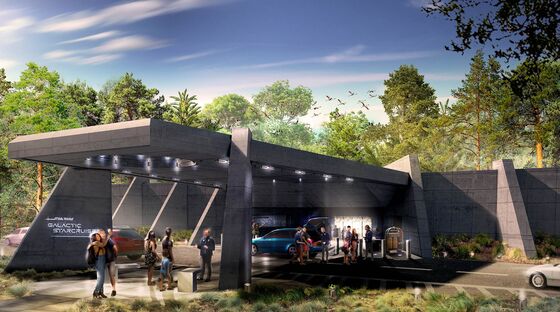 Ultimately, Star Wars: Galactic Starcruiser is less of a hotel and more akin to cinematic immersive theater. It's Sleep No More for the geek set. Only here, the show never stops, the venue is a grounded passenger spaceship, and you very well might become integral to the performance. How deep into the wormhole Disney goes—for instance, can guests stay up all night and still finds ways to engage?—remains as tightly held a secret as the Imperial clearance codes. 
When it opens this spring, guests will pay upwards of $4,809 per double occupancy cabin for two-night voyages that never step foot off Walt Disney World soil. For families, the pricing goes up incrementally per person, such that a family of four might pay closer to $6,000. Bookings are only accepted by phone and are sold out through the end of June according to a customer service representative. In July, prices for both weekend and weeknight voyages were quoted at $5,231.14 for two guests. 
Itineraries are structured as they would be on a cruise ship, with a daily schedule of opt-in activities such as lightsaber training, model ship building, and a ship-wide excursion to Star Wars: Galaxy's Edge theme park land. But all of them relate to an underlying narrative, which builds—as all good theater does—towards a dramatic finale. (No spoilers here.)
From the moment I stepped aboard the Halcyon, I was surrounded with a bevy of characters—all true to the Star Wars universe, of course. But the experience that unfolds from there varies tremendously depending on the allegiances and discoveries you make along the way.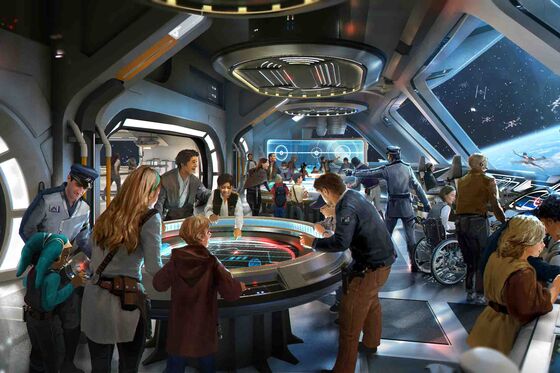 Sympathize with the First Order? Chit-chat with First Order Lieutenant Harman Croy and keep an eye on your Star Wars datapad—accessible within the Disney app on your phone—for further instruction. Fancy yourself a member of the Resistance? Prepare to be called upon by the ship's bumbling yet lovable mechanic, Sammie, to fix programming glitches in the Engineering Room by way of escape room-like tasks. 
My preview was a few steps ahead of final dress rehearsals, which meant most actors and guests wore street clothes. When real "voyages" begin, street clothes will likely be the exception: Disney is encouraging guests to bring costumes and dress up, so long as they follow some key rules, so leave that Darth Vader helmet at home. 
Commercial opportunities being what they are, guests will also be able to stock up on Rebel Alliance gear at an on-site boutique that will include plenty of cloaks, costumes, and even headpieces with lekku tendrils. How staffers will be distinguished from those in full Comic-Con-ready getups is yet to be established.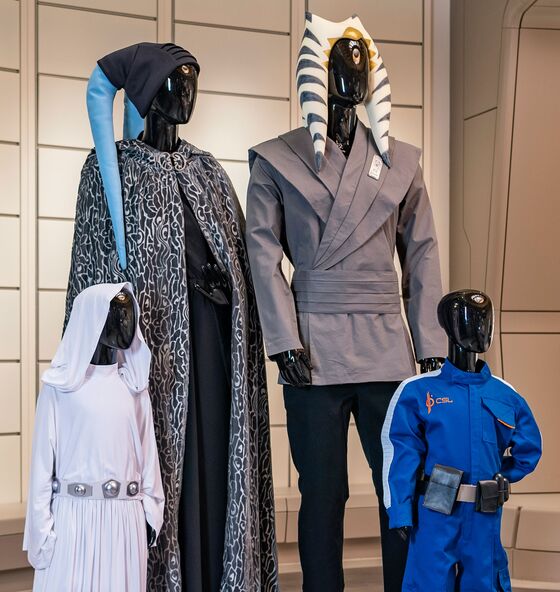 Throughout the preview, it was clear Disney has taken a cornerstone of luxury hospitality—personalized service—to new heights. Under normal circumstances, it's impressive when lobby bartenders remember your favorite drink; here, everyone from crew members to Chewbacca must be able to recall a passenger's stated allegiances, how they performed in previous games and missions, and tuck those facts into all-knowing comments. One passenger on my test cruise, for instance, was called upon by name and given command of the Halcyon during a high-stakes emergency; she'd proven trustworthy earlier when she'd willingly distracted a First Order officer as part of an effort to smuggle Chewbacca off-board.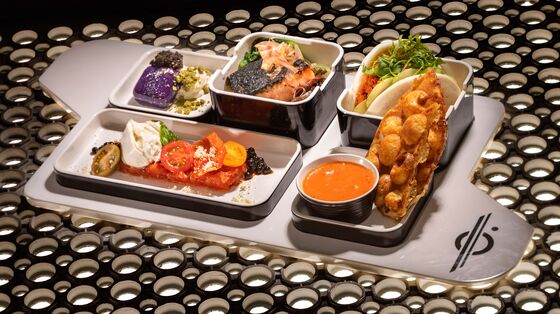 The luxury billing comes through in more tangible ways, too, particularly when it comes to food, which I enjoyed in a conference room set up to model the future Crown of Corellia Dining Room. (The name is a reference to a canonical Star Wars supper club that only true die-hards would recognize.) There, purple ube bread and curried chicken-stuffed sandwich orbs proved more elegant than the rations our Jedi heroes consume on-screen. Skirting the line between intergalactic modernism and classic fine dining, this could very well prove to be Disney World's best restaurant.
A lightning fast tour of a standard cabin confirmed their compact size, with a mix of capsule-like bunks, pull-down adult beds and standard queen-sized beds; despite two classes of suites, you won't find a king-sized mattress anywhere on board. What you will find instead are "window" portals offering digital views out onto the galaxy—an effect that is nothing short of glee-inducing.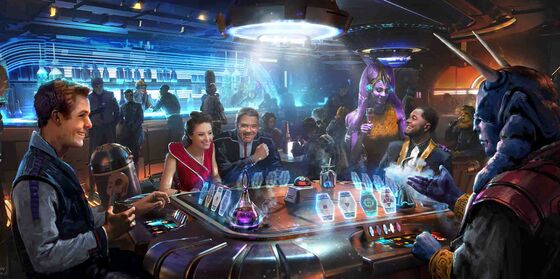 Star Wars: Galactic Starcruiser is not for everyone. Only true devotees of the films will appreciate the level of detail and commitment to world-building across Halcyon. As billed, the hotel is for loyal Star Wars fans and those who love them. Atmospheric details include bathroom signs printed entirely in Aurebesh—with no English translations—and the soft but persistent mechanical humming sounds of a ship that, in reality, is not a ship at all. 
Even the simplest activities require you to delight in the Star Wars universe and those willing to play along with the games will get the most out of it. For instance, when I asked what was in one of the cocktails served at the Sublight Lounge cantina bar, staffers insisted it was "fresh-squeezed Muja fruit"—which does not actually exist in the real world. (Surely staff will find ways to stay in character even when confirming whether galactic ingredients might conflict with your real-life food allergies.) A break from all the action probably means playing a round of Holo-sabacc, an in-universe alternative to video poker, or a visit to the "climate simulator," which lets you step outside of the windowless ship for fresh air without exiting the property.
Still, the uniqueness of the experience will also delight those who just want to try something new or experience Disney differently. I'd seen how well the Star Wars universe was brought to life by way of theme park attractions such as Star Wars: Rise of the Resistance, but felt skeptical anyone could convincingly recreate that world for days on end without it feeling gimmicky.
Those fears rapidly dissipated when, after only a few hours inside the experimental space, I found myself back out beneath Floridian moonlight, discombobulated and somewhat perplexed at how much differently time had passed inside. How could so much travel have happened just on the other side of that wall? The only way I could reconcile it was through Jedi mind tricks—of which Disney clearly has plenty.