In the Wake of Disaster, a Billion-Dollar Art Paradise Bloomed
(Bloomberg) -- It's the first thing you see approaching Glenstone, billionaire Mitchell Rales's 230-acre Shangri-La in the fields of Potomac, Maryland: a 37-foot Jeff Koons sculpture made with 25,000 flowering plants.
"Split-Rocker," inspired by a rocking toy, encapsulates the "seamless integration between art, architecture and landscape" that has been the vision for Glenstone, Rales said in a phone interview. The museum is reopening next month after a major expansion.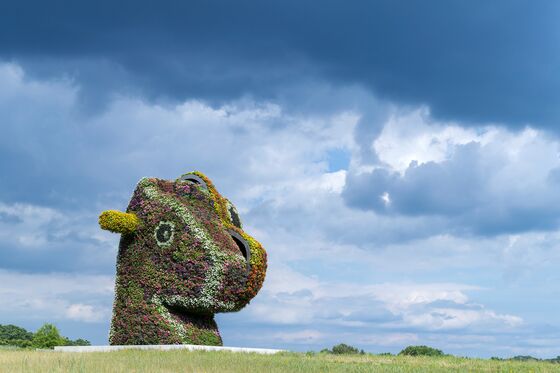 The Koons sculpture was one of many key works Rales acquired during the art market downturn that coincided with the 2008 financial crisis. In the year that followed, he and his wife Emily added about 50 works to their collection, which now totals 1,300 pieces, by artists including Cy Twombly, Brice Marden and Yayoi Kusama. The trove is worth more than $1 billion, according to a federal tax filing by their foundation.
"We had a chance to buy works that otherwise would never have come for sale," said Rales, who co-founded Danaher Corp., a Washington-based maker of medical instruments and industrial products. "We didn't get bargains. But we did get great things."
Rales, like other savvy buyers, approached the Great Recession as an opportunity, finding gems -- and even paying record prices -- as a liquidity crunch forced some cash-strapped owners to sell. Among active buyers at the time were billionaires Eli Broad, Leon Black and Paul Allen; French luxury-goods baron Bernard Arnault; Russian fertilizer king Dmitry Rybolovlev; and members of Qatar's royal family. Some went on to open private museums.
"The cleverest collectors buy in distressed moments, even as the heavens are falling," said Brett Gorvy, co-founder of Levy Gorvy Gallery and former chairman of postwar and contemporary art at Christie's. "They're cash rich. They know what they're doing and have confidence that the market will come back."
It's the same strategy employed by Warren Buffett, who waits for a panic or crisis to create bargains in the markets.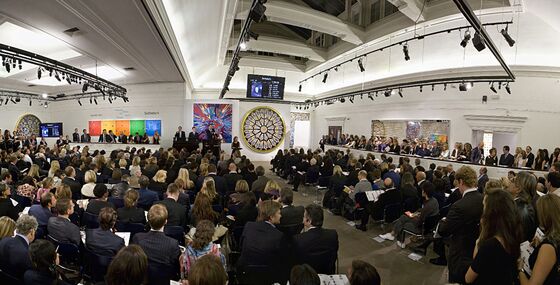 The art world had a delayed response to the financial crisis. Hundreds of works by star artist Damien Hirst sold at Sotheby's over two days starting Sept. 15, 2008, when Lehman Brothers Holdings Inc. collapsed. "Split-Rocker" had just gone on display at Chateau de Versailles, thanks to a loan from Christie's owner Francois Pinault, as part of a contemporary exhibition at the gilded palace of Louis XIV.
The heady days of a boom cycle ended abruptly in October 2008, when scores of works went unsold. Auction houses endured brutal results at New York sales a month later, losing millions of dollars on guarantees they had promised sellers.
"The November sales were really painful," said Ed Dolman, Christie's chief executive officer at the time.
But even at the depths of the crisis, things did sell, sometimes for record prices, including Kazimir Malevich's 1916 "Suprematist Composition," which fetched $60 million and a 1959 Kusama painting, "No. 2," that went for $5.8 million.
In the following years, prices for these and many other artists, including Jean-Michel Basquiat and Christopher Wool, have climbed sharply. The Kusama is now worth $34 million, according to Artnet Analytics.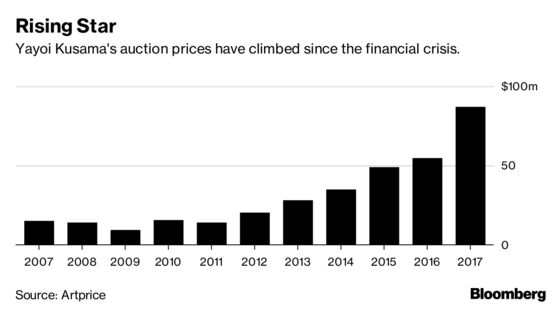 "People who were active at the time are very happy today," said art adviser Sandy Heller. "Those opportunities would not have presented themselves without the financial crisis."
One of the top lots that November was Basquiat's 1982 canvas "Untitled (Boxer)," consigned by Metallica drummer Lars Ulrich. It fetched $13.5 million, then the second-highest auction total for the artist.
"I would pay $80 million for it tomorrow," said Alberto Mugrabi, a collector and dealer who sold it to Ulrich in a private transaction for $1.1 million in 1999.
Many collectors were desperate to sell. Joanne Heyler, founding director of the Broad museum in Los Angeles, remembers receiving calls from art dealers when buyers backed out. That November, Broad paid $2.4 million at Sotheby's for Ed Ruscha's painting "Desire," a steep discount to the low estimate of $4 million. The following month, he picked up Mark Bradford's "Corner of Desire and Piety" at Art Basel Miami Beach.
"Some of the works we bought at the time are really key to our collection," Heyler said.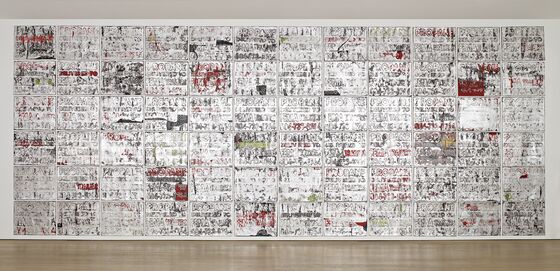 By the time 2010 rolled around, the art market was on the mend. Alberto Giacometti's "Walking Man," sold by Dresdner Bank AG, fetched $104.3 million at Sotheby's, then a record for any artwork at auction. In May of that year, Picasso's "Nude, Green Leaves and Bust" from the estate of Los Angeles philanthropist Frances Brody fetched $106.5 million at Christie's.
"Quantitative easing happened very quickly and it had a big impact on our industry," said Dolman, now CEO of Phillips auction house, referring to the Federal Reserve's purchase of government bonds to bolster the economy. "People had access to cash at ridiculously low interest rates."
The art market's downturn was relatively short-lived. Global art trade reached $64.6 billion in 2011, just shy of the $65.9 billion peak in 2007. Last year, a Leonardo da Vinci painting fetched $450 million.
"The art market not only bounced back, but has been roaring," Heyler said.