With Rise of Helles Lagers, Craft Brewers Embrace Subtlety
(Bloomberg) -- Given the current ubiquity of ales with huge flavors, such as barrel-aged stouts and hazy IPAs, many craft drinkers are gravitating back toward simpler, more drinkable beer. In other words, beer that tastes like beer. With that in mind, let's shine a spotlight within the world of lager—specifically the "Helles." 
Born in 19th century Bavaria to compete with neighboring Bohemia's immensely popular Pilsner-style lager, Munich's competing Helles (German for "bright") was designed for drinkability. The brews were pale gold in color with a frothy white head, packing a bread-y malt sweetness and less of a hop character than found in Pilsners. Despite remaining a popular daily beverage in Bavaria, Helles has been relegated to relative obscurity in the U.S., compared to Pilsner. Recently, however, it has become fashionable among American craft producers to try to recreate the historic Helles style.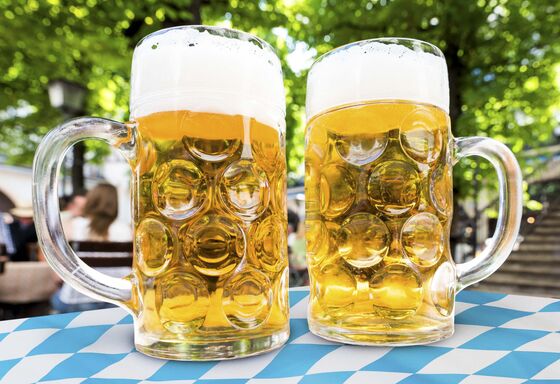 "I love the Helles style because it is flavorful, yet also the most delicate, clean, and pure type of beer imaginable," says Dan Suarez, brewer and owner of Hudson, N.Y.'s Suarez Family Brewery. He is one of the country's very best—and most sought-after—producers of unaggressive and unfussy clean, simple, lower-ABV beers. The brewery's Helles, which he calls While, was first brewed in 2016, the year he opened the brewery's doors.
What are the key characteristics Suarez seeks in crafting this challenging brewer's beer? "A perfect Helles should be crisp and dry but shouldn't come across as thin," says Suarez. It's difficult to achieve this subtle balance: Hops should be fairly nonexistent, something he recognizes as difficult for American brewers to appreciate. For Suarez, the most important aspect of a Helles is its ephemeral finish. "The beer should vanish from your palate a couple of seconds after you swallow it, and the beer should beckon you to take another sip," he says. "There should be this crescendo of flavor and texture on your tongue that should disappear. This is what struck me most about the best examples in Bavaria, and I strive to achieve that impression."
While offers a quietly refreshing malt character reminiscent of puffed cereal, cream of barley, bread dough, and straw. For those outside of Suarez's New York State distribution zone (which spans as far south as Brooklyn and as far north as Troy), here are some superlative examples of Helles lagers.
This is a unique Helles from Bamberg's historic Schlenkerla brewpub, which has been around since 1405. The brewing facility has an ambient smokiness because it's where they also produce their famous Rauchbier. The smoke flavor is present in this otherwise un-smoked Lagerbier, which is also creamy, floral, and dry with a background hint of bacon.
This is an amazing Helles from a monastic brewery in Andechs, Upper Bavaria. The monks of the Andechs Abbey have been brewing beer since at least 1455. Vollbier is a sparkling, grassy, superbly drinkable delight that is now imported to the US.
Mahr's is a beautiful and tiny brewery also located in Bamberg. A favorite from its lineup is this unpasteurized Hellesbier that is the perfect expression of Munich malt. Light yet generous, it is thirst-quenching, with an aroma evocative of freshly mowed grass.
A collaborative Helles between Asheville, N.C.'s Burial and Brooklyn N.Y.'s Other Half, its name, One For Me, nods to the fact that this style of lager is the quintessential brewer's beer. Made with 100 percent light German Pilsner malt, it's got an easy drinking profile—grainy sweetness and lightly flowery noble hops.
Also based in Brooklyn, Threes Brewing makes some of the best fresh lagers in the country, and Short Fuse is no exception. Very lightly smoked (likely an homage to Schlenkerla's Helles), the beer is easy to imbibe, with an appropriate disappearing act on the refreshed palate.
Pennsylvania's Tired Hands Brewing Co. chose a punny name for its entry to this particular style. Helles Other People is fermented with house lager yeast and cold-conditioned for four weeks. It's elegantly crushable, with pleasantly light stone-fruit notes underneath the traditional Helles flavor profile.