English Distiller Throws Gauntlet to Scotch With New Single Malt
(Bloomberg) -- An upstart distiller based in England's scenic Lake District is seeking to challenge Scotland as the U.K.'s finest producer of single-malt whisky.
Lakes Distillery wants to attract drinkers of Edrington Group Ltd.'s Macallan, one of the best-selling single-malt whiskies in the U.S., and Taiwan's Kavalan, founder and Chief Executive Officer Nigel Mills said in an interview. It will debut a new malt whisky aged in sherry casks as early as May.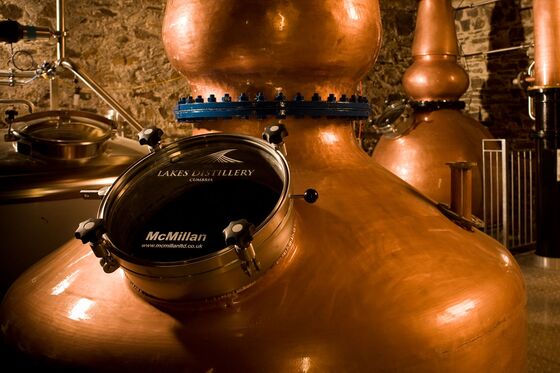 The company is exploring an initial public offering of its shares on AIM, the London Stock Exchange's market for small companies, in part so it can open a sales office in the U.S., the world's largest market for single-malt whisky.
Mills describes the whisky, which will be light with hints of raisins or sultanas and aged in a variety of oaks, as "rather like an artist who starts with individual colors on the palette and then paints a masterpiece on the canvas."
A bottle of the distillery's inaugural single malt, Genesis, was sold for 7,900 pounds ($10,220) at auction in July. News of the potential listing comes at a busy time for deals in the beverages sector: Earlier this week, Edrington acquired craft brand Wyoming Whiskey, while PepsiCo Inc. took over SodaStream International Ltd. for $3.2 billion last month. Lakes Distillery was founded in 2011 amid a surge of interest in small-batch spirits. In addition to single-malt whisky, the company also sells gin, vodka and flavored liqueurs.
The IPO will seek to raise as much as 15 million pounds by the end of this year, the company said in a statement Friday. Lakes Distillery has appointed N+1 Singer as its adviser and broker.
The company's board includes Chairman Alan Rutherford, a former production director at Diageo Plc, the world's largest distiller; Tim Farazmand, a former managing director at Lloyds Banking Group Plc who focused on investments in the consumer-goods sector, including in high-end tonic-water maker Fevertree Drinks Plc; and Paul Neep, the former chairman of LVMH's Glenmorangie and Ardbeg Scotch distilleries.